Aboriginal Galleries Art Galleries & Museums in Fremantle Town
Discover what's going on in arts, events & culture
Discover what's going on in arts, events & culture.
Check out travel guides for regional WA
Check out travel guides for regional Western Australia.
Explore winery guides for Perth and regional WA
Check out winery guides for Perth and regional WA.
Galleries in Fremantle
categories=13138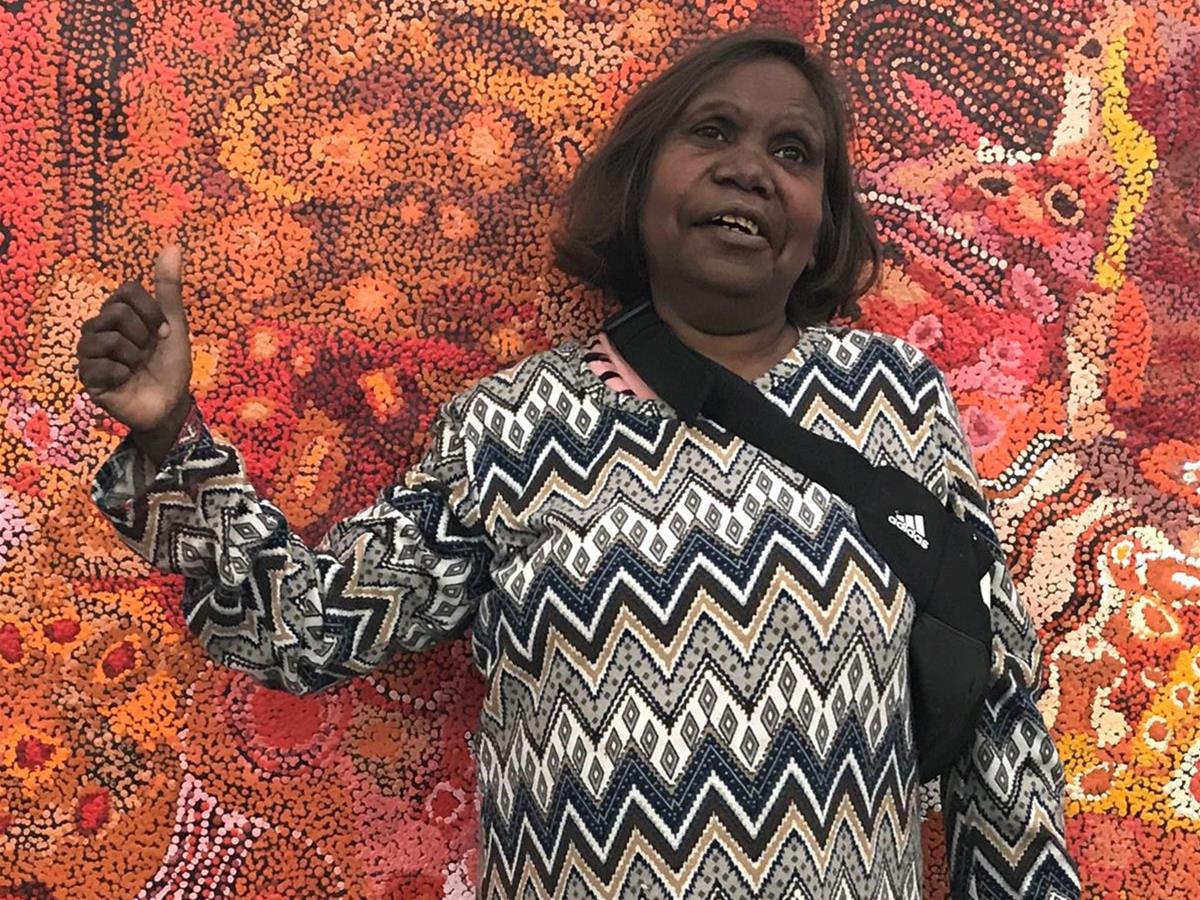 Andrea Adamson Tiger, Pitjantjatjara artist, paints colorful Seven Sisters Tjukurrpa & Women's Ceremonial stories
Open Days/times:16 November - 22 December 2018 / Weekdays 10am - 5:30 pm ; Weekends 12pm - 5pm
Represented Artists:Andrea Adamson Tiger
Galleries:Painting,Aboriginal,Art Gallery,Public Art Gallery
Details
Facilities:Free
Open Days:Monday,Tuesday,Wednesday,Thursday,Friday,Saturday,Sunday
Description
Andrea Adamson Tiger is a Pitjantjatjara artist, born at Amata community on the APY Lands in 1973. Her family includes artists Rini Tiger and her grandfather Tiger Palpatja. Andrea maintains close connections to Country and ceremony. Andrea paints stories associated with the Seven Sisters songline, an extensive Dreaming track that crosses her country. In the Tjukurrpa story, the sisters created sites and locations across the land as they flee from a male pursuer Wati Nyuru.
See great Australian Aboriginal art in our upstairs exhibition galleries - 4,500 artworks in stock, from small affordable paintings to collectable masterworks. See major artists & exhibitions online.
Galleries:Aboriginal,Painting
Open Days/times:Monday – Friday 10am - 5.30pm, Saturday – Sunday 12pm - 5pm
Details
Open Days:Monday,Tuesday,Wednesday,Thursday,Friday,Sunday,Saturday
Description
Japingka Gallery exhibits the best in Aboriginal art at its galleries on two levels of a heritage 1890s warehouse building at 47 High Street in Fremantle, Western Australia. The ground floor gallery presents a broad cross-section of Aboriginal art from leading artists and regions. The two upstairs galleries present new exhibitions every seven weeks from Indigenous communities and artists from across Australia.
The gallery directors have over 30 years' experience working with contemporary Aboriginal artists. Artworks are ethically sourced, and Japingka Gallery is a member of peak industry groups Aboriginal Art Association of Australia and the Federal Government's Indigenous Art Code, which promote best practice and ethical standards in the Aboriginal art industry.
Japingka Gallery is open 7 days a week and houses over 4,500 Aboriginal art works from regions across Australia
Exquisite paintings by the Numina artists, Sharon, Selina, Caroline and Lanita Numina, are available online. The exhibition runs from 3 April to 12 May 2020
Open Days/times:Online Exhibition is open 24/7
Represented Artists:Sharon, Selina, Caroline and Lanita Numina
Galleries:Painting,Aboriginal,Art Gallery
Museums:Aboriginal
Details
Facilities:Free
Open Days:By Appointment Only
Description
Four sisters from the talented Numina family of artists have painted aspects of their ancestral country and their cultural ties to the land.
Four main stories emerge from the paintings. Bush Seeds – My Country relates to the harvesting of seeds used for making flour and damper, a staple food of traditional life. Seeds were valued and spread around watering places to encourage bountiful growth of native plants.
Bush Medicine Leaves refers to the plants harvested for traditional medicine practices, often to boil the leaves in water over the fire.
Water Dreaming relates to the critical knowledge of waterholes, including the Creation stories tied to those places and the way the water sites are linked together by the stories.
Dingo Dreaming and Emu Dreaming are the final two of the five stories, related to Creation stories and the role of native fauna in the traditions of Anmatyerre people.
It may be winter here in WA but that doesn't mean you have to spend the next few months in...
Read More