Wheelchair Access Facilities Accommodation in Denmark Coast
Discover what's going on in arts, events & culture
Discover what's going on in arts, events & culture.
Check out travel guides for regional WA
Check out travel guides for regional Western Australia.
Explore winery guides for Perth and regional WA
Check out winery guides for Perth and regional WA.
Accommodation in Denmark To Walpole Region
categories=11718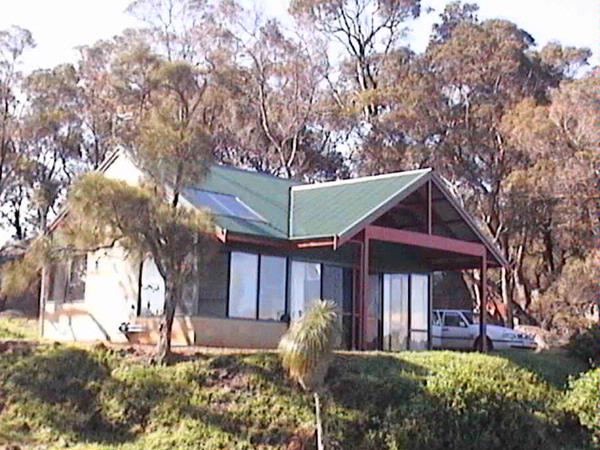 Country Comfort in quiet surrounds. Ayr Sailean gives you the choice of 4 star studio spa chalets nestled by granite boulders overlooking the Wilderness Coast to the Irwin Inlet.
Details
Type:4 - 5 Stars,Chalets,Farm Stay,Holiday House
Capacity:27,21 - 50
Facilities:Family Friendly,Pets Allowed,Room Spa,Wheelchair Access
Description
All in comfortable 3 to 4 star accommodation situated half way between Denmark and Walpole, in the heart of the Walpole Wilderness, overlooking the Wilderness Coast to Irwin Inlet and Peaceful Bay, and on the Frankland River at Nornalup. Just 15 minutes from the Tree Top Walk in the Valley of the Giants, Peaceful Bay, Wineries, Chocolates, Cheeses, Olives, Mead, Galleries, Craft and a multitude of natural forest and coastal attractions.
• Relaxing with a refreshing drink in a spa with a view. • Studying the stars through the skylight over the spa. • Watching the birdlife and occassional boat float past surrounded by forest • Seeing the farm and native animals grazing • Being treated to chocolates and port on arrival • Having a continental breakfast included for your first morning • Upgrading to a Spoil Yourself Package for Bathrobes, Breakfast each morning, Biscuits,Cheese & Dip Platters, including free Wine & Beer. • Upgrading futher to a Romantic Get Away for all of the above plus Champayne and Fresh Fruit. • Snowy white linen on comfortable beds in a Fully Self Contained and equipped unit. • BBQ facilities available adjacent to each unit
Studio Spa Chalets Located on the hill overlooking the Irwin Inlet, these chalets are designed to sleep 2 but can cater for up to 4 with the fold out sofa bed, these luxurious 4 star chalets feature an indoors corner spa with a view. These are also designed to cater for the disabled, meeting Australian standards of access to toilet, shower seat etc.
Wool Cottage A 3.5 star fully renovated 1930's cottage with 3 bedrooms, lounge, and dining room. The bathroom has a full size bath with shower over. 2 queen beds and 5 singles, cater for that group of friends or an extended family, while still being cosy for 2. Located adjacent to the shearing shed on the farm, this unit has easy access for farm walks and viewing the pastoral night life of kangaroos as well. Say hello to Brutus & Goldie (the Alpacas) as you visit the resident sheep population.
Inverell Home Situated at the end of Riverside Drive at Nornalup and overlooking a sweeping bend of the Frankland River, this home has 3 bedrooms plus a sleepout, 2 queen beds, 1 double bed and 4 single beds. A large lounge comfortably seats all. With a 70's style decore this unit has a real home feel to it. For the boating enthusiest, Inverell is ideal, with its own boat shed, good fishing and access to Nornalup Inlet and the ocean.
Coming Soon – Ayr Sailean Camp Ground
Plans are progessing well for the building of a 30 bay camp ground in a quiet rural setting. Watch this space for news of our opening.
Attractions
The world famous Tree Top Walk in the Valley of the Giants is a must for all visitors, adjacent to the Ancient Empire Walk and complimented by the Wilderness Discovery Centre. Wineries are a feature of the region with award winning wines available at many cellar sales outlets. Artists, Sculptors, and Artisans of many varieties feature in the area. Many galleries are available to visit. Cheese, Chocolates, Mead are just some of the other outlets to look for.
Natural Beauty
Right in the heart of the Walpole Wilderness, Ayr Sailean is ideally located for you to explore the forests, rivers, coastal hills and wonderful beaches. Access is availble to both 2 and 4 wheel vehicles, with hikers being catered for with many trails, not least of which is the Bibbulmun Track stretching from Perth to Albany, and right through the Wilderness Coast. Free delivery and / or pickup is provided to guests wishing to walk the track. Winter and Spring are ideal times to see the rivers in their rushing glory, creating a capocino of delight. While wildflowers abound for most of the year, but particularly in spring. The Walpole Wilderness is a Natures Hotspot of diversity.
See the Denmark and Walpole Visitor Guides for more details, or visit our web site at www.ayrsailean.com or www.valleyofthegiants.com.au.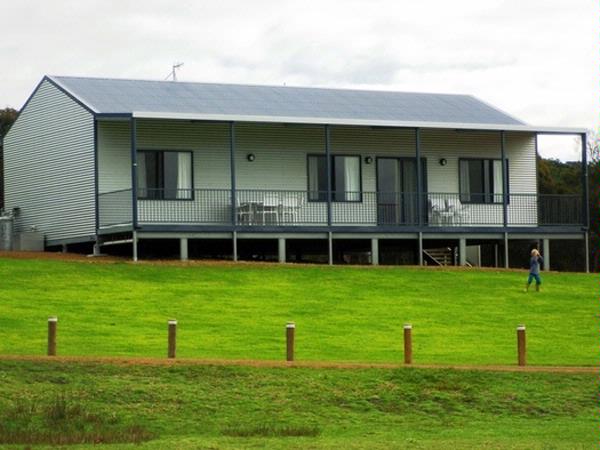 Relax in your 4-star immaculate, spacious & modern cottage with ocean views. Close to SW attractions incl: Valley of the Giants, Tree Top Walk, whales, wineries, wildflowers and more. Continental breakfast & linen provided.
Details
Type:4 - 5 Stars,Chalets,Farm Stay,Holiday House
Capacity:16,11 - 20
Facilities:Family Friendly,Wheelchair Access
Description
Chalets/Cottages
Our beautiful fully self-contained chalets are a great place for your next holiday. Come on your own, as a couple, bring friends or have a wonderful time with the family.
Each can sleep 8, has a fully equipped kitchen with modern appliances, own laundry, clothesline and BBQ, plus a large enclosed balcony overlooking the ocean..
Things to Do
So much choice, so little time ? Being central to many SW attractions, we know you'll be spoilt for choice when staying in the region. The list below provides only a sample of what you can expect to find within a 30km radius – and most of these are within 10km of your doorstep –
• Eco-tourism – Wildflowers, Bibbulmun Track, Whale Watching, Waterfalls, Bird Watching, Native Fauna, Ficifolia Trees (endemic only to this area within the world)
• Geo-Tourism – Garnet Outcrops, Aboriginal Rock Art, Special rock formations that are located only between here and Albany (and one other place in the world)
• Tourist Treks – Famous Valley of the Giants Tree Top Walk, Giant Tingle Tree, Giant Cappuccino – Circular Pool, Summit Climbs, Canoeing, Boat Cruises, Bibbulmun Track and soon to be included is the Munda Biddi Trail
• Tour companies – there are a number of tour operators in the area that cater singles to families and conduct tours from wildflower walks and 4x4 driving to boat cruises and vehicle rides with a difference
• For the Kids / Family – Dinosaur Museum, Alpaca Farm (kids get to hand feed the animals from bunnies to bison), Denmark Maze, Beach, River, Fishing, Kite flying, Bike Riding, Trekking, Horse riding etc
• For the Adults – Wineries, Chocolate Factory, Cheese Factory, Art exhibitions, Golf, Boating, Relaxation, Sunbathing etc
Holiday seasons
Holiday seasons book out in advance so remember to arrange your vacation ahead of time to ensure you can stay in one of our two chalets.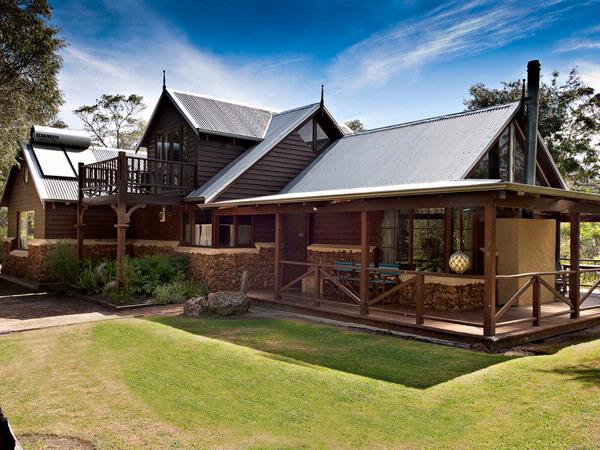 Quality stone and timber cottages full of rustic and unique charm. Ultimate seclusion in coastal forest area with your own private walk to beach. Log fires, balconies, spa cottages & complimentary use of tennis court, DVDs and games room. Only 20 mins walk to the beach through the national park.
Details
Facilities:Wheelchair Access,Room Spa,Tennis Courts,Family Friendly,Functions,On the Water
Price Range:$100-$200
Type:Chalets,4 - 5 Stars,Farm Stay,Holiday House
Capacity:51 - 100,40
Description
Here at William Bay Country Cottages you can immerse yourself in the unique country atmosphere whilst being close to the sea.
Situated just 15 minutes from Denmark's town centre we are just a stones throw away from some of Denmark's most popular attractions.
We have a range of 7 secluded self contained cottages to suit your needs, whether it's a romantic weekend or a family get away. The cottages are also a popular choice to accommodate for the larger family gatherings and particularly wedding parties of up to 40 guests.
Our family owned and run cottages- built from timber and stone, with cosy wood log fires, add to the magical rustic charm of the area. This spectacular 330 acre property adjoins Denmarks William Bay National Park giving you a private walk trail through to the popular Mazzoletti beach.
All of our cottages are unique, cosy, and completely self contained and feature lots of rustic touches.
Included:
• all linen
• kitchen equipment/ utensils
• gas oven / stove tops
• washing machine
• washing line
• iron and ironing board
• cot and high chairs (available on request)
• flat screen TV and DVD
• CD player / stereo
• hair dryer
• gas BBQ
• cosy log fire
• complimentary DVD library
• complimentary board games
Call us today to book your cottage and experience the wonder and beauty that William Bay Country Cottages and Denmark has to offer.
It may be winter here in WA but that doesn't mean you have to spend the next few months in...
Read More