Durif Wine Variety Wineries in Caversham
Wineries in Caversham
region=caversham&type=wineries&categories=142539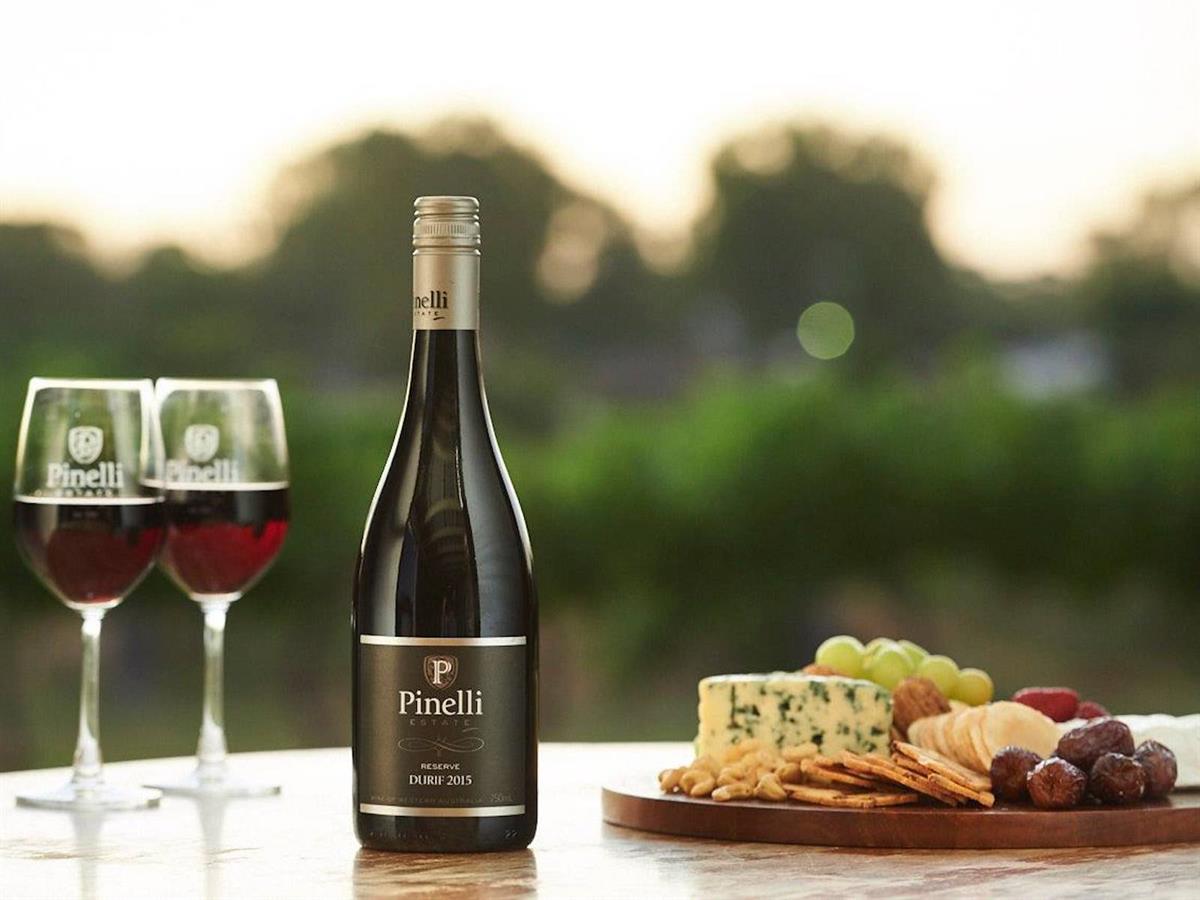 Established in 1980 by Italian migrants Domenic and Iolanda Pinelli, enjoy superb wines and Italian cuisine in the rustic, rammed earth restaurant or gorgeous alfresco area, overlooking the vines.
Wine Variety:Cabernet Sauvignon,Chenin Blanc,Merlot,Fortified,Muscat,Sauvignon Blanc,Grenache,Method Traditionale,Shiraz,Verdelho,Dessert,Cabernet Merlot,Sparkling,Rosé,Durif
Wine Region:Swan District
Open Days/times:Cellar door: Everyday 10am - 5pm | Restaurant: Thur – Sun Lunch, Thur - Sat Dinner
Details
Cellar Door Open:Sunday,Monday,Tuesday,Wednesday,Thursday,Friday,Saturday
Established:1960
Facilities:Restaurant,Cellar Door
Dinner Open:Saturday,Thursday,Friday
Cases Produced:17000 cases
Breakfast Open:Sunday
Lunch Open:Thursday,Friday,Saturday,Sunday,Holidays
Vineyards:7 acres
Winemaker:Domenic Pinelli
Description
Open 7 days per week, this award-winning, second-generation boutique family winery produces sparkling, flavoursome whites, rich reds, delicate dessert and fortified wines that have been handcrafted to perfection over the last 35 years.
Enjoy a relaxed tasting at the cellar door or the restaurant, nestled amongst the grapevines of the Estate, offering a delicious modern-Italian menu of platters, pasta and dishes off the grill for lunch and dinner. All meals are complemented with premium, handcrafted Pinelli Estate wines or other local and imported wines, beers or spirits.?
HISTORY
Pinelli Wines was established in the Swan Valley in 1980 by Domenic and Iolanda Pinelli. Having emigrated to Australia from the Molise region of Italy in the mid 1950's, they shared a vision to create a family winery incorporating their Italian heritage, which recognised that good wine needed to be a part of every dining experience.
Domenic gained invaluable experience working for over twenty years with the iconic Western Australian producer of the 1960s, Waldeck Wines, and purchased what he referred to as "the pick of the vineyards of the area" - a 7 acre block in Caversham, Western Australia.
Domenic and Iolanda shared the knowledge and joy of winemaking with their sons Robert and Daniel, ensuring that the winery would continue to grow with future generations. A simple philosophy of ensuring exceptional quality from the vineyard to the glass has meant that from humble beginnings some three decades ago, Pinelli's has now grown to become a second-generation family winery producing around 150,000 litres of wine each year.
We've been blessed with some balmy summer evenings over the last few weeks, which means it's the perfect time to...
Read More