(All) Lunch Open Wineries in Baskerville
Wineries in Baskerville
region=baskerville&type=wineries&features=10262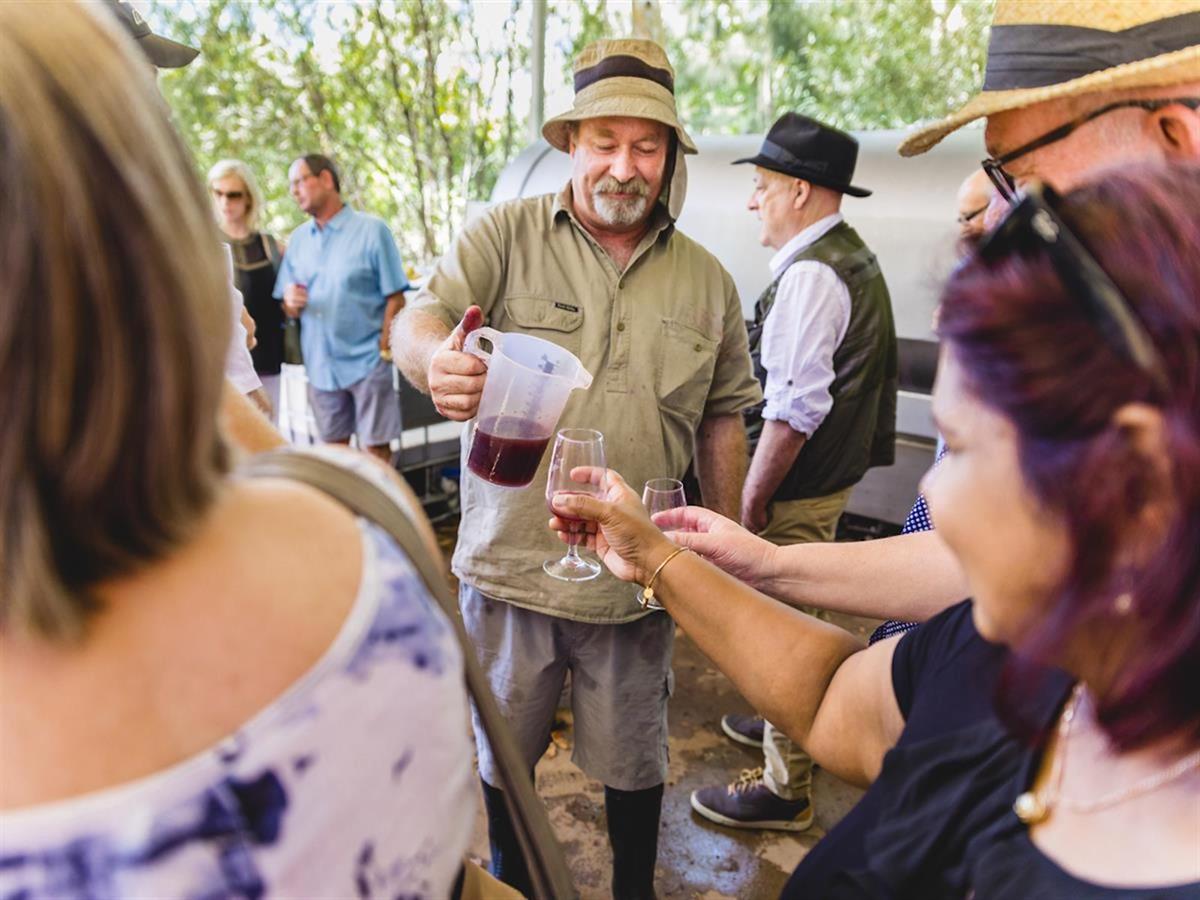 Established in 1997, Faber remains an intimate, family-style winery where you can relax, sit down, enjoy some wine, chat to the wine maker and share a platter or two.
Open Days/times:Friday, Saturday, Sunday
Wine Region:Swan District
Wine Variety:Fortified,Dessert,Cabernet Sauvignon,Chardonnay,Chenin Blanc,Grenache,Malbec,Muscat,Rosé,Semillon,Shiraz,Sparkling,Sparkling Shiraz,Verdelho,Petit Verdot
Details
Established:1997
Winemaker:John Griffiths
Facilities:Light Food,Cellar Door,Functions
Cellar Door Open:Friday,Saturday,Sunday,Holidays
Lunch Open:Friday,Saturday,Sunday
Cases Produced:2500 cases
Vineyards:4.5 hectares
Size & Year:Boutique (1,000-4,999 cases),Established 1951 - 2000
Description
Faber is Latin for a smith, a craftsman, an artisan who is skilled and ingenious. Owners John Griffiths and Jane Micallef founded the vineyard with a mission to grow regionally distinctive grapes and craft wines that are rich and flavoursome. They are true believers in the tradition of wine making, that wine should be inspired, crafted with a sense of creating something distinctive and authentic,
The wines are crafted with the belief that wine should taste of grapes and rely on purity of fruit flavour and delicious fruit characters to drive their wines, and that weight and fullness should come from ripeness, an extension of flavour, not simply more tannin or more acid. They want their wines to 'sing of their origins' and highlight the fruit from which the wine is made, not disguise it, and result in wines that are fresh and appealing with great drinkability.
Priding themselves on being extremely exclusive, the cellar door offers unique sit-down style tasting sessions with share platters and plenty of time to chat.
Themed events are also very popular including Harvest Breakfast, Reserve Release Dinner, Winter Benchmark Tasting, Bring Your Favourite Bottle, Spring Long Table Lunch and Xmas BBQ.
Faber Vineyards also caters for weddings, seminars, cocktail parties and large sit-down dinners.
Faber Vineyard is open on Friday, Saturday and Sunday from 11am- 4pm.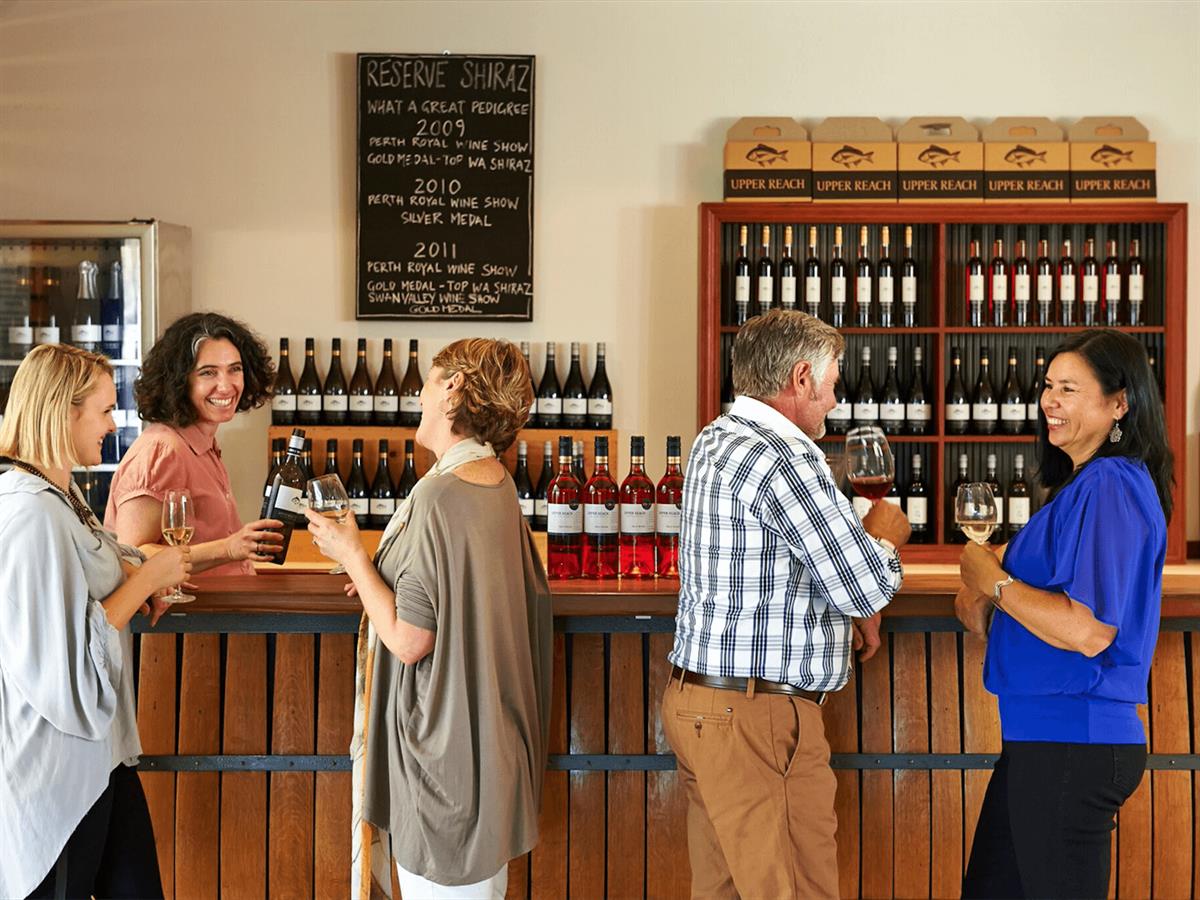 Wine, dine and enjoy the rare opportunity to 'walk the catwalk' at Australian Gourmet Traveller Wine's 'Best Small Cellar Door – Swan Valley, 2017'.
Wine Variety:Semillon,Verdelho,Tempranillo,Grenache,Petit Verdot,Fortified,Rosé,Dessert,Cabernet Sauvignon,Chardonnay,Merlot,Shiraz,Sparkling
Open Days/times:Cellar door: Mon to Sun 11am to 5pm, Restaurant: Mon to Sun 9am to 5pm
Wine Region:Swan District
Details
Size & Year:Boutique (1,000-4,999 cases)
Cellar Door Open:Saturday,Sunday,Monday,Tuesday,Wednesday,Thursday,Friday
Facilities:Cellar Door,Restaurant,Accommodation
Breakfast Open:Sunday,Monday,Tuesday,Wednesday,Thursday,Friday,Saturday
Lunch Open:Tuesday,Monday,Wednesday,Thursday,Friday,Saturday,Sunday
Winemaker:Derek Pearse
Cases Produced:4000 cases
Vineyards:8.45 hectares
Description
Derek and Laura believe wine is one of life's essentials. So essential, they came all the way from England to start their winery dream in Western Australia, establishing Upper Reach in 1997. They learnt to grow the grapes and make the wines as they went along and have turned their dream into an award-winning business with a popular cellar door and restaurant. They love sharing the fruits of their labour with visitors from near and far.
The Wines
All the wines are estate-grown. Varieties include Swan Valley classics of verdelho, shiraz, grenache and muscat, along with chardonnay, semillon cabernet sauvignon, petit verdot and more.
Wine Tasting
The friendly Upper Reach cellar door wine tasting experience has been consistently awarded in Gourmet Traveller Wine Magazine's Annual Australian Cellar Door Awards. Wine tastings are offered daily from 10am – 5pm. Group tastings (10+ people) can be booked from $10 per person. Perhaps, stay a little longer with a glass of wine and game of bocce on the lawn.
The Food
Situated in a quiet corner of the Swan Valley, The Riverbrook Restaurant at Upper Reach is a treasure within the region. The modern menu features small tasting plates to large feasting platters along with more formal a la carte options. Open from 9am daily.
Tours
The classic Winery Tour & Tasting ($40) takes guests behind the scenes, with the unique opportunity to 'walk the catwalk' for a birds-eye winery view and taste barrel samples like a winemaker. Treat yourself with a Tour and 2-Course Lunch, or early birds will love the Winery Tour & Breakfast.
Unique Highlights
A terrific Wine 101 Appreciation class is held once a month on weekends. It's a formal tasting experience with an inclusive casual vibe and held in the back of a working winery. The interactive session breaks down the complex wine world, inviting guests to 'be the winemaker' and learn about flavours, the influence of oak and other wine characteristics through wine blending and lots of tasting.
For something a little different, stay at Upper Reach's luxurious 1907 Winery Spa Cottage which features panoramic vineyard views, a spa and more.
Halliday Rating
4.5 Black Stars