Established 1901 - 1950 Size & Year Wineries in Baskerville
Discover what's going on in arts, events & culture
Discover what's going on in arts, events & culture.
Check out travel guides for regional WA
Check out travel guides for regional Western Australia.
Explore winery guides for Perth and regional WA
Check out winery guides for Perth and regional WA.
Wineries in Baskerville
categories=125835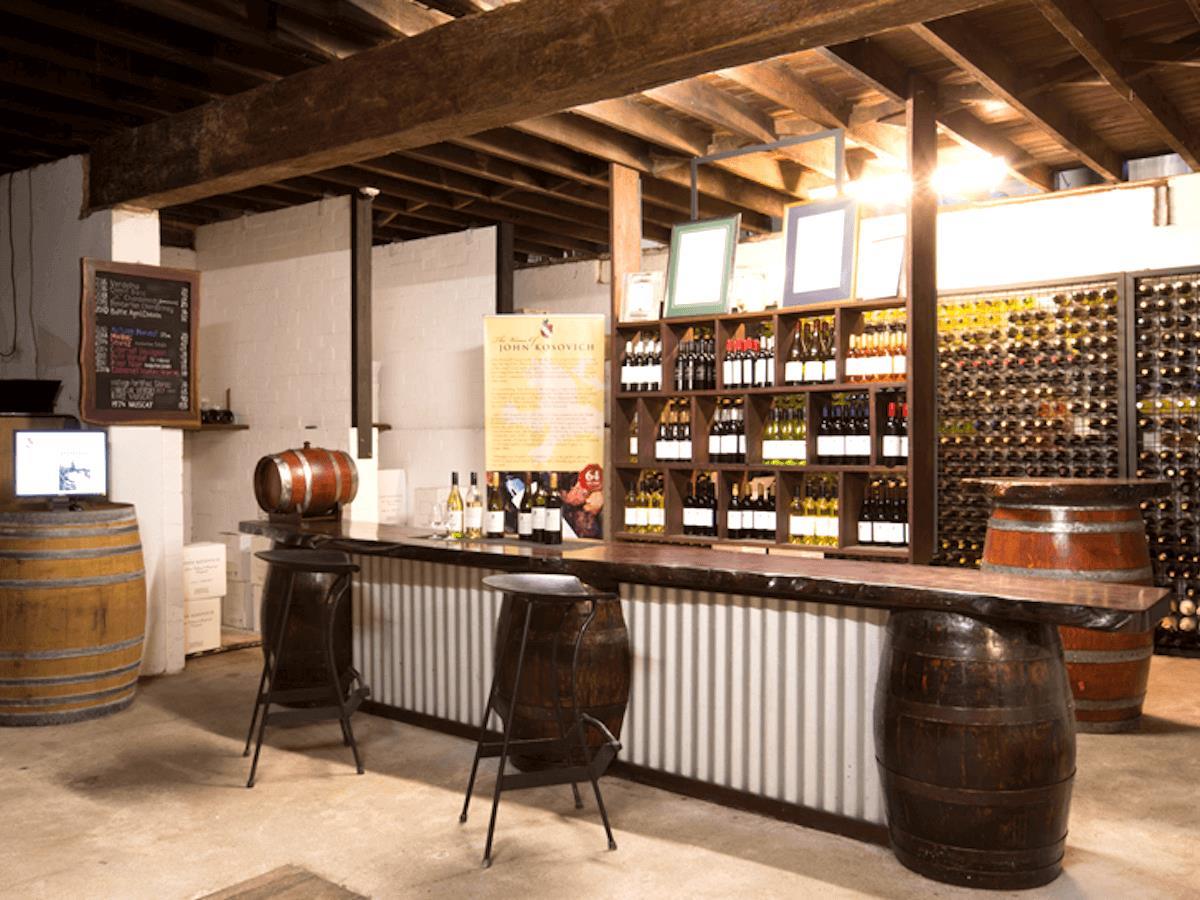 Just up Great Northern Highway from Twin Hill Wines, about 11km from Midland. Winner of many awards including a 1995 gold medal, won in Croatia for a Swan Valley Chardonnay.
Wine Region:Swan District
Wine Variety:Fortified,Cabernet Sauvignon,Chardonnay,Chenin Blanc,Shiraz,Verdelho,Dessert,Rose,Malbec,Petit Verdot
Open Days/times:Wednesday to Monday 10.30am to 4.30pm, closed Tuesday
Details
Facilities:Cellar Door
Established:1922
Size & Year:Established 1901 - 1950,Boutique (1,000-4,999 cases)
Cellar Door Open:Monday,Wednesday,Thursday,Friday,Saturday
Cases Produced:3000
Vineyards:10.9 hectares
Description
Established in 1922 by Ivan Kosovich, John Kosovich Wines is one of the oldest wineries in Western Australia. At age 15, Ivan's son John took on the role as winemaker and expanded the varieties available. In 1998 Anthony (Arch) became the third generation senior winemaker working alongside his father. The tasting area is located in a unique below ground cellar which was hand dug in 1922. The winery continues to be a family run, boutique winery which prides itself on quality estate grown wines.
About 10km north of Midland in the heart of the Swan Valley. Specialising in bulk dry reds, whites and fortifieds and also packaging its wine in 750ml bottles.
Wine Variety:Tokay,Muscat,Verdelho,Fortified,Sparkling,Port,Shiraz,Dessert,Classic Dry White,Rose,Sherry
Open Days/times:Cellar door: Mon to Sun 10am to 5pm
Wine Region:Swan District
Details
Cellar Door Open:Monday,Tuesday,Wednesday,Thursday,Friday,Saturday,Sunday
Winemaker:Dorothy Kraljevich
Facilities:Cellar Door
Established:1937
Size & Year:Established 1901 - 1950
Description
Mark Kraljevich and wife Dorothy run the 12-hectare Twin Hills property, which has been in the family since 1955. Prior to that time, Twin Hills was a winery located in the Perth foothills ù a location chosen by Mark's father Steve, who arrived from Croatia in August 1926 (age 18). The Baskerville vineyard proved much more yielding, Mark growing about 50 tonnes of fruit each year and producing a dry and sweet Verdelho, Cabernet Shiraz and Shiraz. The grapes are picked when very ripe, and Mark delivers the full-bodied and fruity wines to individual customers around Perth each week.
We are seriously in need of a little comedic relief right now - and we know we're not the only...
Read More