Light Food Facilities Wineries in Baskerville
Discover what's going on in arts, events & culture
Discover what's going on in arts, events & culture.
Check out travel guides for regional WA
Check out travel guides for regional Western Australia.
Explore winery guides for Perth and regional WA
Check out winery guides for Perth and regional WA.
Wineries in Baskerville
categories=125829
Established in 1997, Faber remains an intimate, family-style winery where you can relax, sit down, enjoy some wine, chat to the wine maker and share a platter or two.
Open Days/times:Friday, Saturday, Sunday
Wine Variety:Verdelho,Fortified,Dessert,Cabernet Sauvignon,Chardonnay,Chenin Blanc,Grenache,Malbec,Muscat,Rose,Semillon,Shiraz,Sparkling,Sparkling Shiraz,Petit Verdot
Wine Region:Swan District
Details
Established:1997
Winemaker:John Griffiths
Vineyards:4.5 hectares
Size & Year:Boutique (1,000-4,999 cases),Established 1951 - 2000
Facilities:Light Food,Cellar Door,Functions
Cellar Door Open:Friday,Saturday,Sunday,Holidays
Lunch Open:Friday,Saturday,Sunday
Cases Produced:2500 cases
Description
Faber is Latin for a smith, a craftsman, an artisan who is skilled and ingenious. Owners John Griffiths and Jane Micallef founded the vineyard with a mission to grow regionally distinctive grapes and craft wines that are rich and flavoursome. They are true believers in the tradition of wine making, that wine should be inspired, crafted with a sense of creating something distinctive and authentic,
The wines are crafted with the belief that wine should taste of grapes and rely on purity of fruit flavour and delicious fruit characters to drive their wines, and that weight and fullness should come from ripeness, an extension of flavour, not simply more tannin or more acid. They want their wines to 'sing of their origins' and highlight the fruit from which the wine is made, not disguise it, and result in wines that are fresh and appealing with great drinkability.
Priding themselves on being extremely exclusive, the cellar door offers unique sit-down style tasting sessions with share platters and plenty of time to chat.
Themed events are also very popular including Harvest Breakfast, Reserve Release Dinner, Winter Benchmark Tasting, Bring Your Favourite Bottle, Spring Long Table Lunch and Xmas BBQ.
Faber Vineyards also caters for weddings, seminars, cocktail parties and large sit-down dinners.
Faber Vineyard is open on Friday, Saturday and Sunday from 11am- 4pm.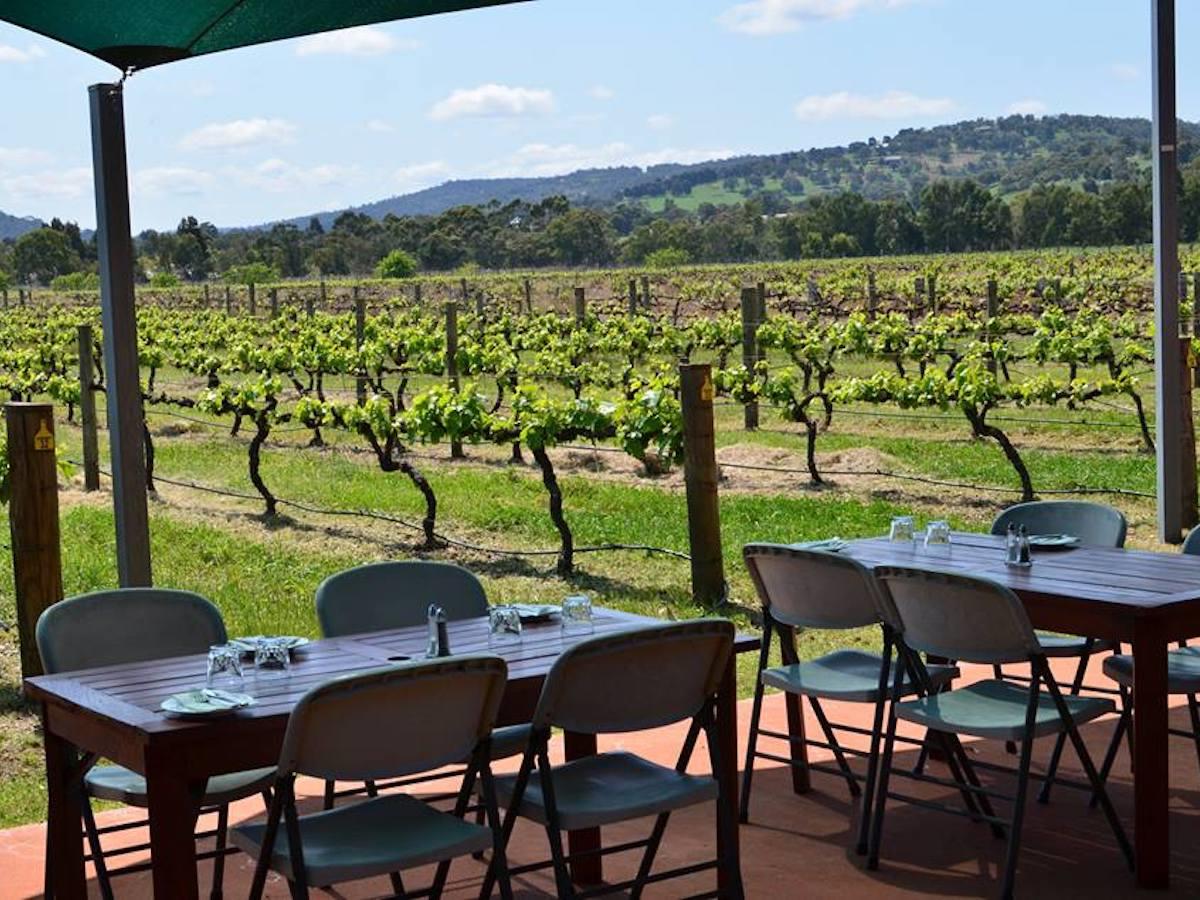 Located in the heart of the Swan Valley is this relaxed, family-friendly winery and restaurant serving hearty meals and generous wines with friendly hospitality and playground the kids will love.
Wine Variety:Rose,Shiraz,Cabernet Sauvignon,Chardonnay,Chenin Blanc,Classic Dry White,Muscat,Port,Cabernet Merlot
Wine Region:Swan District
Details
Cellar Door Open:Saturday,Sunday,Wednesday,Thursday,Friday
Size & Year:Established 1951 - 2000
Facilities:Cellar Door,Light Food
Description
The Laughin' Barrel (renamed under new ownership in 2010), is a casual winery and restaurant in the heart of the Swan Valley wine region. Owners Brian and Sharon have been in hospitality for 20 years. The business name reflects their aim to bring fun and laughter to the Valley.
The Wines
Varieties include Sparkling Chardonnay, Classic White, Chenin, Chardonnay, Rose, Classic Red, Cabernet Merlot, Shiraz, Cabernet Sauvignon, Tawny Port and Muscat. All wines can be tasted at the estate's cellar door alongside gourmet cheese platters from 10am - 5pm Wednesday, Thursday, Saturday and Sunday, and 10am - 10pm on Friday.
The Food
The menu offers a changing array of hearty seasonal fare including homemade pies, fresh fish, local calamari and gourmet pizzas. The cafe area also features a large playground and lawn, along with a paved alfresco dining area overlooking 12 acres of picturesque vines. The cafe is open Wednesday, Thursday, Saturday and Sunday 10am - 5pm, and Friday 10am - 10pm.
The state government just threw the WA wine industry a much-needed lifeline, allowing West Australians to order up to one...
Read More