Thursday Open Days Shopping in Balingup Area
Shopping in Balingup Area
categories=101248
Balingup Goldsmith was established in 1996 by Ricki Thomas, who had 19 years of experience at that stage. In 2006 Jeff Bufton and Rick co-opened Gallery 18 at 14 Southwestern Highway Balingup.
Details
Open Days:Tuesday,Wednesday,Thursday,Friday,Saturday,Sunday,Monday
Type:Jewellery
Description
Upon opening we stocked the new Gallery with a unique range of pottery,sculptures,art and a range of both gold and sterling silver jewellery. In 2014, we opened another shop at 62 Southwestern Highway Donnybrook. The aim of the Donnybrook shop is to complement the Gallery in Balingup, and to make our expertise more accessible.
If you want a piece of jewellery designed and made especially for you; Rick will take the time and design your piece with your input. By doing this, the final piece will represent you, and you will be able to wear it with pride.
At Balingup Goldsmith and Gallery 18 we also carry out all types of repairs,rebuilds and alterations to your existing pieces of jewellery. These repairs, alterations and re-designs are carried out on-site, at either our Balingup or Donnybrook workshops, and completed by a qualified jeweller.
You will find our pricing very reasonable and our approach to you and your jewellery is with great respect and consideration.
Looking forward to helping you out with all your Jewellery needs.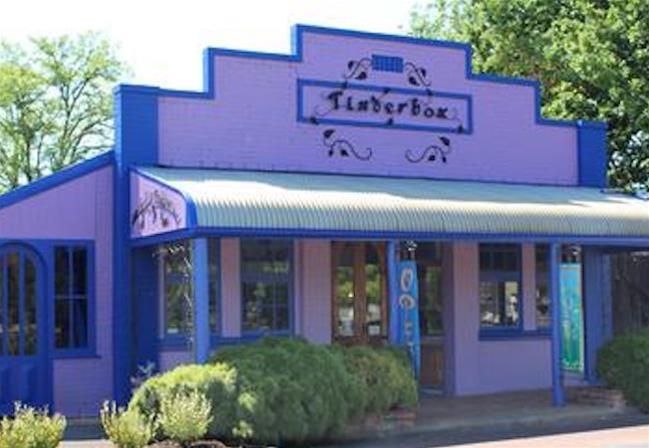 Situated in the heart of Balingup, Tinderbox creates and sell a unique and diverse range of herbal products to meet a myriad of human needs and desires.
Details
Type:Health & Beauty
Open Days:Monday,Tuesday,Wednesday,Thursday,Friday,Saturday,Sunday,Public Holidays
Description
Tinderbox invites you to experience the real joy of their collection of restorative plant blends and witness a positive shift in your life; they encourage you to discover the healthy, beautfiful and well balanced you.
Their range includes: pure essential oils and oil blends; skin, body and hair care; personal care and bathing; perfumes; aromas for the home; incense; massage oils and creams; aphrodisiac and pregnancy products; food & drink elixirs and teas; gift boxes.
All Tinderbox products are suitable for vegetarians and most products are vegan-friendly, with only a few products containing beeswax or honey.
With Summer in full swing, there's nothing better than a cold beer to stifle the heat! Here's Scoops guide to...
Read More