(All) Breakfast Open Wineries in South West
Wineries in Australias South West
region=australias-south-west&type=wineries&features=10261
A family-friendly estate with expansive grounds, special kids' facilities and massive cellar door serving superb wines from Margaret River and Frankly River, and home of WA's South-West Beer Festival
Wine Region:Margaret River
Wine Variety:Sparkling,Classic Dry White,Riesling,Sauvignon Blanc Semillon,Shiraz,Cabernet Sauvignon,Chardonnay,Sauvignon Blanc,Cabernet Merlot
Open Days/times:7 days a week 10am-5pm
Details
Facilities:Functions,Light Food,Restaurant,Kids Play Area
Breakfast Open:Thursday,Friday,Saturday,Sunday,Holidays,Monday
Lunch Open:Thursday,Friday,Saturday,Sunday,Holidays,Monday
Margaret River:Wilyabrup
Cases Produced:160 000 cases
Vineyards:2
Size & Year:Medium (50,000-499,999 cases),Established 2001 - 2010
Description
3 Oceans make wines from two premium vineyards in Margaret River and Frankland River (Great Southern region of WA). Under senior winemaker, Ben Roodhouse, their style is defined by intensity, finesse, structure, and distinctive fruit qualities. Their huge, family-friendly cellar door is the perfect place to discover the world of WA's extraordinary southern wine regions.
The Wines
3 Oceans Winemaking philosophy is simple; grow great fruit, nurture it through fermentation and maturation to bottle and let the vineyard terroir express itself in the wines. The range includes everything from easy drinking to ultra-premium Margaret River Cabernet Sauvignon and Chardonnay.
Wine Tasting
The cellar door is one of the largest in the region and set up especially for kids, families and large groups. Complimentary tastings of over 10 wines are available every day from 10am to 5pm. Group tastings can be booked in advance and are required for large groups of 50+ people.
The Food
The café is open daily from 9am for breakfast and lunch and serves casual fare through to restaurant style seafood dishes, including the famous South-West marron. Locally-sourced Yahava Coffee is available with cakes and a kids menu.
Highlights
Kids will love their own designated hang-out zone which includes video games, toys, chalkboards and outdoor sports equipment. The grounds are large enough for a game of cricket!
Visiting in March? 3 Oceans is the home of the South West Craft Beer Festival, a lively day offering the opportunity to discover 120+ local brews from 20+ breweries, wineries and cideries based between Mandurah and Denmark.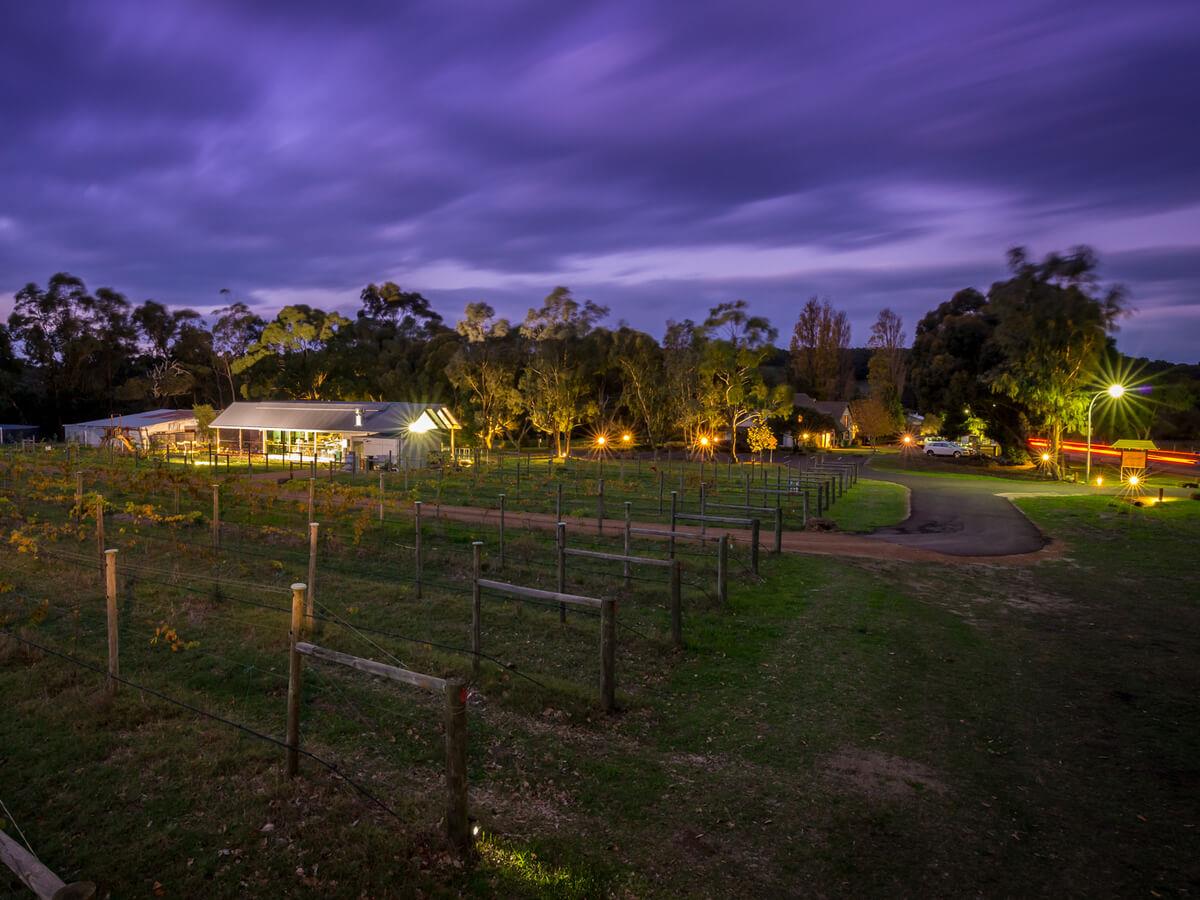 A casual-classy restaurant, cellar door and honey shop with bold eco-architecture where you can watch their signature pastas being made while you taste and dine!
Open Days/times:10am to 4pm Thursday to Tuesday. Restaurant: 10am-4pm, Thursday to Tuesday.
Wine Region:Margaret River
Wine Variety:Cabernet Franc,Cabernet Sauvignon,Chardonnay,Malbec,Merlot,Petit Verdot,Sauvignon Blanc,Semillon,Sparkling
Details
Cases Produced:1250
Established:1978
Vineyards:4 hectares
Winemaker:Todd Payne
Facilities:Restaurant,Cellar Door
Size & Year:Boutique (1,000-4,999 cases),Established 1951 - 2000
Cellar Door Open:Monday,Tuesday,Thursday,Friday,Saturday,Sunday
Breakfast Open:Saturday,Sunday
Lunch Open:Monday,Tuesday,Thursday,Friday,Saturday,Sunday
Margaret River:Yallingup
Description
This farmstead meets bistro-style concept employs striking architecture to link nature, landscape and ecological sustainability, resulting in a relaxed, yet classy dining experience with down-to-earth Yallingup flair.
Culinary Experiences
Open for lunch, and also for breakfast on the weekends, enjoy shared plates of cheese and meats or a diverse selection of site-made pasta dishes. The Farm Shop and Cellar Door also offer wine and honey tastings and sell a selection of locally-made foods.
The Pasta
A vast range of pasta is made on site. Watch the pasta being made and buy some to enjoy at home! All pasta is made with top grade semolina flour and fresh eggs, laid by happy Margaret River chickens.
The Wine
Enjoy small-batch wines, handpicked by owners Raminta and Egidijus Rusilas and their family and friends. Wine styles include Semillon Sauvignon Blanc, Chardonnay and Cabernet Sauvignon and Cabernet blends.
Local Honey – 100% Raw & Real
Barnyard 1978 works with local independent beekeepers to deliver varietal honeys from around WA. The range is constantly evolving based on natural supplies. Typically, there are seven or more varieties available for free tastings including Marri, Karri, Red Bell, Wandoo, White Gum and Blackbutt.
Tip! Leave a voicemail if your call goes unanswered, as the team turn their phones down during lunch service to keep the atmosphere serene for diners.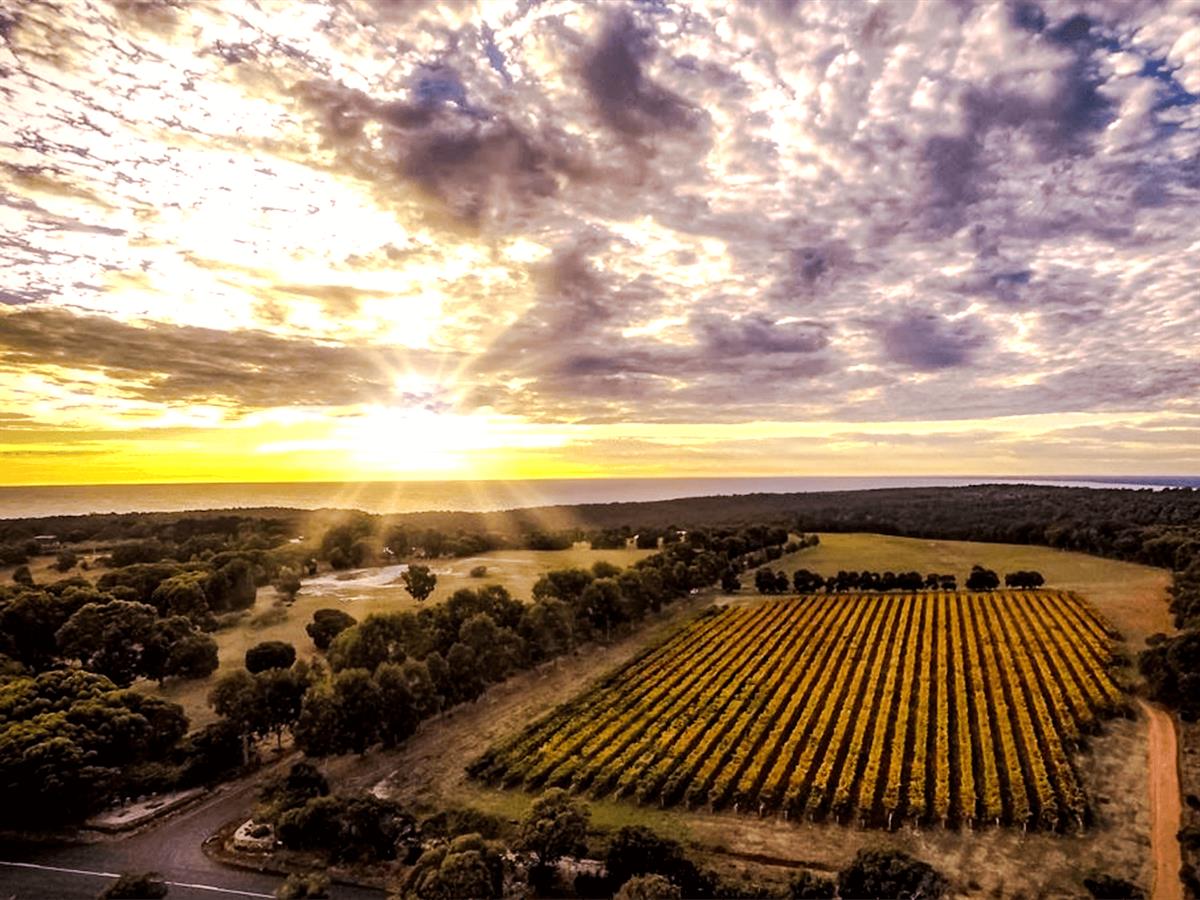 Located by Meelup Regional Park, Wise produces superb wines and is one of Margaret River's most renowned restaurants, the only one to overlook both the vines and the ocean.
Wine Variety:Other White,Botrytis Semillon,Prosecco,Fiano,Topaque,Zinfandel,Sauvignon Blanc,Cabernet Malbec,Rosé,Sparkling,Sparkling Rose,Malbec,Pinot Gris,Cabernet Merlot,Riesling,Sauvignon Blanc Semillon,Semillon Sauvignon Blanc,Shiraz,Dessert,Cabernet Sauvignon,Chardonnay,Pinot Noir
Open Days/times:11am - 5pm Everyday
Wine Region:Margaret River
Details
Vineyards:2.5 hectares
Size & Year:Small (5,000-49,999 cases),Established 1951 - 2000
Cases Produced:10000
Margaret River:Yallingup
Lunch Open:Friday,Saturday,Sunday,Holidays,Monday,Tuesday,Wednesday,Thursday
Breakfast Open:Wednesday,Thursday,Friday,Saturday,Sunday,Holidays,Monday,Tuesday
Facilities:Restaurant,Cellar Door,Functions
Dinner Open:Friday,Saturday
Cellar Door Open:Friday,Saturday,Sunday,Holidays,Monday,Tuesday,Wednesday,Thursday
Established:1986
Description
Wise Wine was established by Ron and Sandra Wise in 1992 in a truly iconic setting, surrounded by vineyard and the natural bushland of Meelup Regional Park looking out to the pristine blue waters of Geographe Bay. The property's two restaurants and expansive wine tasting list make for a spectacular experience with a vista to be remembered forever!
The Wine
The wine range aims to suit all taste preferences and budgets, offering 20 quality sparkling, white, red, dessert and fortified wines. The winemaking philosophy includes sourcing parcels of the highest quality fruit from top vineyards in the WA regions that are most-suited to grow each grape variety.
Celebrated winemaking consultant, Larry Cherubino, has overseen activities at the winery for many years. His stewardship has seen the quality of Wise Wines become some of the most awarded in the region, winning Gold medals at many Australian Wine Shows.
The Food
Wise Vineyard Restaurant is one of the best known restaurants in the region, where you can enjoy a stunning meal with ocean views. The menu features contemporary cuisine which changes regularly as local produce comes in and out of season.
For a more casual dining experience, take a short trip down to the valley, to the banks of the Meelup Brook and visit Lot 80 Tavern & Restaurant. Housed in a historic stone and timber building built by local farmers and craftsmen, it features Italian, French, Spanish and Australian-inspired tasting and shared menus that utilise local ingredients, where possible.
Halliday Rating
5 Red Stars
We've been blessed with some balmy summer evenings over the last few weeks, which means it's the perfect time to...
Read More