Discover what's going on in arts, events & culture
Discover what's going on in arts, events & culture.
Check out travel guides for regional WA
Check out travel guides for regional Western Australia.
Explore winery guides for Perth and regional WA
Check out winery guides for Perth and regional WA.
Bars And Restaurants in Ascot
scroll=y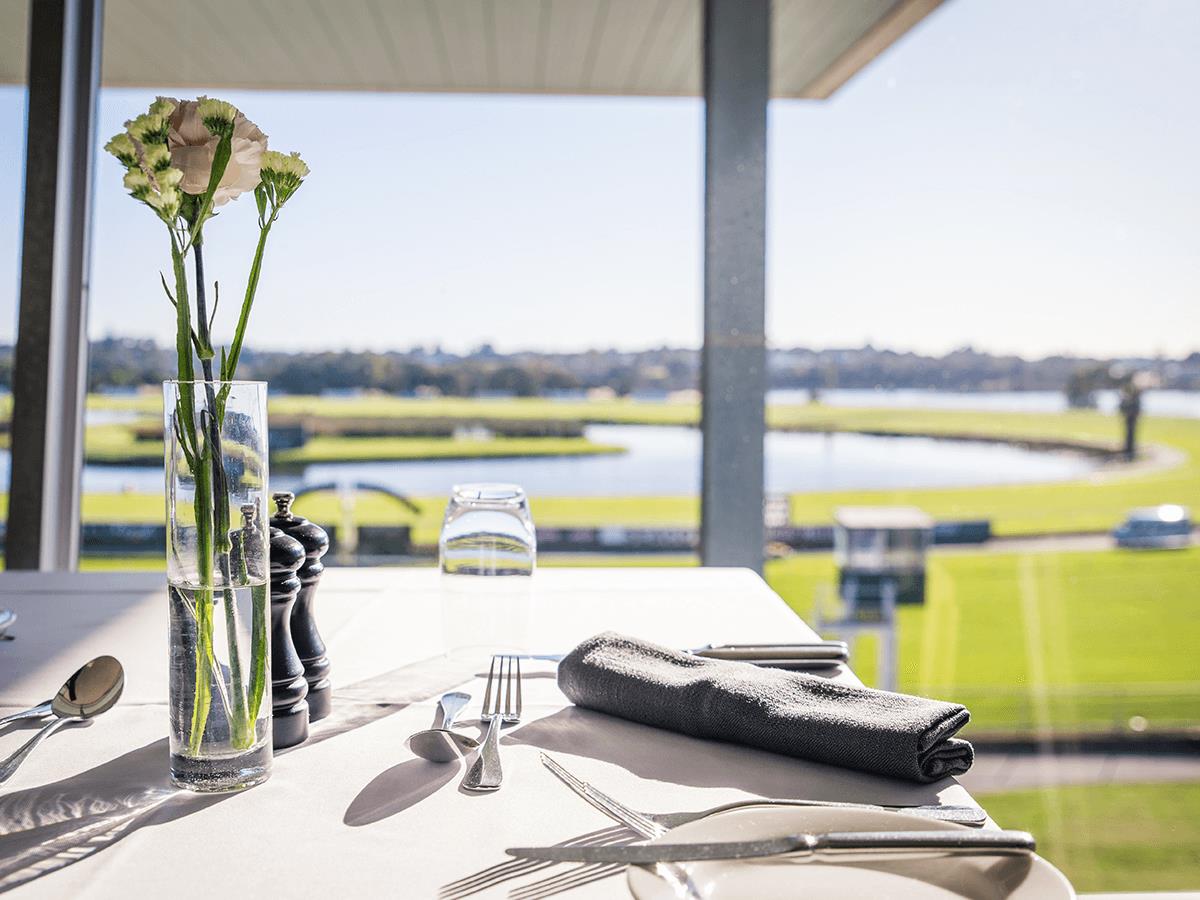 If you're after the best view of the track then the Peninsula Dining Room is the perfect place for you to enjoy a day of great racing with friends and family.
Open Days/times:15 July – 28 September
Facilities:Private Rooms,Function Venue,Licensed
Details
Type:Restaurant
Restaurants:Australian - Modern
Open Days:Saturday
Lunch:Saturday
Dinner:Saturday
Description
<p> Indulge in a four-course buffet luncheon with fantastic view of the winning post from our intimate dining restaurant located on the Members floor. Why not top it off with a beverage package that lasts the duration of the race day?</p> <p> <u>Inclusions</u></p> <p> Four-course buffet luncheon<br /> Reserved table in the Peninsula Dining Room for the day<br /> Access to the Members floor<br /> Racebook per person<br /> Private betting facilities and amenities </p>
When you want to enjoy a truly sumptuous feast of authentic Chinese cuisine at a classy restaurant with impeccable service, come to award-winning restaurant and experience the magic for yourselves. The perfect fine dining, banquet and function venue for celebrating special occasions. It is also a favourite place for business people to impress clients, families to relax over a meal, friends to enjoy each other's company and fabulous food, and anyone who wants to impress a special date.
Facilities:Function Venue,Takeaway,Licensed,Catering,Private Rooms,Wheelchair Access
Details
Lunch:Thursday,Friday,Saturday,Tuesday,Wednesday
Type:Restaurant
Restaurants:Chinese,Fine Dining
Dinner:Tuesday,Wednesday,Thursday,Friday,Saturday,Sunday,Public Holidays
Description
Our restaurant is proud to present a fine dining experience that is designed in close consultation with award-winning veteran architect Peter Otto, and steeped in quality service.

When you step through our front door, you enter a spacious, acoustically-treated space created for the purpose of celebrating special occasions, sharing great company, and enjoying private conversations—without the intrusive noise typically present in most other Chinese restaurants.

Artwork on our walls presents soothing seascapes, including a 9.5m long underwater mural that takes pride of place along an entire wall.

Crisp white table linen that grace tables set for fine dining — complete with sparkling wine glasses and napery — are flanked by plush highback leather chairs in designer black. You instantly get a sense that we are not just an ordinary Chinese restaurant, and our service reflects that as well.

Smartly uniformed waitstaff greet you warmly and usher you to your table. Reservations are highly recommended to avoid disappointment, for lunch as well dinner. Start with a refreshing drink from our fully appointed bar, and feel free to ask our knowledgeable waitstaff to suggest gastronomical delights from our regular and special menus.

To suit both Asian and non-Asian diners' preferences, our menus comprise authentic Cantonese and Northern Chinese dishes that transport your tastebuds straight to Hong Kong and China, as well as 'Australianised' Chinese dishes that are popular with the general public.
The Best Fine Dining Chinese Restaurant in Australia
Aquarium Seafood Chinese Restaurant's passion for quality is strongly recognised by our industry, which has conferred on us numerous prestigious awards. To win these awards, Aquarium Seafood Chinese Restaurant is typically judged on reservations, pre-table service, ambience, table settings, menus, food presentation, food quality, table service, drinks, drinks service, billing, toilet facilities, attention on leaving, and overall value for money.
2011 Awards
Gold Plate Award Winner, Chinese & Other Asian Cusisine
Awarded 12 Hats, Australian Good Food & Travel Guide
Commendation Prize, WA Seafood Industry Awards in Seafood Restaurant Award
RCIA Restaurant Award for Excellence in Chinese Restaurant
2010 Awards
RCIA Restaurant Awarded for Excellence in Chinese Restaurant
USA Top 100 in Chinese Specialties Awards
Top 50 Restaurants Guide Western Australia
2009 Awards
RCIA Restaurant Award for Excellence in Chinese Restaurant
Australia Savour National Award in Best Chinese Restaurant
Missing happy hour drinks with the gang at your local bar? Now you can make cocktails as good as the...
Read More