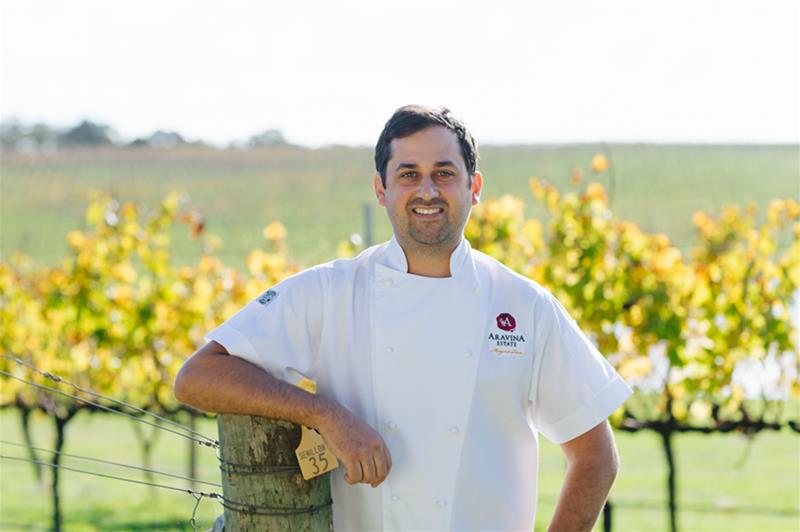 Aravina Estate is pleased to announce the appointment of Ben Day as Head Chef commencing in June 2015.
Details
Description
Ben is a renowned West Australian talent, who will bring his flair for French inspired modern cuisine to Aravina, with the brief to design an innovative menu aimed at showcasing the extensive range of sixteen (16) Aravina Wines.
Ben's creativity and training in the art of French Cuisine along with his passion for locally sourced South West produce will ensure that Aravina offers a range of new and innovative dishes previously not seen in the Margaret River region.
"Western Australia has always been home to me, but the South West has stolen my heart," said Ben.
"Since starting a family, life is all about the local produce and sustainability for this wonderful part of the world."
Ben has been appointed along with Tom Spencer as Sous Chef, the team having previously worked together at Knee Deep in the Southwest.
Aravina Estate CEO, Steve Tobin commented "Aravina is thrilled with the appointment of Ben and Tom to head up our A-la-Carte Operations with the talented Michelle Babb continuing as Head Chef managing all Weddings and Events. This appointment enables us to refocus the Restaurant onto showcasing our Aravina Wines and estate grown produce from the kitchen garden and orchards whilst bringing an innovative French inspired cuisine not previous experienced by our customers.
"We're all about celebrating the clean & green qualities of this stunning South West location whilst promoting the sustainable, quality food production efforts of our local suppliers," said Steve. As part of Ben's appointment and the changing cuisine, Aravina is restyling it's a-la-Carte restaurant into a more elegant, sophisticated space in keeping with the increasingly refined cuisine.
"Our aim since Day One has been to bring new ideas and creativity to the SW Region and to continuously innovate to ensure our customers have a reason to return and firmly place Aravina as their leading "Destination" in the South West. And it's not all just talk.
"We've committed to this statement by signing up to the Buy West Eat Best restaurant program, whereby a minimum of 70% of the entrée and main course dishes are locally sourced in WA."
It's a timely celebration for Aravina, with a new Winter Menu ready for enjoyment this coming long weekend for WA Day, but a table is in high demand….. "The restaurant is fully booked but we'll happily welcome guests to sample our wine at cellar door and enjoy the view and of course the car collection!."
Location