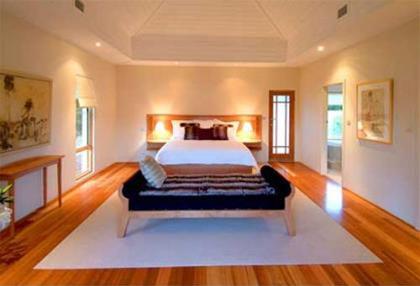 Yallingup Villas
Elegant seclusion in artist designed villas. With local art, native vistas and immense rooms with spa ensuites, this retreat is the ultimate in privacy.
Details
Capacity:10
Type:4 - 5 Stars,Chalets,Lodge
Facilities:Adults Only,Room Spa
Description
At Yallingup Luxury Retreat, we offer you the unique opportunity to relinquish the everyday stresses and unwind in an environment as stunning, as it is peaceful.
Situated on the doorstep of the majestic south west of Western Australia, close to the multitude of attractions on offer in the Margaret River region, Yallingup Luxury Retreat provides the perfect accommodation for discerning couples.
Designed and crafted by a local artisan, who had the vision of a true escape, five secluded villas with 10 rooms in total reflect a fusion of contemporary and minimalist influences, providing the perfect environment for your indulgent getaway. Original artworks adorn the walls and tranquil water features separate each pavilion, creating a haven of sophistication and space.
Each villa comprises 2 pavilions, linked by a timber boardwalk. Each pavilion has a king sized bedroom with spa ensuite, king sized bed and private deck. The Studio Pavilion offers tea and coffee making facilities, whilst the Deluxe Pavilion boasts a fabulously equipped kitchen and immense living area complete with stone fireplace.
The newly opened Studio Gallery Bistro situated on the adjacent property provides the perfect opportunity to dine out within walking distance of the retreat.
Whether you are visiting the Margaret River wine region seeking to enjoy all the beautiful south west has to offer; or just wishing to enjoy a luxurious and relaxing break with your partner, this is the idyllic choice of Yallingup accommodation. Escape Within or Adventure Out.
Location
Address: 29 Marrinup Drive,Yallingup,WA,6282
Phone: 0400 975 123
Email: [email protected]