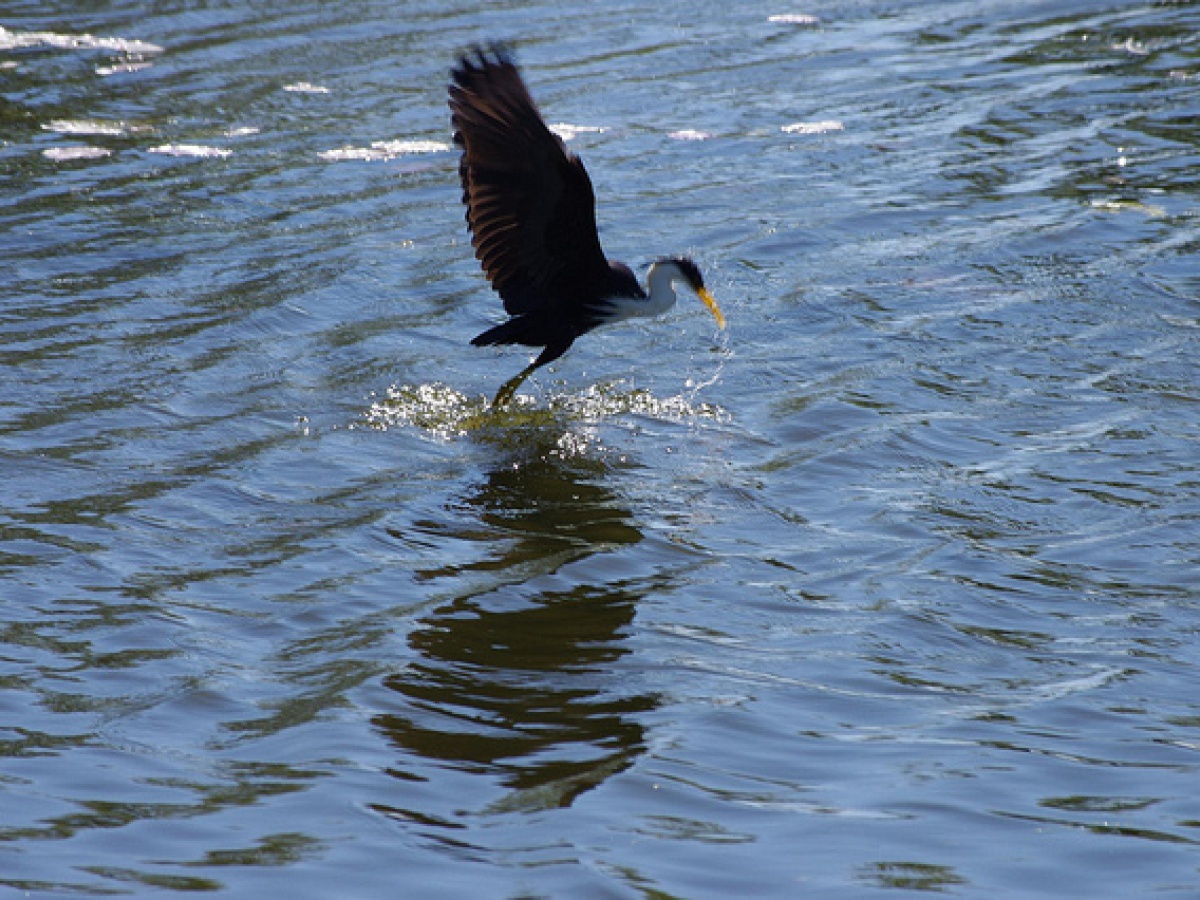 Parry Lagoons Nature Reserve
A wealth of tropical birds and lurking crocodiles can be viewed from a bird hide and boardwalk over the waterlily studded Marglu Billabong.
Details
Park Entry Fees:No
Feature:Info Shelter,Wildlife Hide
Activity:Bush Walking
Description
Marglu Billabong in Parry Lagoons Nature Reserve is an important waterbird feeding and breeding area. It is also a stopover point for migratory waders, some of which travel from as far afield as Siberia. Nearby Telegraph Hill offers views over Marglu Billabong and a great walk to the ruins of the old telegraph station.
Wealth of waterbirds
During the wet season, flooding creeks inundate the flat, low-lying plain and bring abundant food to Marglu Billabong; food which attracts an incredible number and variety of waterbirds. Egrets, spoonbills, herons, ibises, many species of waterfowl, magpie geese and stilts can often be counted in their thousands.
Wildlife in the dry season

As the wet subsides and billabongs and lagoons shrink, the barramundi, mullet and tarpon left in the pools provide a year-round food supply for fish-eating birds of prey, pelicans, jabirus and the occasional crocodile. During the dry season many species of quail, plover and other ground-nesting birds use the grasslands for breeding and cover.
Your safety

It's great to escape everyday life and visit?a park or reserve in WA. It is also important to us that you return safely to your family and friends.?
Always remember it is?really important?to plan when to visit. Read this safety information about bushwalking. Consider traveling with a personal location beacon (PLB). In the event you need to be rescued it could save your life!
Crocodile safety

When you are entering the Kimberley or Pilbara regions, you are entering crocodile country. Two species of crocodile occur in Western Australia: the estuarine (or saltwater) crocodile and the freshwater crocodile. The estuarine crocodile is the largest living reptile and is considered to be a dangerous predator. Freshwater crocodiles are smaller and not as aggressive. Both freshwater and saltwater crocodiles inhabit Parry Lagoons, so stay well back from the water's edge. Be CROCWISE in Western Australia's north and download our Crocodile safety and myth-busting factsheet and Crocodile brochure. For more information on Be CROCWISE see www.nt.gov.au/becrocwise
International significance
The Parry Creek Nature Reserve is listed as a wetland of international importance under the Ramsar Convention and is listed on the Register of the National Estate.
Cultural importance
The park contains sites that hold significance for the Miriwoong and Gajirrawoong people and is jointly managed by the Parks and Wildlife Service, the Miriuwung Gajerrong Aboriginal Corporation and the Yoorrooyang Dawang Regional Park Council.
This information was provided by the Department of Biodiversity, Conservation and Attractions: dpaw.wa.gov.au
Related
Parry Lagoons Information Bay
Location
Address: Lot 248 Ivanhoe Road KUNUNURRA PO Box 942 KUNUNURRA 6743,Wyndham,WA,
Phone: 0898819200
Email: [email protected]