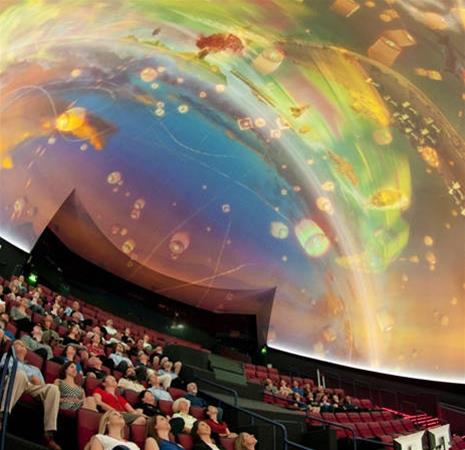 Horizon - The Planetarium
Refurbished OMNI theatre where children can marvel at cutting-edge technology.
Type:Attractions
Activity:Discovery Centre
Suited For:Kids (4 - 12),Teens (13 - 17),Adults (18+),Families
Details
Type:Attractions
Suited For:Kids (4 - 12),Teens (13 - 17),Adults (18+),Families
Open Days:Monday,Tuesday,Wednesday,Thursday,Friday,Saturday,Sunday,Public Holidays,School holidays
Description
Horizon - the Planetarium has recently reopened, following a major refurbishment of the facility.
Funded by a generous grant from Lotterywest, the renovations have resulted in a revitalised out-of-this-world experience, including new chairs and projectors which provide the ultimate in picture quality, brightness, and contrast.
Come along and let our Horizon – the Planetarium staff take you on a live astronomical tour, followed by a captivating feature show, all on the 180 degree 9 metre high, 18 metre diameter dome.
See what shows are on offer:
Horizon Live!
Included in all Horizon – the Planetarium shows, Horizon Live! is a presenter-led astronomical tour. You might experience a walk-through of the night sky in Western Australia, a trip around the Solar System, or even a visit to the farthest reaches of the known Universe.
Dream to Fly
Mon-Fri: 11am & 1pm
Sat-Sun: 10.45am, 1.30pm & 3.45pm
Soar through the sky as you explore the history of aviation. Discover where the inspiration for flying has come from and who were the first inventors to experiment with aviation.
Wildest Weather in the Solar System
Mon-Fri: 12pm & 2.45pm
Sat-Sun: 11.45am & 2.45pm
Be taken on a spectacular voyage to witness the most beautiful, powerful, and mysterious weather phenomena in the Solar System. This show, by National Geographic, brings you up-close with the amazing weather on our planetary neighbours.
Events
School Holiday Activities At Scitech
Location
Address: Sutherland St,West Perth,WA,6005
Phone:
Email: