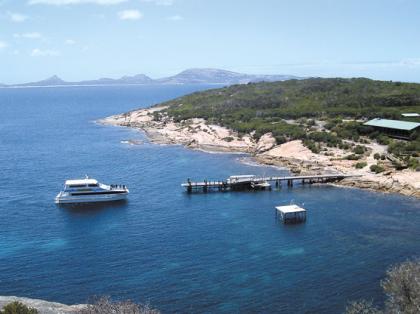 For the ultimate sense of escape, an island holiday is just the ticket and Western Australia is home to some of the most pristine and untouched in the world. Anthony Williams explores six of the best with overnight options for your next luxury escape.
Details
Description
Rottnest Island
Not the most original place to start, but Rottnest Island holds a special place in the hearts of many West Australians. Up to half-a-million charmed visitors each year can't be wrong - 70 per cent of those WA residents.

Just in case you haven't noticed the 1900ha class A reserve sitting on the horizon, that's Rottnest sitting 19km off the Perth coast. Of all the island holidays in WA, Rotto offers the most to do, with coach, train, walking and guided tours available, as well as golf, surfing, snorkelling, fishing and diving.

The last decade has seen some carefully managed developments on the island. There are now six different eateries to choose from, as well as the famous Rottnest Bakery - no trip to Rotto is complete without indulging in at least one of their vanilla slices or meat pies.

Maia Frewer, acting marketing and communications manager at the Rottnest Island Authority, says the community has been particularly supportive of improvements to the Rottnest Hotel.

This first-stage redevelopment will see a new public bar on the existing beer garden site with plans to separate this from the Governors' Cottage and hotel accommodation. According to Maia, "the Rottnest ethos will not change, and visitors will still be able to enjoy a drink or light meal in a casual, relaxed atmosphere".

For those not staying at the pub, there are plenty of accommodation options. Heritage cottages are located at Thomson Bay and Kingstown, and there is a wealth of self-contained villas, units and cabins dotted around the island. There are also camping facilities available and a youth hostel at Kingstown Barracks. For those chasing something a little more luxurious, the Rottnest Lodge offers a range of accommodation from family apartments to lakeside rooms overlooking the very salty Garden Lake.

Rottnest's salt lakes are home to large numbers of brine shrimp which support rare bird-life such as the red-necked avocet, banded stilts, ruddy turnstone, curlew sandpiper, red-capped dotterel, Australian mountain duck, red-necked stint, grey plover, white-fronted chat, caspian terns and crested terns.

There's also a wealth of marine life in the waters that surround the island. Australasian Diving Academy director Luke Endacott says the quality of diving at Rottnest always surprises tourists who have travelled from Eastern Australia. "So many people dive on the Barrier Reef, then come to us and dive at Rottnest and they're just blown away," he says, noting the island's clear water and abundant mix of temperate and tropical fish as advantages.

He also mentions that a carefully managed, sustainable WA rock lobster industry has meant Rottnest offers fruitful diving for locals during the crayfish season. "It's pretty easy to get your bag limit every time you go out," he says.

Contact Boat Torque Cruises on (08) 9421 5888 or log on to boattorque.com.au.
Contact Rottnest Island Yacht Charters on (08) 9336-5952 or 0410-412-966 or log on to rottnestyachtcharters.com. Call Rottnest Island Authority on (08) 9432 9111 for more information.

Rowley Shoals
The Rowley Shoals are WA's own world-class wonder, a remote and pristine chain of three huge, pear-shaped coral atolls, each covering 80-90 square kilometres. Located 260 kilometres from Broome, on the edge of the Australian continental shelf, the atolls rise from extremely deep water to create shallow lagoons that are home to a rich diversity of corals and marine life.

The charter boat that takes you on the 12-hour journey from Broome to the Rowley Shoals will be your "home" during an expedition to the area. Only two of the atolls - Clerke and Imperieuse Reefs (the other is Mermaid Reef) - feature small, sandy islands, and they are affected by huge tidal changes that regularly fill and empty the three lagoons. It's a natural process that creates one of the diving highlights here.

Australasian Diving Academy director Luke Endacott says: "If you can imagine, you have the coral atoll with a whole lot of water on the inside, and, as the tide drops, all that water has to get to the outside. Generally, there's one major channel heading out; so there are millions upon millions of gallons of water emptying out, and you can do 'drift dives' through these and travel at unbelievable speeds."

He says the diving at Rowley Shoals is much better than at the famed Great Barrier Reef, with "incredible corals, all forms of marine life" and wall diving comparable to destinations like Kavieng, in Papua New Guinea, and the Republic of Palau. He recalls seeing "a lot of big pelagics [or free-swimming fish]" while diving, including tuna, trevally, mackerel, marlin and manta rays.

The WA Department of Conservation and Land Management (CALM) says the shoals are home to "233 species of coral and 688 species of fish - including many species not found on near-shore coral reefs". CALM also notes that "the coral and fish communities of the Rowley Shoals are unique in their composition and in the relative abundance of species".

Luke says: "I've actually dived with sailfish up there, which is rare as hen's teeth. That's why it's a unique place. Also, you get the whales going through there, and big pods of spinner dolphins; everything you'd want to see."

Trips to the shoals are restricted to the spring months but certainly not restricted to divers alone. Snorkelling, swimming and fishing are popular activities. Although, as Luke points out, it's in the world of diving that Rowley Shoals has developed a "cult following".

"The people who do go out there, from around the world, are predominantly very well-versed divers and they've all heard that Rowley's is the place to go," he says. "For people who have done a lot of diving, there are certain places that they have to get to - places like the Rowley Shoals and the Galapagos Islands."

Check out scooptraveller.com.au for more information and images of Rowley Shoals.

Buccaneer Archipelago

Made up of an estimated 800 to 1000 islands, the Buccaneer Archipelago offers plenty of opportunity to engage with some of the Kimberley's most magnificent coastal environment. Situated 50km north-west of Derby and just 90 minutes by light aircraft from Broome, the islands are rocky, rugged and sparsely vegetated for the most part, but also feature patches of rainforest, mangrove fringes, and secluded, spotless, white-sand beaches; a landscape best explored on-board one of the sea safaris that take visitors through the archipelago.

Extreme tides and saltwater crocodiles are just two of the hazards that make the experience of these charter boat operators particularly valuable. Tidal ranges of up to 12 metres resulted in many fatalities among the pearling fleets of the late1800s, while creating one of the archipelago's best-known attraction, the horizontal waterfalls of Talbot Bay. A sea safari can also take you to historic sites of Aboriginal rock painting and into the gorges, as well as allowing you to fish, swim, snorkel, and camp in some of Australia's most pristine locations.

Derby is the town closest to the Buccaneer Archipelago and where most sea safaris start, although some do leave from Broome. Some of the tours begin with a light airplane flight from Broome to a small landing strip on Cockatoo, while others rely on a seaplane transfer from Derby to a bay near the horizontal waterfalls where you can join the boat inside the archipelago. Each tour operator offers a completely different experience and you should explore the various options until you find one that suits your taste and your budget. Tours range in length from two to 14 days, and are generally available from April to October, outside the cyclone season.

Boat Charters:
Red Sky Charters: (featured in the last edition of Scoop Traveller) M: 0407 739 738, E:[email protected], W:redsky.com.au,
Buccaneer Sea Safari: P/F:(08)9191 1991, E:[email protected], W:buccaneerseasafaris.com
Pearl Sea Coastal Cruises: P:(08)9193 6131, E:[email protected], W:kimberleyquest.com
One Tide Charters: P: (08) 9193 1358, E: [email protected], W: onetide.com
Unreel Adventure Safaris: P: 08 9193 1999, E: [email protected], W: unreeladventures.com.au
Air Charters:
King Leopold Air: (08)9193 7155, W:kingleopoldair.com.au

Check out scooptraveller.com.au for a detailed map and complete list of tours operators.

Woody Island Nature Reserve

Woody Island is about 15km from the Great Southern coastal town of Esperance. The 240-hectare nature reserve is of one of the 105 islands that make up the Recherche Archipelago, with 30 hectares of the island developed as an environmentally sensitive day-visit and holiday destination known as Woody Island Eco-stays.

Mackenzie's Island Cruises - a family company based in the Esperance region for more than 50 years - offers day cruises through the archipelago, and also operates the accommodation and associated facilities on Woody Island. You can choose from Safari Hut or Adventure Hut units nestled amongst the eucalypts and overlooking Shearwater Bay, on-site tents or a shaded campsite. A linen service is available to the units, and kitchen, shower and composting toilet facilities accessible to all who are staying on the island.

The development puts you up close and personal to nature without sacrificing comfort, and environmentally friendly measures such as water conservation, waste management and solar power all contribute to what is an ecologically sustainable holiday experience. Of course, engaging with the island's natural environment is also the essence of activities such as snorkelling, bushwalking, fishing, and visiting the Muttonbird Lookout - located in the heart of the island's largest muttonbird rookery.

Joining the Bay of Isles Wildlife Cruise also gives you the opportunity to discover the diverse range of fauna that live on and around the islands of the Recherche Archipelago. Expect to see common and bottle-nose dolphins, Australian sea lions, New Zealand fur seals, sea eagles, Cape Barren geese, cormorants and flesh-footed shearwaters (or muttonbirds). Southern right and humpback whales also pass through these waters from June to October.

Call Mackenzie's Island Cruises on (08) 9071 5757 for more information.

Dirk Hartog Island

Forming the western boundary of the Shark Bay Marine Park on the Outback Coast, Dirk Hartog Island is WA's largest island and was discovered by its Dutch Explorer namesake in 1616 (172 years before Captain Cook landed at Botany Bay). These days, those making the much-easier, two-hour boat trip from Denham are predominantly history buffs, nature lovers and adventurous fishing enthusiasts, or those in search of a peaceful, scenic retreat.

The island's western side features rugged cliffs and heavy seas, and is a popular, if dangerous, location for rock and game fishing with sailfish, marlin and samson being caught. At the northern end of the island, Turtle Bay is known for its deep-sea fishing and catches of snapper, groper and cod; with fishing parties usually permitted to camp on privately owned land.

A range of bird species and a seasonal wildflower display also attract visitors to the island. Accommodation is exclusively available at the Dirk Hartog Island Homestead, and, as manager Mick Davies explains, the homestead can cater for a dozen people at any one time. The peak season kicks off in Easter and runs through to October. The homestead was a finalist in the 2000 and 2001 WA Tourism Awards and bookings need to be made at least 8 months in advance.

Call Dirk Hartog Island Homestead on (08) 9948 1211 for more information.


Indian Ocean Territories (Ness, these two to go on the same spread)

Cocos (Keeling) Islands

The Cocos (Keeling) Islands have featured in the pages of Scoop and Scoop Traveller for some time now, and for good reason. Located in the Indian Ocean, about 2700km from Perth, this isolated group of 27 tropical islands is closer to Indonesia than WA and combines traditional Cocos Malay culture with that of contemporary Australia. The islands experience temperatures that fluctuate between 24C and 30C all year round, with consistent trade winds, from April to October, attracting surfers, wind-surfers and kite-boarders.

Of course, if those activities sound a little too strenuous, you can relax under coconut palms on pristine, white-sand beaches. You can fish from the shore, or tackle the excitement of game fishing aboard a charter vessel. Or you can disappear into the underwater world that Cocos Dive's Karen Gerhard describes as "unspoiled, untouched, and unhurried".

"We have a huge diversity of corals," she says. "A lot of people say to us they've never seen such an expansive variety of leather corals. It's like swimming over a carpet of textures and colours."

An abundance of big fish, turtles and dolphins inhabit the warm waters of the 25-30 regular dive sites just 20 to 30 minutes from West Island, where Cocos Dive and the tourist facilities are situated.

Karen's husband, and partner, Dieter, says the Pull Keeling National Park also offers the opportunity to dive on the wreck of the German raider the SMS Emden, which was Australia's first naval sinking in 1914.

Add unforgettable sunsets, a quality left-hand reef break, a golf course and motel-style, cottage and private-house accommodation, and the Cocos (Keeling) Islands offer a WA holiday experience unlike any other.

Call Dieter at Cocos Dive Shop on (08) 9162 6515 or Cocos (Keeling) Islands Tourism Association on (08) 9162 6790. For more information, check out the new Indian Ocean Territories and Cocas (Keeling) Islands sections on scooptraveller.com.au.


Christmas Island

Located 360km south of Java and with 85 per cent of its population from China or Malaysia, Christmas Island offers a cultural experience unlike any other WA destination. Add a national park taking in 63 per cent of the islands 135 square kilometres, some of the world's best diving and an average temperature of 27C and its easy to see why this is a popular holiday spot for West Australian island hoppers.

In the words of Teresa Hendren from the Christmas Island Tourism Association: "It's a totally unique holiday destination. It's taken the best of Asian, Australian and European culture and put it all in the one spot - there's nowhere else like it in the world."

The 17 eateries highlight the island's cultural diversity, with visitors able to choose from hamburgers and chips, Italian seafood dishes or authentic Asian cuisine.

The island's 80km coastline is an almost continuous sea cliff of up to 20 metres in height. While this means the number of sandy beaches is small, the sea plummets to depths of 500m just 200m from the shore with excellent cave diving available.

In 1993 a multi-million dollar resort casino was launched and provided a major boost to the local tourism industry. While the casino facility has since closed the resort still offers a range of accommodation options. Alternatively visitors can choose to stay in one of the many lodges or self-contained chalets that surround the township.

Call the Christmas Island Tourism Association on (08) 9164 8382 for more information, or check out the new Indian Ocean Territories and Christmas Island sections on scooptraveller.com.au.

At time of print, National Jet Systems were flying Perth to Christmas Island, Cocas (Keeling) Islands and home on Mondays and Perth to Cocas (Keeling) Islands, Christmas Island and home on Thursdays, with a Saturday service added during school holidays. Call (08) 9481 1200 for bookings.
Location