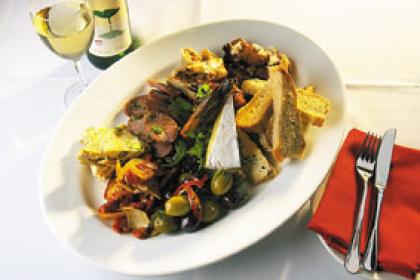 Just a cork's throw from Perth, Western Australia's oldest wine-growing region is enjoying a renaissance as one of Perth's popular lifestyle hubs.
Details
Description
The Swan Valley's warm inland climate and high rainfall creates perfect conditions for well-ripened fruit and full-flavoured wines. The region's 30-plus wineries produce quality chardonnay, chenin blanc and verdelho, as well as cabernet and shiraz. Small, family-run producers like Lamonts, Talijancich and John Kosovich also have a long history in producing fine fortified wines that bring connoisseurs to their knees.

If you're spending a day wine tasting, the larger wine producers of Houghton and Sandalford are well worth a stop, the majestic grounds being reason enough. A highlight at Sandalford is the 100-year-old gnarled vines that create a cool canopy for an alfresco lunch, while at Houghton's, the manicured lawns and leafy trees create the perfect spot for a picnic.

Just down the road is the newest winery in the Swan Valley, Fish Tail Wines. This family-run operation is set on 6.9ha with vistas of the Perth Hills. The Fish Tail label is funky, as are the names of the wine – Pink Salmon, Sweetlip, Whitebait and Yellowfin. The merlot (Pink Salmon) and chenin blanc (Sweetlip) are among the better drinking experiences.

For a picture-perfect view over the Swan River, head further south to Riverbank Estate. Cabernet sauvignon is the speciality here but for those who prefer white wine or a lighter red, Riverbank produces just about all the major varieties. The incredible views across the vineyard and the river are best enjoyed from the restaurant, where the outdoor dining area is perfect for those wanting to linger a while after time spent wine tasting. The a la carte menu changes seasonally and features the best available Swan Valley produce. The restaurant is also available for private functions.

On the eastern side of the Swan River you'll find Oakover Estate, where a number of award-winning wines are produced, including the 2003 Classic White and Red, as well as the 2003 Last Song Verdelho. Here, there's also a tavern and restaurant where you can enjoy the estate's wines, as well as locally brewed beers, meals and snacks.

Carilley Estate, with its leafy cellar door and restaurant overlooking Susannah Brooke, has been open only two years, but the winery comes with a wealth of experience. The Carija family has owned and operated vineyards in the Swan Valley since 1957 and Carilley Estate is the third vineyard planted by the family. Its principal wines are shiraz, merlot, chardonnay, viognier and chenin blanc. Carilley Estate also produces extra virgin olive oil from its olive grove and a limited amount of bottled oil is available for purchase at the winery.

Tropical fruit wines are the ones to try at Swan Valley Wines in Brigadoon, which is one of the first vineyards planted in the area. Now a family-run operation, Swan Valley Wines is reviving old viticultural traditions.

Up the road is Sittella Winery and Cafe, one of the newest wineries in the valley and also one of the most stylish. Not only will you be offered wine tastings at the cellar door, but you'll also discover an impressive display of works by local artists. The restaurant is superb, with glorious Tuscan-like views of the vines, paddocks and Darling Ranges.

If a DIY wine-tasting tour isn't what you had in mind, there are several wine touring options available.

Swan Valley Tours can organise just about anything and cater to the most creative tour-goer – stretched limousines, coaches, even a double-decker bus. They arrange gourmet wine tours and cruises, progressive dinners or customised charters.

And if it's total indulgence you fancy, another company offering a luxury charter service is Epicurean Tours. You travel in exclusive (and comfortable) automobiles and stop to meet the winemakers and personalities of the area.

For something different, jump aboard a Clydesdale-drawn wagon for a trip through the vineyards with Swan Valley Wagon Trails. The wagon is fully upholstered and weatherproof, making the off-road journey much more comfortable than you may think. The company offers full and half-day tours but if you want to surprise someone with a special treat, there are also romance packages, twilight trails and moonlight dinners available.

The Swan Valley and Eastern Region Visitor Centre has a handy Food and Wine Guide complete with a map of the area listing all wineries, restaurants, tours and attractions. For more information or for a copy of the map, give them a call on (08) 9379 9400.
Location