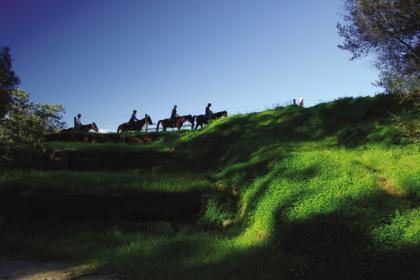 Renowned for its superb regional wines, the Swan Valley is also home to some cute and quirky nature parks the whole family can enjoy this summer.
Details
Description
Perth's blend of urban cosmopolis and casual, country air makes for some very interesting brushes with nature, all within a stone's throw of the CBD.
For small children the Swan Valley Cuddly Animal Farm is a must see. In Henley Brook, a leisurely 30-minute drive from the CBD, this little gem specialises in children's parties, allowing you to join in the fun while someone else takes care of the finer details. Onsite accommodation is available at The Vale Bed & Breakfast. Park entry is $10, family passes are available for $35 and children under two enter free of charge. Separate rates for accommodation and party hire apply. For more information call 0424 209 730 or visit cuddlyanimalfarm.com.
Bullsbrook's The Maze will also put a smile on the kiddy's dials and is also a riot for those looking to entertain their inner child. Having recently changed hands, the park is undergoing extensive upgrades, which will be completed by mid-December, when it will open daily during the school holidays (10am to 5pm). Adults can bring a barbecue picnic or enjoy a bite to eat in the Iguana Cafe while watching the kids play with koalas, kangaroos and emus. Three giant mazes, including one equipped with a super-slide and lookout tower, are sure to test your smarts and a nine-hole, disc-golf course is on the way! Finish with a round of miniature golf, a sure-fire way to have fun with the family. Please note, the koalas are on display at 11am and 2pm or by prior arrangement. Entry costs $14 for adults and $9 for children aged five to 15 years. Concession and family passes are also available. For more information call (08) 9571 1375 or visit themaze.com.au.
As any wine lover will tell you, the Swan Valley is not just for the kids, and the Australian Wildlife Conservancy's two regional nature parks offer their more mature visitors an experience to remember. Just one hour's drive from Perth is Paruna Sanctuary, a jarrah, wandoo and powder bark forest carpeting the banks of the Avon River from Walyunga to the Avon Valley National Park. Fifteen kilometers of purpose-built walking trails weave through the forest and, with a native species reintroduction program well and truly underway, trekkers are sure to encounter a range of interesting creatures along the way. Also worth a mention is the spectacular scenery on display in winter and spring, as the parks waterfalls and wildflowers take centre stage. A small $5 fee for bushwalkers utilising Paruna's trails means the Conservancy's vital conservation projects can continue. Paruna will be closed for bushfire season from December to March and bookings are essential.

With conservation experts having successfully reintroduced a melange of native wildlife to Paruna's sister park, Karakamia Sanctuary is also worthy of a day's exploration. This dense jarrah forest near Chidlow, just east of the Swan Valley, will appeal to those that want to learn a little more about what they see. On guided dusk walks ($15 adults, $10 concession) trekkers may come across any number of animals, from the Brush-tailed Bettong, the numbat and the much-loved quokka, to the Tammar Wallaby, the Western Ringtail Possum and the Southern Brown Bandicoot. The sanctuary is open to groups of eight or more and bookings are essential. For more information on Paruna or Karakamia Sanctuarys call (08) 9572 3169 or visit australianwildlife.org.
Location