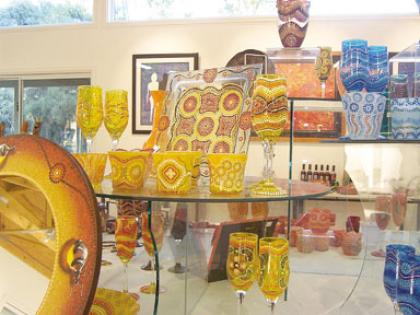 Take some time this spring to find out more about the Swan Valley's rich Aboriginal history and culture.
Details
Description
It may come as some surprise to find that WA's oldest growing wine region is also home a range of visitor experiences that reveal something of the area's ancient connection with Aboriginal people.
The Kangaroo Dreaming Trail is a coach and walking tour organised by two operators – Ngala Koondarm Boodjah, and U Me and Perth Tours. Local Aboriginal mother and son team, Lillian Smith-Ince and Steve Jackson, lead the trail and their aim is to share the culture of the Noongar people.
First stop on the tour is Walyunga National Park known as a "scatter site", or a meeting and gathering site. This place is one of the largest known Aboriginal campsites around Perth and is believed to have been used by Noongar people for more than 6000 years. It is still possible to find shards of rock and stone scattered by generations of Noongars who used the area to make traditional tools and weapons. During the stop, visitors stand in a circle as Steve tells the story about how as many as 600 people congregated there for hunting, gathering, trading and ceremonies.
The tour then weaves its way along an Aboriginal heritage trail between Walyunga and Boogarup Pools where you'll learn about local myths and legends. Nearby Bells Rapids is where Noongars believe the Wagyl or Rainbow Serpent cut a waterway through the valley.
Steve also keeps visitors informed about how Indigenous people used the native flora. A substance taken from the balga tree (grass tree or xanthorrea) for example, had more than a hundred uses in traditional life ranging from an ingredient used to bake cakes to a resin used for tool making.
The tour includes a visit to the Maalinup Aboriginal Gallery at The River Retreat. This houses authentic Aboriginal art and artefacts including paintings, didgeridoos, axes, knives and hunting boomerangs. It also sells modern pieces of hand painted glassware, sterling silver and bush jewellery.

At the River Retreat you can partake in another Indigenous cultural experience – Didge After Dark.
Running from October to May, visitors are guided to a campfire amphitheatre on the banks of the Swan River where local Aborigines perform traditional dances from the Dreamtime. The experience included a barbecue dinner where crocodile, kangaroo, emu and bush fruit and herbs are on the menu. Over dinner a swagman entertains guests with Aussie yarns and songs.
Didge After Dark costs $70 for adults with special rates for children. Contact The River Retreat for bookings on (08) 9296 0242.
Kangaroo Dreaming Trail is $95 for adults and $45 for children, with discounts for group bookings. Book through Ngala Koondarm Boodjah on (08) 9296 0242.

What's Hot
King and I Thai Restaurant: This newly opened Guildford restaurant offers authentic cuisine from one of Perth's top Thai chefs. Call (08) 6278 3999 for bookings.
Great Northern Distillery: Taste locally made rum at this new outlet in Middle Swan. Also offers tasting platters of local produce. Call ahead on (08) 9250 5422.
Celtic Swan Gallery: At this newly opened gallery you can browse through an array of locally made wooden furniture, paintings and crafts. Call (08) 9296 0728.
Mash: A stylish new brewery offering five beer styles ranging from Pale Ale to Dark Lager as well as tasty bar snacks. Call (08) 9296 5588.
Jarrah Ridge Winery: Just opened family run cellar door offering the Bud Series and Marginata Wine ranges. Call (08) 9296 6337.
Location