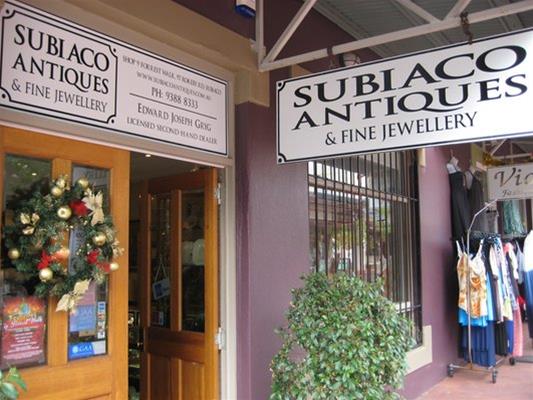 Subiaco Antiques and Fine Jewellery
Specialising In Jewellery With Over 30 Years Experience. A Registered Valuer & Member of The Jewellers Association & The Gemmological Association of Australia.
Details
Type:Jewellery
Open Days:Thursday,Friday,Saturday
Description
Subiaco Antiques is a business that has evolved from the love of Fine Jewellery and Antiques.

Eddie & Emma, bring a fresh approach to the Antique and Jewellery Trade and together they hope that they can introduce you to fabulous pieces that will bring a sense of pleasure and delight to the new owner.

Eddie is a Registered Valuer, Qualified Gemmologist, and a second Generation Jeweller with over 30 years experience. Eddie's introduction to his trade started when he was only eight years old, helping his family at Gemmology House in 1977. The following years he spent at his family's well respected manufacturing and retail jewellery business in the centre of Perth. This experience enables Eddie to call on a network of industry contacts and provides access to a world of fascinating antique, vintage and contemporary jewellery.

For years, Emma has helped her Mother an Antique Dealer search through the English and European Auction Houses and American Antique Malls to bring home treasures for their Antique shops in Perth.

Emma is also a qualified Gemmologist and has a back ground in Design which is reflected through the beautiful items on display in the Subiaco showroom. Emma is constantly looking for unique objects, whether it is a classic vintage handbag or an antique porcelain vase.

Hopefully this web site will give you a taste of our exclusive pieces, to see the full collection we invite you to visit our store.

Related
Subiaco Antiques and Fine Jewellery
Location
Address: Shop 9 Forrest Walk, 97 Rokeby Road,Subiaco,WA,6008
Phone: (08) 9388 8333
Email: [email protected]