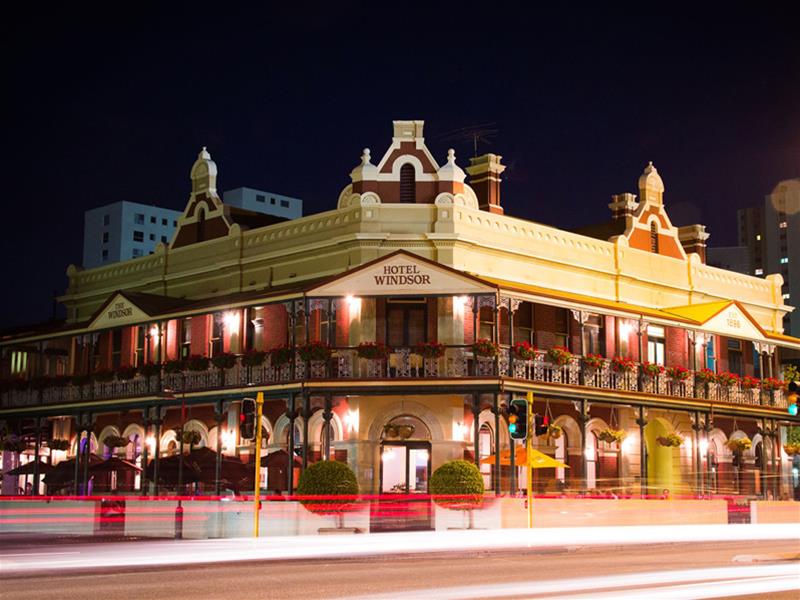 Established in 1898, The Windsor Hotel is one of the oldest hotels in the country, and still thrives as a premier spot for quality entertainment, service, food and beverages.
Details
Description
Standing proud in the South Perth foreshore precinct for more than a century, The Windsor is more than a pub, more than a restaurant or venue for functions, and much more than the bricks and mortar that comprise it. The iconic venue is one of the oldest hotels in the country, that has built its glowing reputation over the years through its delicious food and excellence in service.
While the ornate detailing and facade remains, the former public bar has been transformed into the modern boutique Mends St Bar. The old restaurant is now a colourful cafe bar, and the old Sluggers Bar has become a beautiful bar and garden.
This presents exciting opportunities for social events, celebrations, product launches, and even weddings, with numerous rooms adorned in various decor styles.
By day, the Mends St Bar's retro feel makes it an ideal spot for relaxing over casual bar snacks and woodfired pizza. At night, the bar fires up to provide a great venue to party the night away.
Outdoors, the garden is a pristine oasis with soothing Karratha stone, and water features that light up at night with extravagant flame effects. On Sunday afternoons, this stunning outdoor space livens up with DJ Ray on the decks to keep the ever-increasing crowd entertained.
Indoors, the restaurant, private dining and function rooms are also backed by first-class catering, audiovisual equipment, and friendly wait staff.
The team can cater for any size of bar tab, although drinks packages are not offered, due to licensing laws. There are more than 20 beers on tap, an extensive wine list, and creative cocktails made-to-order.
Related
Location
Address: 112 Mill Point Road,South Perth,WA,6151
Phone: (08) 9474 2229
Email: [email protected]