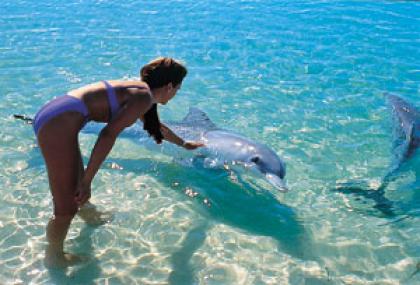 Head north to meet the dolphins at Monkey Mia this summer.
Details
Description
Monkey Mia is located in the Shark Bay World Heritage Area, recognised for its unique marine life. While there are opportunities to get up alongside protected animals like Dugongs and Whale Sharks, Monkey Mia is best known for the wild bottlenose dolphins that visit the beach in front of the Monkey Mia Resort each day.

Monkey Mia is one of the world's most important dolphin research areas and scientists from across the globe come to identify and observe the animals in the clear, shallow water. While the dolphins that visit the beach are closely watched, researchers are particularly interested in the offshore population of around 400 animals, especially those in the Monkey Mia bay area.

First visiting Monkey Mia almost 30 years ago, the dolphins have since been appearing at the beach between 7 am and noon each day. As the animals are wild it's impossible to predict when they will come and how many will arrive, but on average small groups visit the shore up to three times a day, particularly in the mornings. Visitors can walk amongst the dolphins and feed them fresh fish provided by the park rangers under strict supervision. Although sometimes it's easy to forget that the Monkey Mia dolphins are wild, visitors are asked to remember that too much feeding and extended periods at the beach can greatly affect the animals' ability to survive in their natural marine environment.

When there are large crowds, the dolphins generally swim along the shore, just out of arms reach, and visitors are advised not to try and touch the animals as they are more likely to come closer if you remain calm and still. A separate section of the beach has been set aside where visitors have the opportunity to swim with the dolphins.

Once you've met the friendly beach dolphins, you may like to take a cruise to play with the animals that live in the bay. Monkey Mia Yacht Charters and Monkey Mia Wildsights run daily wildlife cruises from the Monkey Mia Wharf. These tours can be from one hour to three days or more and are child and wheelchair friendly.

Both dolphin experts, these companies have been running exciting dolphin cruises for many years and the captains and crew will help you identify the animal's calls and movements - you'll be amazed at just how many noises a dolphin makes. The other advantage of taking a cruise is that the offshore animals display different behaviours to the ones that visit the beach, like fishing and fighting, and you'll manage to take some great happy snaps of the creatures playing alongside the boat. Dolphin cruises are relaxing and totally hassle free; all you need to pack in your bag is some sun protection and camera.
Location