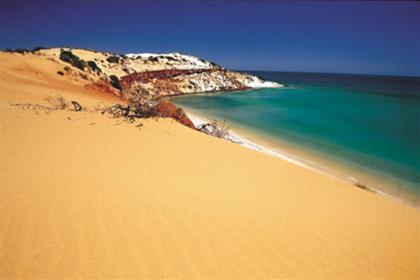 Standing atop a rust red cliff overlooking a seemingly endless expanse of shimmering blue ocean, it's hard to believe Peron Peninsula has remained untouched by tourism.
Details
Description
The Francois Peron National Park is located at the Peron Peninsula – Shark Bay's natural wonderland. It's home to pristine waters that harbour an abundance of marine life. From cliffs and hills overlooking the bays, you can see into the crystal clear ocean and spot dugongs, dolphins, rays, sharks and schooling fish as they dart through the shallows. You can gaze in awe at the seabirds as they soar the ocean thermals and pluck fish from the sea in almighty swoops. And, if you're quick, you'll see the flash of tiny lizards as they tear through the undergrowth.
The best way to explore the 52,500ha Francois Peron National Park is aboard a guided 4WD tour. While the area is open to self-drive visitors, hard-going four-wheel driving and a lack of detailed signage means you're better off letting someone else show you the best spots.
That's where operators like Shark Bay Majestic Tours and Monkey Mia Wildsights come in handy. Both operators offer eight-hour tours of the peninsula along with expert information on the areas' major attractions.
Dexter and Pauline Fowler, who run Shark Bay Majestic Tours, begin their expeditions at the Peron Homestead where the excellent interpretative facilities are complemented by commentary on the region's pastoral, Aboriginal, European and natural histories. You'll learn how the peninsula got its name from French zoologist Francois Peron, who joined a scientific expedition to Australia in 1801. And the Fowlers will introduce you to the pastoral history by taking you through an old shearing shed where they'll explain the art of shearing and the lives pastoralists led in this remote and desolate part of the country.
They'll also tell you about the ambitious natural conservation project being conducted in the Peron Peninsula, Project Eden – a Department of Conservation and Land Management project on Peron aimed at eradicating feral animals and reintroducing native wildlife. The project has already resulted in the reintroduction of endangered animals like the mallee fowl, woylie and the incredibly cute bilby. While these unique Australian creatures are mostly nocturnal and therefore unseen, it's comforting to see bilby burrows and mallee fowl mounds – signs these creatures are fighting back from the brink of extinction.
Leaving the homestead behind, you'll venture out onto the peninsula where the real adventure begins. First stop is Gregories, where you'll enjoy morning tea while taking in scenic land and seascapes.
Further along are stunning locations such as Bottle Bay and Cape Peron, where you're sure to be impressed by the incredible contrast of rust red sand dunes, brilliant white beach and turquoise waters. Sitting atop Cape Peron and peering into the ocean is like looking into an aquarium. It's common to see sharks cruising the waters – something of a deterrent if you're planning to swim – and schools of fish flashing silver in the light of the sun.
Pauline says it's this incredible insight into Shark Bay marine life that most impresses and even overwhelms visitors. "We've never once had a negative response," she said. "They just love the sea life, the birds and seeing creatures like a thorny devil, and in spring the wildflowers are just magnificent."
Shark Bay Majestic Tours offers eight-hour tours of the peninsula to a minimum of two people and a maximum of 12 (six per four-wheel drive) for $135. They'll supply all your food and drink as well as fly nets – a must if you're planning a summer visit. All you need bring is your camera, sun protection and a taste for adventure.
Monkey Mia Wildsights offers a similar all-day tour for $169. This price allows you to receive 50 percent off a tour on Monkey Mia Wildsights' #Shotover yacht.
If you want to explore Peron on your own, you'll need a four-wheel drive and you can make use of toilet and gas barbecue facilities at Gregories, Cape Peron, Bottle Bay, Herald Bight and Big Lagoon.

Who to contact:
Monkey Mia Wildsights: (08) 99481 481.
Shark Bay Majestic Tours (08) 99481627.
Location