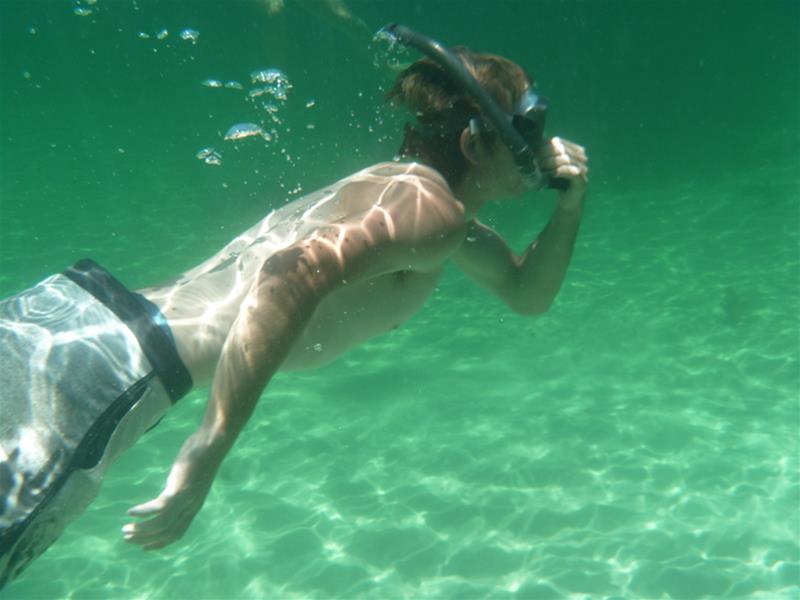 Snorkelling in Rottnest
Calm, sunny spring days are ideal for a snorkelling adventure at Rottnest Island and, best of all, you'll miss the summer crowds!
Details
Perfect For:Exercise Lovers,Kids & Families
Description
Rottnest Island is home to more than 13 shipwrecks, about 20 species of coral and 360 species of fish, including 97 species of colourful tropical fish, making the island a snorkeller's paradise. It is an underwater wonderland of life and colour and the diversity of snorkelling trails in the various bays around the island suit both novice and experienced snorkellers. Make sure you check Seabreeze.com.au for wind, tide and wave updates.
If you're going on your own, the best method to reach the snorkelling trails is by bike. If you don't bring your own wheels, you can hire some in the settlement at Thomson Bay or from the Visitor Centre Cafe as you walk off the jetty.

Alternatively, the Island Explorer Bus carries passengers to many of the snorkelling hot spots. You'll need a mask, snorkel and fins, which can be hired from Pedal & Flipper, which is located behind Hotel Rottnest.
For novice snorkellers, there's a fantastic and diverse selection of excellent trails. The Basin and Green Island provide the safest snorkelling spots for kids and novices because of the shallow, calm water and other suitable sites for novices are scattered around the island.
Pocillopora Reef at Parker Point is one of the top novice sites, showcasing colourful tropical fish such as moon wrasses, sergeant majors and parrotfish, large colonies of the pinkish Pocillopora coral and a very old and large brain coral. Underwater plaques are a unique feature of this snorkelling trail, providing information on the inhabitants of the area.
For strong swimmers with extensive snorkelling experience, the Offshore Reefs trail at Longreach Bay passes through one of the most interesting underwater areas at Rottnest. Caves and swim-throughs are scattered along the sheer-sided cliffs that form the northern edge of the lagoon, offering spectacular views. You will find large brown Montipora plates, lots of small heads of the pink Pocillopora coral and numerous species of fish.

Best sites for novices snorkellers
Pocillopora Reef at Parker Point, Nearshore Reefs at Little Salmon Bay, Coral Patch and Surfers Lagoon at Salmon Bay, Green Island, Inshore Reefs at Mary Cove, Fish Hook Bay (boat dive only), Eagle Bay Gutter at Cathedral Rocks, Little Armstrong Bay, Little Parakeet Bay, Nearshore Reefs at Longreach Bay and #Uribes Shipwreck at Natural Jetty.

Best sites for experienced snorkellers
Jeannies Pools at Parker Point, Firefish Bend, Cathedral Rocks Lagoon, The Maze at Celia Rocks, Sloping Rock at Little Armstrong Bay, The Grottos at Little Parakeet Bay, Offshore Reefs at Longreach Bay and #Denton Holme and #Macedon Shipwrecks at Kingston Reefs (boat dive only).
Related
The Oliver Hill Guns and Tunnels Tour
Rottnest Island Wadjemup Lighthouse Tours
Guided Walking on Rottnest Island
Fishing in Rottnest Island
Dining at Rottnest Island
Location