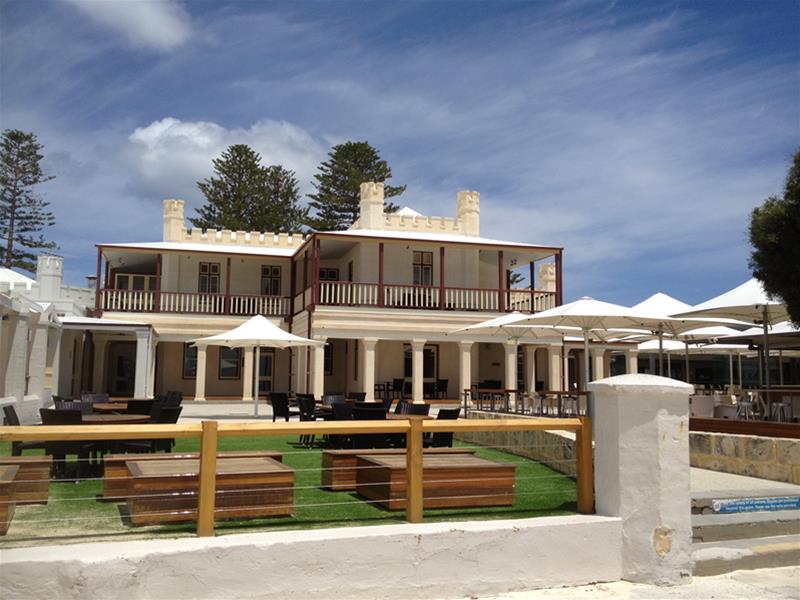 Dining at Rottnest Island
It's not just bakery pies and fish and chips on the menu at Rottnest anymore – a bevy of new restaurants and cafes has seen sophisticated cuisine become commonplace on the popular holiday island.
Details
Description
An early morning caffeine fix is a good way to start a potentially very active day, and when it comes to coffee on Rottnest Island, The Lane Cafe certainly tops the list. Don't forget to stop by around lunch time for one of their famous Lane Dogs - a selection of gourmet hot dogs, perfect for after your morning bike ride!
For a lovely coffee and all day breakfast, Dome Cafe is a nice start to the day. Located at Thomson's Bay, the cafe has an easygoing beachside feel, which attracts just about everyone who visits the island. With its European-influenced décor, glorious views to the mainland and vast selection of glossy magazines, Dome is the perfect place to while away the afternoon over a latte or hot chocolate. While the specialty here is coffee, for those feeling a little peckish, Dome's menu is described as contemporary Mediterranean, with a range of light, yet substantial snacks, salads, cakes, biscuits and non-alcoholic beverages.

For beachfront dining, superb seafood dishes and a casual atmoshere, Aristos Waterfront Restaurant specialises in fresh local seafood at affordable prices. Enjoy fish and chips or try one of Aritstos' famous seafood platters. Located on the water's edge, you'll enjoy the sweeping views across the bay and back to the mainland. Aristos now also serve delicous wood-fired pizzas - sure to tickle your tastebuds.

If you're craving fresh prawns and squid, Rottnest Lodge has a fully licensed a-la-carte restaurant, Riva Restaurant, where the speciality is fresh seafood. The fish of the day is always good here, as is the crayfish which has been known to frequent Summer's seasonal menus. For a great pub meal, you can also head to Governor's Sports Bar for a tasty Chicken Parmi and a cheeky game of pool or darts.

We all know that accompanying alcohol with food is extremely important, so plan a drinking night out at the Hotel Rottnest. During the day and evening, Hotel Rottnest serves snacks and light meals, including pizzas, burgers and pasta. The more substantial evening menu often includes seafood, steaks and desserts but is constantly evolving.

For a picnic lunch try WA Caterers, located at the Kingstown Barracks. It delivers picnics to various locations around the island and also caters for groups. Alternatively, you may like to swing past the Geordie Bay Cafe on the way to your favourite picnic location. Located next to the Geordie Bay Store, the cafe is well known for it's gourmet salads, burgers and mouth-watering fresh juices and smoothies.

An absolute must-visit is the famous Rottnest Island Bakery, located next to the Thomson Bay general store. With rows of fresh jam doughnuts, custard horns, vanilla slice, hot pies, pasties and sausage rolls, your only problem will be choosing what to order. You'll find that there is usually a queue at the bakery but persevere because it moves quickly!
Love healthy gourmet snacks and nutritious meals? Gluten free, vegetarian, sugar free and other dietary requirements can be catered for. Head to Quokka Joes Café - located in the Thomson Bay settlement mall.
For a budget –friendly tasty meal, grab a quick snack from Subway. Made to order fresh subs, salads and wraps. Cold drinks, fresh cookies, small and large FitChips and the only Subway in Australia to do pizza, available in 9 and 12 inch and oven cooked in less than 5 minutes. Located in the Thomson Bay Mall. Catering enquiries welcome.
Need desert or a Summer cooler? Head to Simmo's Ice-creamery. With over 100 different flavours are made using the freshest local Western Australian produce followed by a few secret ingredients and Simmo's imagination to create a truly delicious dilemma! Located in Thomson Bay Mall.
Prefer to self-cater? Head to the Main Settlement and Geordie Bay General Stores or pre-order online! What better way to start your Island holiday, than taking out the hassle of bringing your food with you? Less to pack means less to worry about. When you pre-order your groceries, we'll deliver them all in time for your arrival – even putting the cold items in the fridge or freezer for you.

Call Ahead
While most restaurants and cafes on Rottnest Island are casual and don't require bookings, sometimes it doesn't hurt to call ahead.

Restaurants, cafes and bars:
Aristos Waterfront: 08 9292 5171
The Dome Cafe: 08 9292 5286
Governor's Sports Bar: 08 9292 1561
Geordie's - Cafe and Art Gallery: 08 9292 5411
Hotel Rottnest: 08 9292 5011
Riva Restaurant: 08 9292 1561
Quokka Joe's: 08 9292 5777
Rottnest Bakery: 08 9292 5023
Simmo's Icecream: 0407 366 447
Subway: 08 9292 5500
General Store: 08 9292 5017
The Lane: 0407 366 447
Visitor Centre Café: 08 9372 9730
Related
The Oliver Hill Guns and Tunnels Tour
Rottnest Island Wadjemup Lighthouse Tours
Guided Walking on Rottnest Island
Fishing in Rottnest Island
Location