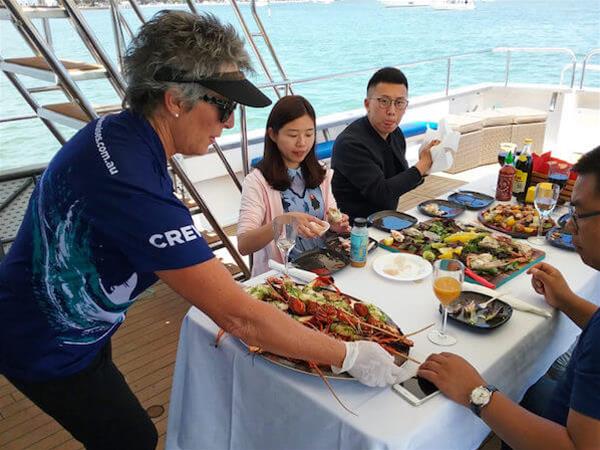 Rottnest Cruises - Wild Seafood Experience
New to Rottnest Island, our Wild Seafood Experience brings the ultimate in ocean adventure and luxury to Western Australia's favourite holiday island.
Open days/Times:Every Sunday in December & Everyday in January
Tour Duration:2.5 hours
Tour Price:$125 - $175
Type:Tours
Activity:Food & Drink,Sailing
Suited For:Adults (18+),Seniors
Details
Tour Locations:Rottnest Island
Type:Tours
Suited For:Adults (18+),Seniors
Open Days:Monday,Tuesday,Wednesday,Thursday,Friday,Saturday,Sunday,School holidays
Description
Designed for those who love fresh seafood, this 2.5-hour Rottnest boat cruise is the perfect blend of excitement and indulgence.
Our experienced boat crew will guide you through an unforgettable interactive experience out on the crystal-clear waters that Rottnest is famous for.
Dream no more. Live the dream on board your very own hands-on seafood soirée with Rottnest Cruises.
Rottnest has never tasted so good!
Related
Skydive Geronimo - Rottnest Island
Rottnest Island Glass Bottom Sea Kayaking Tours
Rottnest Island Free Guided Walking Tour
Rottnest Island Adventure Boat Tour
Charter1 - Luxury Sailing Catamaran Tours
Location
Address: Thompsons Bay,Rottnest Island,WA,6161
Phone: (08) 9586 1136
Email: [email protected]