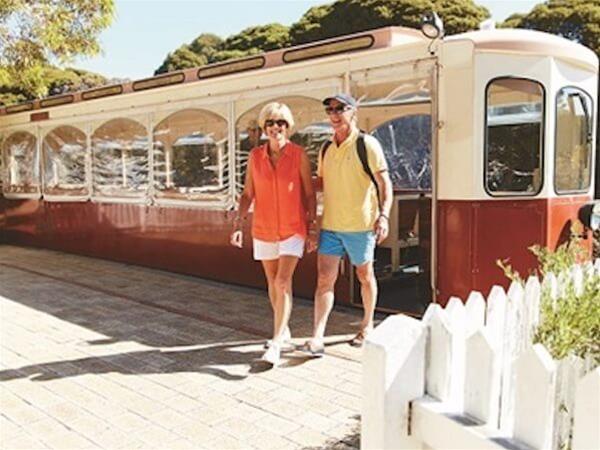 Oliver Hill Train Ride
Enjoy a train ride from the Settlement Railway Station to Oliver Hill on the Island's 64-seat Captain Hussey train, where you can admire the beauty of the Island's south-side.
Open days/Times:Everyday 12:30pm, 1:30pm & 2:30pm
Tour Price:$15 - $60
Type:Tours
Activity:Train Rides
Suited For:Families,Adults (18+),Seniors
Details
Tour Locations:Rottnest Island Railway Station
Type:Tours
Suited For:Families,Adults (18+),Seniors
Open Days:Monday,Tuesday,Wednesday,Thursday,Friday,Saturday,Sunday
Description
The train departs daily from the Settlement Railway at 12:30pm, 1.30pm and 2:30pm(train ride only). Boarding closes 10 minutes prior.
You can purchase your tickets online.
Alternatively, you can buy tickets on the Island at either the Rottnest Island Visitor Centre or automatic Kiosk located at the main bus stop. Make sure you book in advance to secure your spot!
Related
Skydive Geronimo - Rottnest Island
Rottnest Island Glass Bottom Sea Kayaking Tours
Rottnest Island Free Guided Walking Tour
Rottnest Island Adventure Boat Tour
Charter1 - Luxury Sailing Catamaran Tours
Location
Address: Settlement Train Station,Rottnest Island,WA,6161
Phone: (08) 9372 9730
Email: