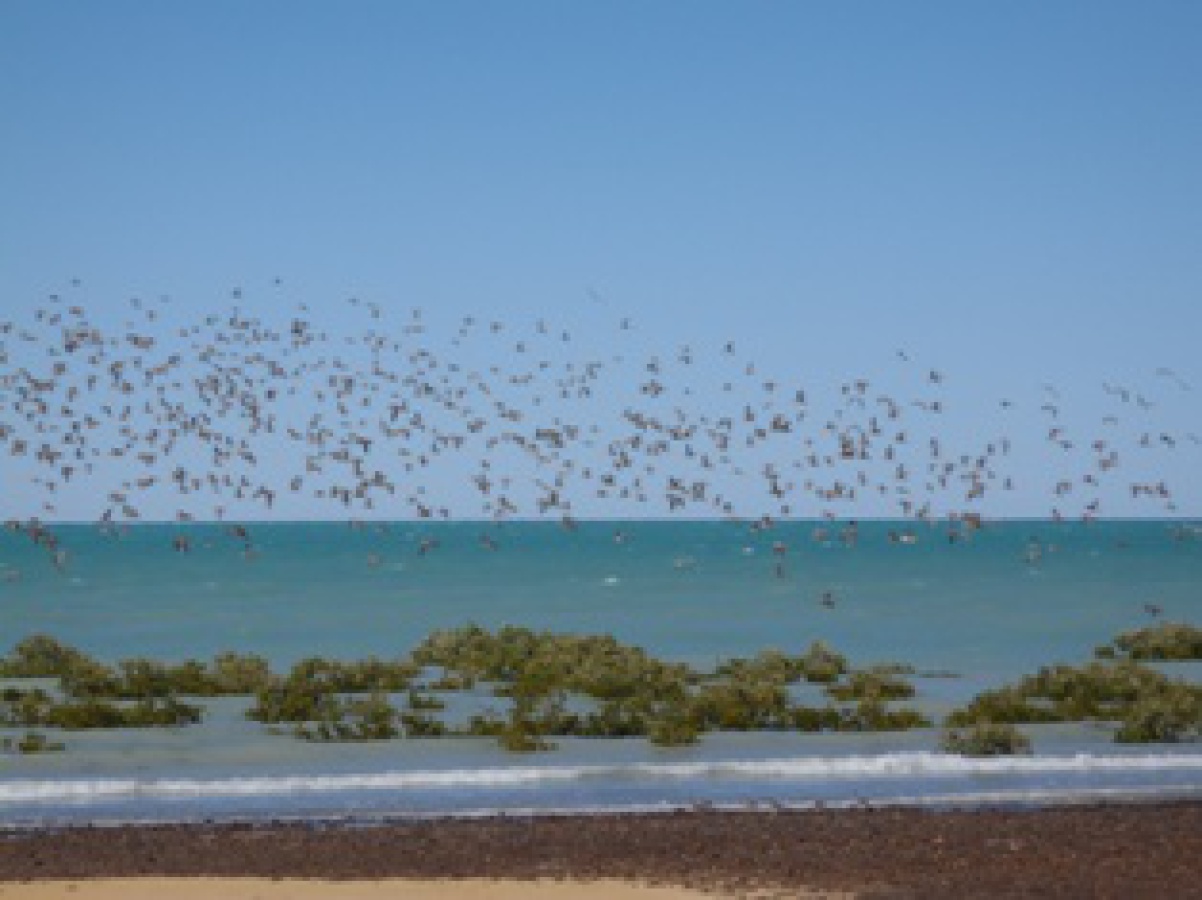 Yawuru Conservation Estate
From September-April, the Broome Bird Observatory in Roebuck Bay is one of the best places in the world to view vast numbers of migratory shorebirds.
Details
Office Hours:Monday to Friday 8:30am - 4:30pm Closed weekends and public holidays
Park Entry Fees:No
Description
Roebuck Bay is one of only a dozen or so areas in the whole world with huge intertidal flats rich in shorebirds.
Planning your visit
The Birdlife Australia bird observatory at Fall Point is an ideal place to view the birds. Day visits to the observatory are welcome and overnight accommodation includes a self-contained cottage as well as single, double and family units in the accommodation block and a small campground. See BirdLife Australia's Broome Bird Observatory website for more information.
Unique in the world
The uniqueness of Roebuck Bay has several dimensions. The bay lies in a corner of the Indian Ocean where the tides are among the largest on the Australian continent. Roebuck Bay is at the receiving end of the most species-rich of all shorebird flyways, and these shorebirds end up in the most biodiverse marine province of the world. Be it within the context of Australia, Australasia or the world, Roebuck Bay has no match.
Millions of birds
Mangroves which grow around the bay provide the basis for the food chains of molluscs, crabs and fish. Shorebirds (or waders) harvest the mudflats and tidal areas around Broome, including many migratory species. The tidal mudflats of Roebuck Bay are thought to be one of the richest sources of food in the world for migratory shorebirds and large flocks stop over here during annual migrations from as far away as northern Siberia, where they breed in the northern summer.
Broome Bird Observatory lies on Crab Creek Road along the northern shore of Roebuck Bay. It is 25km from Broome by road. The road is readily accessible by two-wheel-drive except during the wet season. The last 6km may be very corrugated.
Crocodile Safety

When you are entering the Kimberley or Pilbara regions, you are entering crocodile country. Two species of crocodile occur in Western Australia: the estuarine (or saltwater) crocodile and the freshwater crocodile. The estuarine crocodile is the largest living reptile and is considered to be a dangerous predator. Freshwater crocodiles are smaller and not as aggressive. Be CROCWISE in Western Australia's north and download our Crocodile safety and myth-busting factsheet and Crocodile brochure. For more information on Be CROCWISE see www.nt.gov.au/becrocwise.
This information was provided by the Department of Biodiversity, Conservation and Attractions: dpaw.wa.gov.au
Location
Address: 111 Herbert Street Broome,Roebuck,WA,
Phone: 0898819200
Email: [email protected]