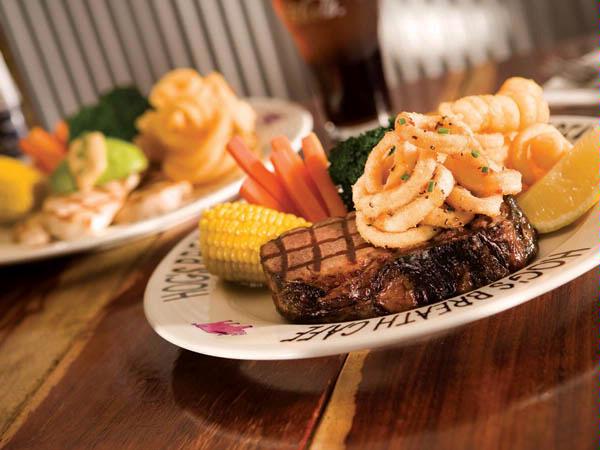 Hog's Breath Cafe Rockingham
Hogs Breath Cafe is a casual dining restaurant famous for its 18 hour slow cooked Prime Rib Steak. We are a licensed themed restaurant, serving quality food including lite options, salads and mouth watering burgers. We catering for all ages with an overriding friendly, party atmosphere!
Open Days/times:7 Days a week ; Breakfast 8.30 AM - 11 AM ; Lunch / Dinner 11 AM - 9 PM
Facilities:Family Friendly
Details
Facilities:Family Friendly
Lunch:Monday,Tuesday,Wednesday,Thursday,Friday,Saturday,Sunday
Dinner:Monday,Tuesday,Wednesday,Thursday,Friday,Saturday,Sunday
Description
An Aussie Success Story with lots of Grunt!
"There are many things we've never done, but we ain't never had too much fun", so the Hog's Breath slogan goes. It's an expression of a philosophy that has made Hog's Breath a tear away success story.
Indeed, whenever Australian homegrown franchise systems are spoken about, Hog's Breath invariably gets a mention. Why? Because for a franchise system to expand from a single outlet to 75 in just 20 years, it must be getting most things right.
It all started with our founding father, Don Algie, or should we say Boss Hog, sailing along the Queensland coast and settling into the idylic surrounds of the Whitsunday Islands.
The doors of the first restaurant were opened in July 1989 at Airlie Beach, North Queensland. In November the following year, a second store was opened in Mooloolaba. Additional stores quickly followed with locations opening in Townsville City, Darwin, and Cairns and along the eastern seaboard.
So what has made the Hog's Breath system so successful that it has grown at an average rate of six new outlets every twelve months for the past few years?
The answer has to do with providing a unique dining experience within the Australian marketplace.
From day one Hog's Breath set out to be unlike any other restaurant in appearance, atmosphere, style and type of service it offered patrons.
Hog's Breath can be credited with developing and specialising Prime Rib Steaks in Australia, with the boast that there's not a more tender, mouth-watering steak to be found anywhere. To complement this signature dish and its diverse menu, Hog's Breath has created a distinctive style for people who enjoy casual dining experiences.
In a nutshell, it's all about providing quality food and beverage services in an informal, yet comfortable environment with an overriding friendly, party atmosphere.
Location