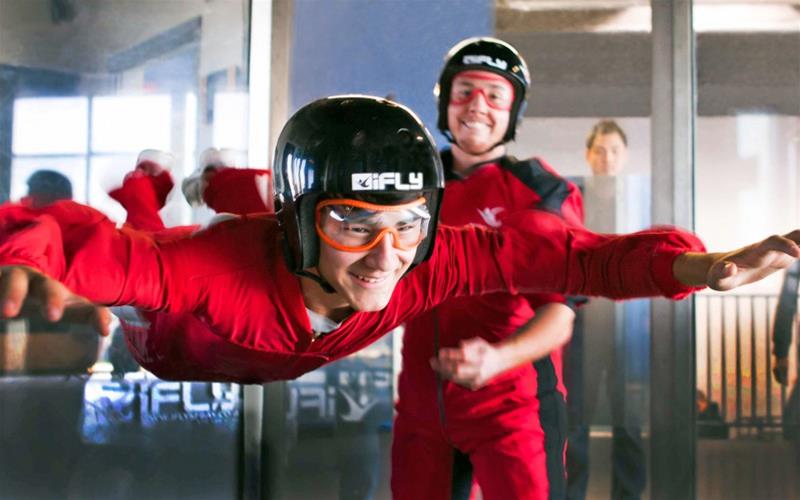 Whether you're 3 or 103, iFLY Indoor Skydiving is not just a thrill ride but the hottest action sport.
Type:Attractions
Activity:Skydiving
Suited For:Kids (4 - 12),Teens (13 - 17),Adults (18+),Wheelchairs,Seniors
Details
Type:Attractions
Suited For:Kids (4 - 12),Teens (13 - 17),Adults (18+),Wheelchairs,Seniors
Open Days:Monday,Tuesday,Wednesday,Thursday,Friday,Saturday,Sunday,School holidays
Description
Indoor skydiving will make you feel like a real life, crime-fighting hero; you simply lean into the wind inside our giant glass tunnel and a column of air lifts you up and you'll float effortlessly into flight guided by our qualified instructors.
From beginner, you'll soon master the flying skills of expert skydivers in our state-of-the-art, fully-controlled, ultra-safe environment. And the all-round viewing platform lets you share the magic with family and friends, who will gasp as you fly like somebody out of a superhero movie. Experience the rush that makes the sport of indoor skydiving so big around the world. Whether you're celebrating a special event, planning a corporate day out or looking for a new sport to take up – we'll help you get up to speed at iFLY!
Indoor Skydiving is both an exhilarating experience and a highly addictive sport. It is safe for kids, challenging for adults, exciting for teens and realistic for skydivers.
The iFLY Indoor Skydiving Experience
There's no parachute, no jumping, and nothing attaching you to planet Earth! It's just you and the air...and an incredible adrenaline rush.
Location