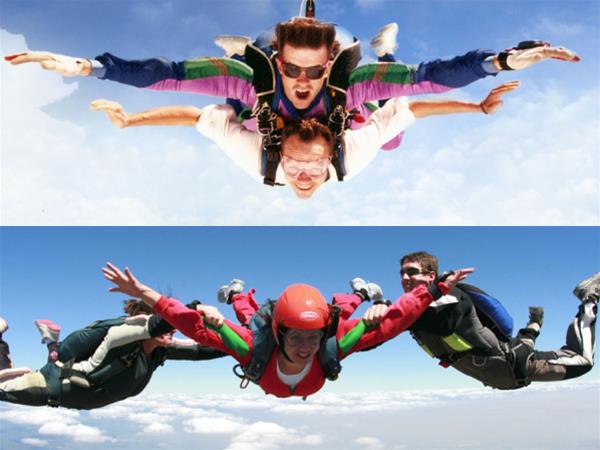 Throw yourself out of a plane at 10,000ft and savour the view as you rush back to earth over the Peel Inland.
Details
Description
If the land gets too hot for you during the summer months then you might like to consider a different way of cooling off, and jumping out of a perfectly good plane will certainly get the breeze whistling past your ears.

WA Skydiving Academy is the only skydiving operator in the Peel Inland area and has been taking thrill seekers up since 1987. Their dropzone is located in Pinjarra, a reasonable 80km from Perth, but if you don't feel like making your own way there they also run a courtesy bus service from their office in Northbridge.

If you're chomping at the bit to get airborne and to get some adrenaline running through your body, then your best option is a tandem jump. First you choose the altitude at which you'd like to jump - the lowest is 6,000ft and the highest 14,000ft. The main difference between the altitudes is the amount of freefall time - from 10 seconds at the lowest altitude to a minute at 14,000ft. After a 20 minute brief, you'll be fitted with a harness and securely attached to your "Tandem Master". The instructor stays in control at all times, making a tandem jump the simplest and safest way to experience skydiving.

For those interested in learning how to jump solo, you can complete a nine-hour course, usually split over a couple of sessions. Once you've completed the training two experienced instructors will accompany your first jump. The helmets are also fitted with radio devices so the team on the ground can talk to you and assist with your landing if necessary.

All chutes at the WA Skydiving Academy have two Automatic Activation Devices (AAD) fitted, which are designed to automatically open the parachute at a programmed height above the ground. The legal requirement is one AAD so at least you know that your chute is as safe as it can get.

To ensure that you remember every pulse-racing second of your jump, WA Skydiving Academy can also film and take stills of your experience, so make sure you remember to smile for the camera when you're falling through the air.
Location