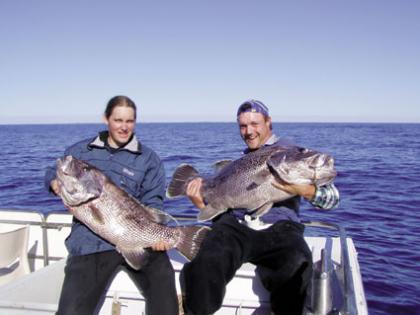 : For some, it's the challenge of wits and skill, while for others it's an excuse to get outdoors and catch up with a mate. Whatever the attraction, it's clear that for many, the Sunset Coast is about one thing only – fishing.
Details
Description
Fishing is a favourite pastime along the Sunset Coast. In fact, you'll find people beach fishing right along the Perth metropolitan coast, from Kwinana to Quinns Rocks and beyond.

If you've got the right gear (and can extract information about the best spots and the right bait from those in the know), a good starting point for those looking to indulge in some casual fishing is at the beach. At this time of year you're likely to catch herring, whiting and tailor if you cast a line from the shore.

The great thing about beach fishing is you don't need to be an expert to enjoy the experience. Rolling up your jeans, throwing in a line and just having a go is part of the fun, although you won't catch an abundance of fish by doing it this way.

If you're keen to do more than catch a meal for one, there are many boat charter operators offering deep sea and game fishing experiences. Charter boats and their crews range in price and the services they offer. You can book a charter for a day on the water with your mates, where you keep what you catch and bring your own lunch and drinks. Or you can pay more and fish in style, with crisp white linen, a glass of champagne and plush entertainment areas.

The boats also range in size and facilities. Some are luxury launches with cabins that take up to 36 people for a day of deep sea fishing, while others are better equipped for smaller groups and are faster, meaning you can get further from shore and spend more time deep sea fishing.

The fish you catch will depend on where you go, but generally snapper, dhufish, mulloway and skippy will be on the menu during the next few months. Fishing spots change with the weather and most charter operators use whiz-bang computer technology to predict the best places.

Game fishing is also very popular in Perth, with many exciting species prowling the Sunset Coast from December to May. Yellow fin tuna and the huge 500kg black marlin are often pulled in under tag-and-release programs, allowing anglers to assist in local research projects. If you're really into it, there are also game fishing tournaments being staged throughout the season.

Most operators provide tackle and bait, but you're also welcome to bring your own gear if you have it. You also don't need to be experienced to join a charter fishing trip. Operators provide a crew who can teach you everything, from baiting your hook to throwing in a line and reeling in the fish.

At the end of the day, the really great thing about fishing on the Sunset Coast is that if the fish aren't biting, you can still enjoy a beer and take in one of the best sunsets in the world with your mates.

Charter trips are open to everyone, however operators advise against taking children under 10, simply because it's a long day at sea.


Who to contact:
Charter fishing boat operators are listed in the Yellow Pages, but we've provided a selection to help get you started. All operators can give you advice on what fishing gear is best for you if you're interested in purchasing your own.

Mills Charters, (08) 9246 5334.
Boatwest Charters, (08) 9430 9691.
Hillarys Fishing Charters, (08) 9447 6014.
Hillarys Deep Sea Fishing and Executive Charters, (08) 9447 6956.
Deep Water Charters, 0428 929 643.
True Blue Charters, (08) 9430 6001.
Location