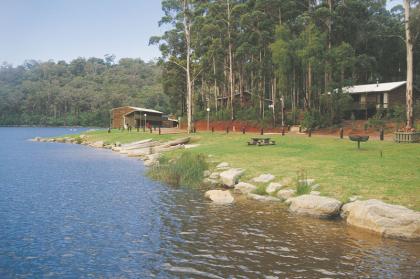 Pemberton is fast becoming one of the premium wine producing regions in WA. But it's not just about buying wine, it's about the whole winery experience.
Details
Description
From touring the vineyard and watching winemakers in action, to tasting wines at the cellar door and sitting back with a tasting plate, Pemberton's wineries offer a true taste of local produce and scenery.
Every palate is catered for and, of course, wherever you go you always get the breathtaking forest scenery as an added bonus. Here's a taste of just four of the region's wineries – be tempted!
Fonty's Pool is a joint project between Cape Mentelle Vineyards and Fonty's Pool Farm, which has the objective of creating wines that emphasise their regional origins. Located north-east of Pemberton on Seven Day Road, the architect-designed, energy-efficient cellar door is situated next door to the winery, against the backdrop of the vineyard.
All Fonty's Pool wines are available for tasting and, although they all get rave reviews, the most popular are the viognier, pinot and shiraz. Prices range from $10 to $25.
Visitors to Fonty's Pool are welcome to bring a picnic. The winery is family-friendly and tours can be arranged on request. Fonty's Pool is open daily from 10am to 4.30pm (closed Christmas Day and Anzac Day). Phone (08) 9777 0777. v Hidden River Estate is an easy 3km drive north of Pemberton. Built from rammed earth and incorporating a 100-year-old Californian tram, the cellar door and restaurant are located on a hill with picturesque views. Owners and hosts Phil and Sandy Goldring have created a place that reflects the essence of Pemberton, a place where visitors can have fun, while relaxing and enjoying some laid-back music, magnificent views, great food (cooked by Sandy using mainly local produce) and a selection of handcrafted boutique wines (served by Phil).
Specialising in chardonnay, pinot noir, merlot and basket-pressed shiraz, Hidden River has won about 30 medals over the past four years. All wines are available for tasting and prices range from $12.50 to $30.
Hidden River is an ideal venue for families, wine and food club groups, seniors, the elderly and disabled. The extensive playground enables parents to enjoy an (often rare) uninterrupted conversation while keeping an eye on their kids. Hidden River is open daily from 9am to 4.30pm, though people are welcome to stay until about 6.30pm (closed Christmas, Boxing Day and Good Friday). Phone (08) 9776 1437.
Mountford Winery, a scenic 15-minute drive north of Pemberton on Mullineaux Road, offers wine tasting, cider tasting, a gallery, restaurant and easy listening Sunday concerts, from jazz and blues to world music. The cellar door is housed in a two-storey mud brick and timber building with wide verandahs and the gallery is located upstairs with a balcony overlooking the vineyard and forest.
Grapes are grown organically to produce a selection of wines ($15 to $35) and ciders ($8 to $14) which are all available for tasting. Snack-style meals are available every day with a special menu available on Sundays to complement the afternoon music. Extensive lawns offer an ideal setting for families and groups and relaxation is in the air. Mountford is open from 10am to 4pm during the week and 10am to 5pm on weekends and public holidays. Phone (08) 9776 1345.
Salitage, located north-east of Pemberton on Vasse Highway, offers a serene winery experience, with the relaxing ambience complemented by beautifully-presented gardens. Visitors who take the winery tour, offered daily at 11am, will learn that "great wines are made in the vineyard".
Salitage offers two labels – Treehouse, ranging in price from $15 to $20 and Salitage from $17 to $35. All wines are available for tasting and the best wines are said to be the pinot noir, chardonnay (barrel fermented) and the cabernet blend "Pemberton", all from the Salitage range.
Tasting trays are available and indoor and outdoor tables provide a relaxed setting in which to sit back and treat the palate. And if you don't want to leave, Salitage also offers luxury adults-only suites, as well as a luxury guesthouse Phone (08) 9776 1195.
Other wineries to visit:
Angelicus Wines – Lot 10 Angels Road Manjimup (08) 9772 3003
Channybearup Vineyard – Channybearup Road, Pemberton (08) 9322 4142
Donnelly River Estate – Vasse Highway, Pemberton (08) 9776 2052
Gloucester Ridge Estate – Burma Road, Pemberton (08) 9776 1035
Knights Winery and Distillery – Vasse Highway, Pemberton (08) 9776 0606
Lost Lake Winery – Lot 3 Vasse Highway, Pemberton (08) 9776 1251
Pemberton Blue Loft Wines – Channybearup Road, Pemberton (08) 9776 1566
Pemberton Wine Centre – Old Vasse Road, Warren National Park, Pemberton (08) 9776 1811
Phillips Estate – Channybearup Road, Pemberton (08) 9776 0381
Silkwood Wines – Channybearup Road, Pemberton (08) 9776 1584
The Warren Vineyard – Conte Road, Pemberton (08) 9776 1115
The Wine and Truffle Company – Seven Day Road, Manjimup (08) 9777 2474
Treen Ridge Estate – Packer Road, Pemberton (08) 9776 1131
Woodsmoke Estate – Lot 2 Kemp Road, Pemberton (08) 9776 0225

Related
Lost Lake Vineyard & Winery
Location