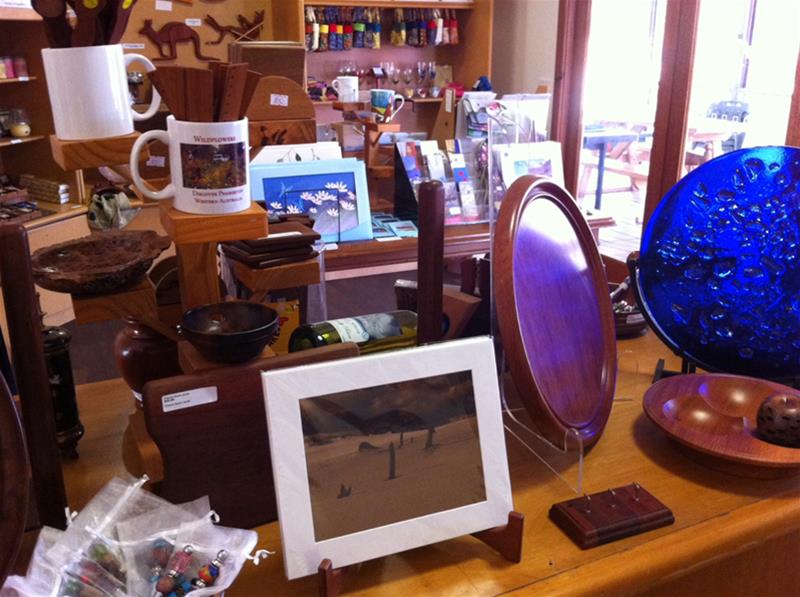 From paintings to jewellery, photography to ceramics, Pemberton's galleries showcase some of the best art and craft the state has to offer.
Details
Description
Located in town, Pemberton's Fine Woodcraft Gallery houses an eclectic selection of works from nearly 300 artists and includes furniture, sculpture, woodturning, carving, ceramics, jewellery, metal and fabrics. The gallery's philosophy is one of environmental conservation, providing quality local work from dead and recycled wood. Enchanting cottage gardens and a cafe serving light snacks, tea, coffee and cakes add to the gallery's relaxed atmosphere and both are great places to sit back and enjoy the mild spring sunshine.
Peter Kovacsy is a contemporary Australian artist and designer specialising in wood art and glass sculpture. The working Peter Kovacsy Studio in the town centre is set up as a private collection of his works and also offers a complete design and commission service. Peter draws inspiration from the Australian landscape and the way light moves in and on it. His large cast glass sculptures have a minimalist aesthetic and are made using techniques pioneered by artists in the Czech Republic. Peter's work cannot be seen anywhere else other than in various museums.
Botanica Gallery, also located in town, brings together a group of artists who document Australia's unique and diverse native flora and fauna, with scientifically accurate and visually appealing works of art. The gallery represents the first permanent collection of works by the well-known Botanical Artists Group of WA, which includes Patricia Dundas, Rica Erickson, Ellen Hickman, Penny Leech, Philippa Nikulinsky, Margaret Pieroni and Katrina Syme.
Heading north-west from town you'll come across Rosebank Cottage Crafts, where all artworks have an old-world charm and include embroidered heirlooms and hand-made teddy bears and ragdolls, along with reproduction furniture and wood decor.
Slightly further out of town you'll find Gold 'n' Grape Gallery. Jonathan Ellingham is the resident jeweller here and the gallery is the only place where his work is displayed. It also houses the work of five top Perth-based artists – William Boissevaine (tasteful nudes and figure studies), Gary Leathendale (seascapes and charcoal figure studies), Kale Miller (Karijini and Pilbara scenes), Arthur Hamblin (one of Australia's top two Australiana artists) and Betty McLean (pastels). Gold 'n' Grape also has locally produced furniture and offers a selection of local wines, along with cheese platters, light lunches, coffee and cake.
You'll need to head 14km south-west of town to find the exclusive collection of local photographer Alex Bond. The Alex Bond Gallery is found at the Pemberton Wine Centre, which is surrounded by the natural bushland of the Warren National Park. Passionate about the WA landscape, Alex brings a contemplative approach to his subject matter. His ever-changing display of stunning photographs showcases the South West's natural beauty. Better still, while perusing the gallery, you'll have the opportunity to enjoy some of the best wines from the region at the Wine Centre.
Twenty minutes north of town, you'll find Mountford Winery, Gallery and Cidery, which offers a gallery experience combined with wine and cider tasting. There's pottery by Greg Crowe, including small vases, cheese platters and large pots; photography by Dewi Hyde, Cliff Windfield, Roger Garwood and John Austin; and, during spring, Peta Davies' quirky abstract portraits and sculptures will be exhibited on the mezzanine floor of the mud-brick and timber gallery. Easy-listening concerts are also held from 1pm to 5pm every Sunday at Mountford Winery.

Contact:
Fine Woodcraft Gallery: Dickinson Street, (08) 9776 1399.
Peter Kovacsy Studio: 10 Jamieson Street, (08) 9776 1265.
Botanica Gallery: 23 Brockman Street, (08) 9776 1881.
Rosebank Cottage Crafts: Browns Road, (08) 9776 1648.
Gold 'n' Grape Gallery: corner Fox Road and Vasse Highway, (08) 9776 0304.
Alex Bond Gallery: Old Vasse Road, Warren National Park, (08) 9776 1811.
Mountford Winery, Gallery and Cidery: Bamess Road, (08) 9776 1345.
Location