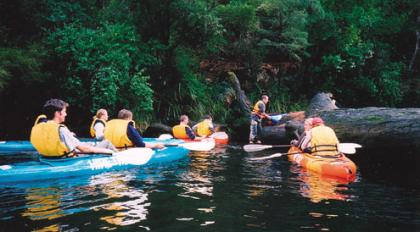 A Pemberton canoe tour will have you fishing for trout on the gentle Beedelup Lake or savouring delectable delights as you camp on the banks of the Warren River.
Details
Description
As the weather slowly begins to warm up, the idea of jumping in a canoe and peacefully paddling down a river or around a lake suddenly sounds more attractive. Luckily, Pemberton has enough pristine waterways and spectacular surrounding scenery to excite even the most hesitant canoeist in your group.

Andy Russell of Pemberton Hiking and Canoeing offers a variety of environmentally sensitive canoe adventures. He says he practises eco-tourism in the true sense, where education, awareness and interpretation of the environment are paramount.

For those seeking a relaxed paddling experience, the half-day canoe tour of the Warren National Park's river and karri forest is ideal. Your group will leave from the Pemberton Wine Centre on Old Vasse Road in the Warren National Park at 9am and return at around 1.30pm. Half way through the tour, the group stops for morning tea, which includes homemade cake and tea or coffee. During this time you're free to do a bit of bird spotting in the karri forest before hopping into your canoe and paddling back up the river. Andy advises that people bring a raincoat, camera and bathers – if you're game! The half-day tour costs $40 per person.

If you're looking for a little more activity, Andy offers a full-day tour, incorporating a half-day walk through karri forest and a half-day canoe. Morning tea, lunch and afternoon tea is included and the cost is $80 per person.

For the more adventurous at heart, there is also the option of a two-day tour along the Donnelly River, including an overnight camp at the river mouth. While you'll spend about four and a half hours paddling each day, there's time spare to do a little ocean fishing if you're interested. Again, all meals are provided, as are tents and sleeping bags (for up to four people). Depending on the facilities available at each campsite, you can expect to cook your own evening meal over a campfire or stove. The two-day tour costs about $90-$100 per person each day.

All meals provided on the tours are vegetarian and described by Andy as "real food". He says his own touring experiences of soggy salad sandwiches and stale biscuits made him determined to provide his customers with a decent feed. Examples include curries, laksas, Margaret River cheeses, rice and cous cous dishes, fresh salads, in-season fruit and vegetables and "great coffee".

Tours can be tailored to suit people's interests and Andy can even devise an environmental tour that includes education in forest and river interpretation and salinity issues. And if you're feeling super-fit, you can combine a canoe tour with one of Andy's hiking adventures or the sunset walk. Each tour's pace is adjusted according to people's fitness levels and whether or not children are taking part.

Tall Timber Adventure Treks, run by Richard Hughes, is another small company that offers a variety of adventure tours in the South-West region. Richard, who prides himself on offering personalised service and extensive knowledge of the local flora and fauna, offers half-day tours to week-long overnight camping adventures, where you'll set up camp each evening on the banks of the Warren River. On nights when the weather gets a bit wild, you'll head into town to stay safely indoors by a warm fire instead of camping out in the wilderness.

Tall Timber uses Australis Kayaks, which Richard says are safe, stable and easy to manoeuvre. You don't need any experience to use one, as an experienced guide accompanies each trip and will give you tips along the way. Richard can also organise specially tailored canoe trips for disabled people.

Tours start at $50 per person and go up according to the number of days involved. Prices include all meals, safety equipment and, where necessary, camping equipment, park entry fees, bedding and extra activities. Unlike Andy, Richard caters for both herbivores and carnivores, so if the idea of chowing down on a juicy steak after a hard day of paddling tickles your fancy, this tour may be the better option for you.

If you'd prefer to go it alone, a great place to visit is the Karri Valley Resort, where canoes are available for both hotel guests and the general public to hire and use on Lake Beedelup. Canoe hire at the resort is $5 an hour, or alternatively you can buy a day pass for $10 per person, which allows you to take part in any of the resort's 74 activities over a 24-hour time frame. A family pass costs $30, including two adults and up to three children.

While canoeing around Lake Beedelup, make sure you check out Beedelup Falls, which is in full flow during winter and spring. And if fishing takes your fancy, you can also try your hand at catching some trout from your canoe or paddleboat. The best time of year for canoeing on the lake is spring and summer. Apparently morning is the most popular time to set off, but canoes are available at the resort from dusk until dawn.

The resort has 15 canoes and also offers paddleboats, rowboats and surf skis. In case you fall in the water, swimwear or old, light clothing is recommended and life jackets are compulsory for anyone hiring a canoe. If your kids are keen to get out on the lake, remember they must be supervised at all times by an adult.

Canoe/kayak operators:
Pemberton Hiking and Canoeing (08) 9776 1559, pembertonwa.com .
Karri Valley Resort: (08) 1800 245 757, karrivalleyresort.com.au.
Tall Timber Tours (08) 9761 7076, talltimbertreks.com.au.
Related
Location