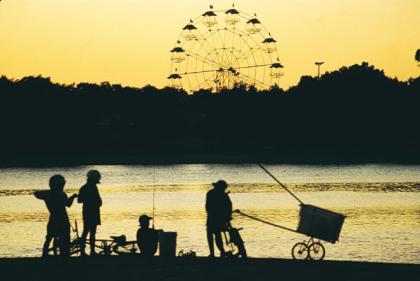 When it gets too cold for the beach, mini golf, trains and model English villages still make the Peel Coast the perfect spot for family fun.
Details
Description
Coastal holidays conjure up images of lazy days spent with family and friends soaking up the heat. Even in winter, the Peel Coast has an incredible range of activities to keep even the most demanding kids entertained for weeks on end.

Kids either love animals, or they tend to be deathly afraid of them. Either way, you will soon find out at Marapana Wildlife World in Golden Bay which gives you and the kids a change get up close with native animals in a beautiful bushland setting. Visitors are encouraged to bring a picnic lunch and eat amongst the animals. If the animals get too much or you're worried an emu might make off with your ham and salad sandwich, there is an animal-free area as well as a restaurant. There is also a petting zoo for little kids, so even the smallest in your family can get close to the animals safely. Marapana is open all week from 9am to 5pm, (08) 9537 1404.

Kings Carnival on the foreshore at Mandurah is a fun place for both big and little kids. There are lots of rides and activities from the toddler friendly Critter Train to bungee trampolines and mini golf for older family members. The carnival is open seven days a week from noon until 10pm Monday to Saturday, and from noon until 6pm on Sundays during the school holidays. If you're there in winter, opening times are Friday nights 7pm til 10pm, Saturday from noon til 10pm and Sunday noon til 6pm. Kings Carnival, Leighton Rd, Mandurah, (08) 9581 3735.

Another popular attraction in the area is the Hotham Valley Tourist Railway. One of the most unique tours takes guests back to a time when rail travel was a glamorous affair and taking the train anywhere promised adventure. Travelling on the Etmilyn Diner, tour-goers enjoy a five-course meal and relax in the decadence of a vintage 1919 dining car and 1884 bay car.

If you're looking for a different way to entertain the kids, the Hotham Valley's Wizard's Express regularly departs from the Fremantle train station with hoards of junior witches and wizards on board. The express aims to bring some of the mystical magic experienced by Harry Potter and his friends to any thriving wizard's apprentices residing in WA. The Wizard Express trains run on April 13, 15, 20 and 22 at 10.20am and 12.30pm each day. Hotham Valley Tourist Railway, (08) 9221 4444.

Another great family attraction is Abingdon Miniature Village. This is a miniature scale village of Abingdon in Oxfordshire complete with landscaped cottage gardens containing over 4,000 plants, plus a canal system with a village pub, miniature barges and a 1940s heritage tearoom. Models such as the Abingdon Country Hall can take more than 600 hours each to complete and are exact in every detail. The village is open from 9.30am to 4.30pm weekdays and 9.30 to 4.30 on weekends, (08) 9534 9079.

For more information on great family attraction on the Peel Coast, tours attractions and accommodation visit scooptraveller.com.au.


Location