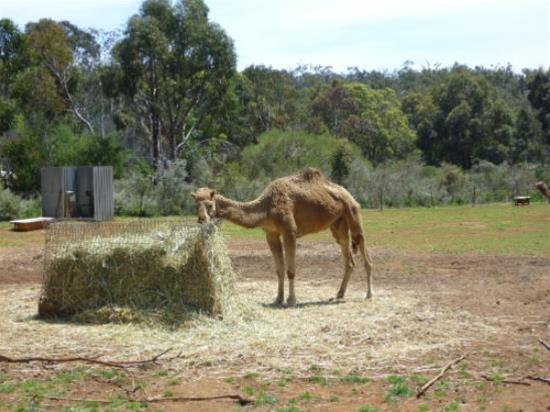 Camel rides and camel treks through native Australian bush at the Calamunnda Camel Farm.
Open days/Times:Open Thursday to Sunday
Type:Attractions
Activity:Animal Farm
Suited For:Families,Kids (4 - 12)
Details
Type:Attractions
Suited For:Families,Kids (4 - 12)
Open Days:Thursday,Friday,Saturday,Sunday
Description
Nestled in the hills above Perth, Western Australia, in a natural setting on the "Bibbulmun Track" the Calamunnda Camel Farm provides a unique opportunity to discover the rich variety of flora and fauna of the local Australian bush land.
Visitors can enjoy either a short camel ride or an extended camel trek and experience a whole new perspective of the "Darling Scarp" environment. Relax in the tranquil bush land setting and enjoy a family picnic or barbeque while watching the activities of the camel farm and a variety of native Australian animals. Light refreshments are available from our elevated tea rooms.
In season, magnificent displays of wildflowers appear also native banksias, eucalypts, casuarinas, grass trees and age-old cycads. The forest echoes to the calls and sights of native birds and it is possible to encounter Emu, Kangaroos and Wallabies as the camels carry you quietly through the forest.
Location