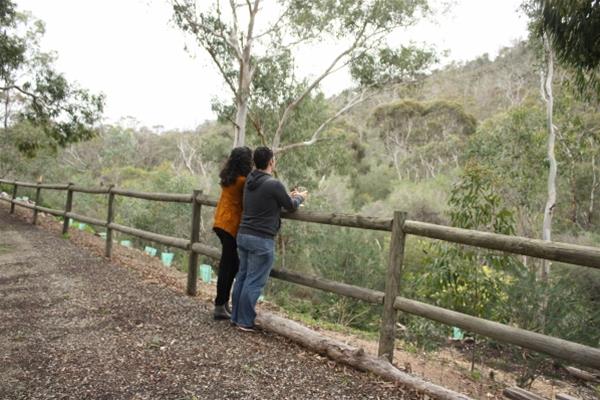 Bickley Brook Cottage
Relaxed and secluded Cottage in the Perth Hills. A great base for Bush walking and Mountain Bike riding.
Details
Capacity:6
Online Booking Link:[email protected]
Type:Chalets,1 - 3 Stars,Farm Stay,Holiday House
Facilities:Family Friendly
Description
Welcome to the beautiful Bickley Brook Valley, just on the edge of the City, in the picturesque Perth Hills. Bickley Brook Cottage, located at the bottom of this tranquil valley sits overlooking the Bickley Brook, offering private and secluded accommodation, perfect for your relaxing stay. Adjoining the Banyowla Regional Park, the outlook from the cottage is to the Bickley Brook, which flows through the property during the cooler months and the rocky outcrops on the neighbouring hill.

The cottage is surrounded by natural bush and is regularly visited by wild kangaroos and a variety of colourful bird life.
There are numerous walking trails nearby, including the Katamoorda Hiking Trail, the Mason and Bird Heritage Trail and the Valley to Valley Hike Trail. A short drive away is the Lesmurdie Falls National Park and the Ellis Brook Valley, home of the 60 Foot Falls. Or, if you are feeling adventurous, you could hike there from the cottage.

Through the late winter and spring the valley is filled with a variety of wildflowers and you will find several books in the cottage to help you identify the flowers you have seen on your walks.
Accommodation is available for up to 6 people with exclusive use of the cottage, which includes a large log fire for cool winter nights, air-conditioning, self-catering and laundry facilities... your home away from home.

Only 15 minutes to the International and Domestic Airports and close to Champion Lakes Regatta Centre, Araluen Botanic Park and the Bickley Valley Wine Trail. Bickley Brook Cottage is an ideal base for bush walking, mountain-biking (free bike hire is available to guests), sightseeing or for just relaxing and planning further adventures around our great state.
Here's what some of our guests have said:

"We will be back!! What a beautiful, tranquil retreat. An absolutely gorgeous, clean and quiet cottage Michelle!!!" 5 Merry Mamas, Perth, WA

"Immaculately clean. Beautiful surrounds. Quiet and secluded yet close to all. Thank you for a beautiful and happy stay. We will be back." Michael & Amanda, Victoria

"Thank you Michelle, everything perfect. Attention to detail first class! Walks and wildlife wonderful. Contents of the cottage and wonderful treats, just excellent." Carole & Keith, Devon, UK
Location
Address: 97 Hardinge Road,Orange Grove,WA,6109
Phone: 0407 459 976
Email: [email protected]