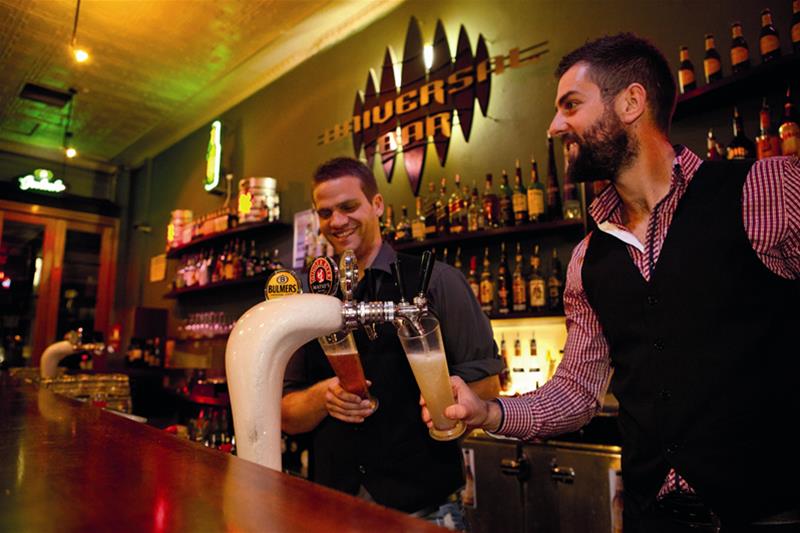 Perth's New Orleans style blues and jazz bar where quality musicians play nightly. If it's snacks and ambience you're looking for, then follow the smooth sounds to the Universal Bar.
Bars & Clubs:Rooftop Bar,Jazz & Blues,Wine Bar
Facilities:Alfresco,Private Rooms,Rooftop Bars,Wheelchair Access,Catering,Licensed,Live Music
Details
Facilities:Alfresco,Private Rooms,Rooftop Bars,Wheelchair Access,Catering,Licensed,Live Music
Open Days:Wednesday,Thursday,Friday,Saturday,Sunday
Dinner:Wednesday,Thursday,Friday,Saturday,Sunday
Description
Universal Bar is a popular hot spot amongst Perth's music lovers. Open since 1993, Universal Bar is well known for its cocktail bars, finest quality of food and beverages as well as live Jazz and Blues every night of the week. Universal Bar is also a popular function Center and continues to be amongst the most popular function venues for corporate parties.
Inspired by the atmospheric jazz and blues bars of New Orleans, Universal Bar has been the place for live music for 20 years.
Since the grand opening, the bar has built an outstanding reputation in the industry for offering not only the finest quality food and beverages, but exceptional live music every night of the week. Add to this award winning bar tenders and excellent customer service and you can begin to imagine the unrivaled atmosphere that is instantly felt when you walk through the doors.
1994 and 1995 saw extensive renovations take place at Universal Bar. The Back Bar area was constructed, doubling the capacity of the venue and creating a fantastic new private bar area for guests to hold functions. Amongst the most exclusive function venues in Perth, the bar has remained the same since, with neon lights, comfortable booths and warehouse style fixtures key design elements.
Throughout the years, Universal Bar has been a popular venue and function centre for National and International musical touring acts, and has consistently supported the Western Australian music industry. And it is the consistency of the music, service, and guaranteed great night out that has the patrons continuing to return each week. With a member data base of over 2, 500, it's clear that Universal Bar is a favourite hot spot amongst Perth music lovers!
And it's not just the patrons that love coming here. Management at Universal have worked at the bar for more than 30 years collectively, bringing a wealth of hospitality industry knowledge to current bar staff. It's obvious when you visit the bar that the staff genuinely enjoy working there, which ultimately means better service for the customers!
2007 and 2008 saw further renovations take place, with a brand new private functions room built upstairs. The room, with a complete focus on comfort and sophistication, features an outdoor alfresco area and is the perfect place to hold large corporate functions from cocktail parties, through to corporate training and seminars. This new area has vastly increased the capacity of the venue. Universal Bar is truly one of the most sought after function venues in Perth.
With the contemporary new upstairs cocktail bar paired with the history and atmosphere of downstairs, the House of Jazz and Blues is sure to be a hot spot for years to come.
Location