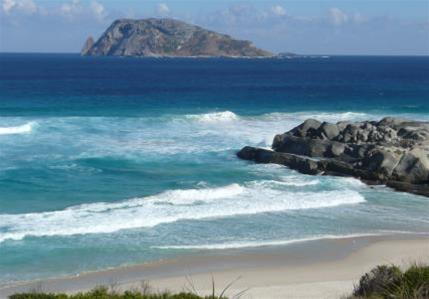 Mandalay Beach
Named after the Norwegian barque Mandalay, wrecked there in 1911, Mandalaly Beach is one of the most beautiful beaches in the Walpole area.
Details
Description
Mandalay Beach is a great stop en route between Manjimup and Walpole. Worth a visit purely for the stunning beach scenery, the lucky visitor may be fortunate enough to glimpse the wreck of the Mandalay, which can still be seen poking out of the rough waters of the Southern Ocean when the tides are low.
This area is popular with anglers, but even if you don't fish, it's worth the visit for the spectacular views of the Southern Ocean and Chatham Island, which looms out of the water three kilometres offshore.
This is a very beautiful spot with boardwalks down to the rugged beach, whale watching lookouts for the annual migration along the coast and historical information and interpretation signs about Mandalay. The Bibbulmun Track passes through the site.
Location
Address: Mandalay Beach Rd,North Walpole,WA,6398
Phone:
Email: