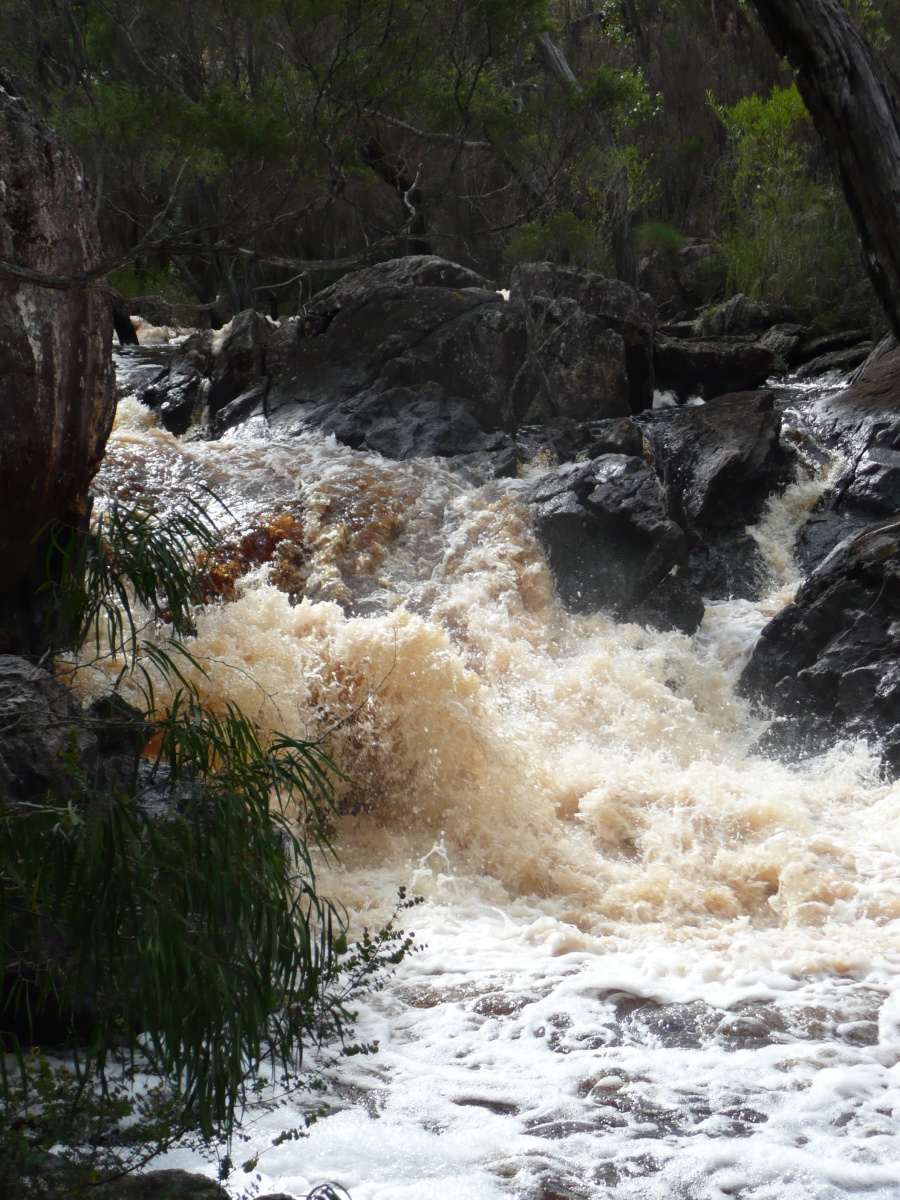 Fernhook Falls Campground
Spend a few hours, or a few days, exploring the waters of the Deep River at Fernhook Falls.
Details
Attraction Fee:$15 adult per night, $9 concession card holder per night, $3 child per night (over 5 and under 16 years)
Feature:Info Shelter,Toilet,Barbecue,Dogs Allowed - No,2WD Access - Yes
Activity:Bush Walking
Water:Untreated
Description
The mood of the Deep River at Fernhook Falls depends on the season. In winter, the water gushes furiously over the granite boulders creating a whitewash of froth. In summer, the flow is reduced to a trickle and Rowell's Pool is a calm, tranquil place.
Natural bubbles
The froth and bubbles seen at Fernhook Falls when it's in high flow are a result of saponin in the water. Saponin comes from plants as they break down in the river. As the water tumbles over the rocks, it churns up the saponin, forming froth and bubbles which pile up in spaces between the rocks and float serenely on the surface of Rowell's Pool.
Exploring the Deep River
Walktrails and boardwalks have been designed to give you a great view of the cascading falls and pristine forest while allowing universal access to parts of the site. The boardwalks have been constructed to protect the vegetation around the pool while still allowing the natural passage of native fauna through the forest.
Stay a while
You can camp in one of eight tent sites or two camp huts at Fernhook Falls, near the river and tucked away in the forest. Due to their popularity, please limit your stay to a maximum of three nights in the camp huts.

Camping fees apply.
Campfires
Campfires are usually permitted, in the provided fire rings only, between April 15 and November 30 but fire restrictions may be imposed at any time and without notice. Bring your own firewood. When fire restrictions are in place campfires must not be lit and any appliance powered by burning solid fuel must not be used. Always comply with any instructions at campgrounds and parks.
Campers´ own liquid or gas fuel barbeques, stoves and heaters can be used at any time, unless a total fire ban has been declared (see ).
Getting there
Access to Fernhook Falls is via unsealed roads from either the South West Highway or North Walpole Road.

This information was provided by the Department of Biodiversity, Conservation and Attractions: dpaw.wa.gov.au
Related
Location
Address: ,North Walpole,WA,
Phone:
Email: