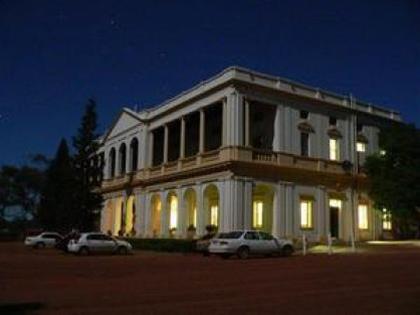 The Avon Valley oozes history and there's no better place to experience the heritage of towns like Toodyay, York, and New Norcia than by pulling up a bar stool at one of the many historic pubs.
Details
Description
Much of the charm of the Avon Valley is captured in the historic hotels, which line the main streets of towns across the region. Many hotels have been preserved and restored, making them an excellent place for a drink, a meal or a catch up with friends.

At York, Western Australia's first inland settlement, you'll find WA's oldest surviving hotel, built by convict labour in 1853. The Castle Hotel was the first two-story building in the town. It's been well cared for and retains its original facade. The Shearer's Bar is the place to go for good vibes, cold beer and pub grub. Wood fired pizzas are served in the outdoor area making it a popular spot in summer. The Castle also has an a la carte bistro, a drive through bottle shop and offers accommodation.

Built in 1855, York's Settlers House is classified by the National Trust and is said to be haunted by the ghost of a woman who once owned it. Settlers House was also used as a Cobb and Co staging post during the early gold rush days. It's been refurbished with lace tablecloths, log fires, cobblestones and lamp lit pathways to give it that yesteryear feel.

Settler's House is a great place for a quiet drink either at the cocktail bar or outside in the courtyard. An elegant a la carte restaurant is perfect for an intimate dinner, while cafe lunches and Devonshire teas are also available.

At the monastic town of New Norcia, about two hours north east of Perth, the New Norcia Hotel is worthy of an overnight stay. It was originally built as the monastery's guesthouse and was later converted to operate as a licensed hotel.

The New Norcia Hotel, like the town itself has a gentleness that mirrors the Benedictine community's wish for peace to all guests. Take the time to reflect with a cooling drink on the wide, terazzo-finished verandah. Or in winter, curl up in front of the open fire in the guest lounge.

In the heart of the Avon Valley is Northam, a town boasting several historic pubs, many of which were the social hub for prospectors making their way to the goldfields during the gold rush of the late 1890s.

You'll find most of the pubs on Fitzgerald Street. The Northam Tavern is one of the busiest with live bands on Friday nights. Others like the Colonial Tavern, Commercial Hotel, Fitzgerald's Hotel and Shamrock are good for a quiet drink.

About an hour's drive north west of Northam is Gingin, one of the oldest towns in WA and home to a number of historic buildings. The award winning, magnificently refurbished Gingin Hotel is well worth the day trip from Perth – if only for lunch or a coffee. The hotel is more than 100 years old and was allegedly built for two defrocked priests who enjoyed their evening drink. These days the hotel is stylish, sophisticated and comfortable. Enjoy a beer or coffee at the bar or in front of the open fire, or dine in the 100-seat restaurant featuring views of the Gingin Brook from the deck.

Across the valley at Toodyay are some excellent examples of 19th century architecture, including the Freemasons Hotel, on the main street. The wide verandah is the perfect place for a relaxed drink or a counter meal.

Brookton, around 130km from Perth is the gateway to the central south. The Brookton Club Hotel is a delightfully old fashioned, heritage-style country pub with open fires and ornate ceilings. Friday and Saturday nights are bustling thanks to a duke box and pool comps, or for those looking for a drink outdoors, there's also a popular beer garden. The Brookton Club Hotel has a friendly atmosphere and excellent food. Counter meals are available, or if you're after something more refined the heritage dining room is the place to be.

Call ahead
Gingin Hotel, Jones Street, Gingin, (08) 9575 2214.
Brookton Club Hotel, (08) 9642 1055.
New Norcia Hotel, Great Northern Highway, New Norcia, (08) 9654 8034.
Settler's House, 125 Avon Terrace, York, (08) 9641 1096.
Castle Hotel, 97 Avon Terrace, York, (08) 9641 1007.
Freemasons Hotel, Toodyay 125 Stirling Terrace (08) 9574 2201.
Northam Tavern, 75 Fitzgerald Street, Northam (08) 9622 10 41.
Fitzgerald's Hotel 174 Fitzgerald Street, Northam, (08) 9622 5511.
Avon Bridge Hotel, 322 Fitzgerald Street, Northam, (08) 9622 1023.
Colonial Tavern, 197 Duke Street, Northam, (08) 9622 1074.
Shamrock Hotel, 112 Fitzgerald Street, Northam, (08) 9622 1092.
Grand Hotel, 426 Fitzgerald Street, Northam, (08) 9622 3757.
Commercial Hotel, 190 Fitzgerald Street, Northam, (08) 9622 1049.
Location