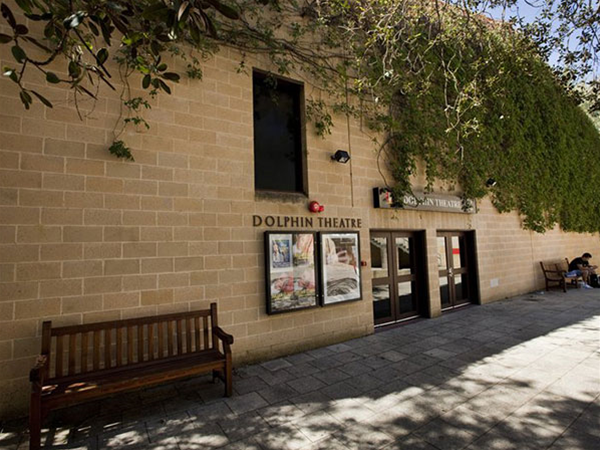 Dolphin Theatre
Opened in 1976, the Dolphin is a proscenium arch theatre with 198 tiered seats.
Type:Entertainment Venues
Activity:Theatres
Suited For:Wheelchairs
Details
Type:Entertainment Venues
Suited For:Wheelchairs
Description
Events
Waveney Wansborough Memorial Prize
Verbal Description & Tactile Tour: For visitors with vision impairment
The Darlington Ensemble and UWA Strings
SPRINGarts: Weaving and Wall Hangings
SPRINGarts: Pom-Pom Party!
SPRINGarts: Mini Picture Show
SPRINGarts: Making Comics
SPRINGarts: Handmade Paper
SPRINGarts: Crafting a Concertina Book
SPRINGarts: Basket Weaving
Out of the Boxes and into the Desert: In Dialogue with Conservation
Out Of The Boxes And Into The Desert
Music Students Society Takeover
LWAG Signs: Auslan Interpreted Tour
Going Slow: Arts & Mindfulness tour
Friday Talk: Stilling life - The Self-Portrait as a Vase with Flowers
Friday Talk: Portraits of Maternity
Friday Talk: On the Life & Work of Nora Heysen
Free Lunchtime Concerts | UWA Conservatorium
Related
Workplace Bullying Research: Where Do We Go From Here?
UWA Institute Of Advanced Studies
UWA Conservatorium of Music
University Club Of Western Australia
Lawrence Wilson Art Gallery
EDCC Earth Science Museum
Callaway Music Auditorium
Location
Address: Dolphin Theatre, 35 Stirling Hwy, Nedlands WA 6009,Nedlands,WA,6009
Phone:
Email: