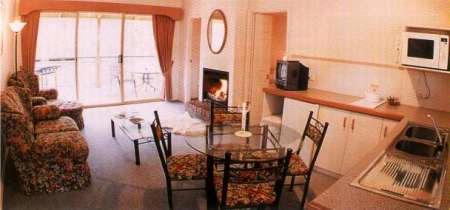 Fern Gulley on the Blackwood River retreat
Just a leasurely three hour drive from Perth,and you reach Ferngulley situated within the very heart of the Blackwood River valley,nestling on the banks of the prestine Blackwood River located on route 251 Balingup - Nannup Road, one of the prettiest tourist drives in WA.Surrounded by rolling hills and forests,centrally positioned within the states southwest,allowing you to visit Margaret river, Dunsboro,Yallingup,Augusta,Busselton, Bunbury, Pemberton,Manjimup in just over one hours drive.
Details
Online Booking Link:www.ferngulley.com.au
Wheelchair Access:No
Type:Chalets
Facilities:Pool,Room Spa
Description
Take the time to relieve the stress of city living, in your very own luxury chalet (two only). Sit on your own private balcony, cook a steak on your very own barbecue, sip a wine of your choice, relax and feed the various array of bird life that feed on your balcony, overlooking the Blackwood River. If you don't feel like cooking, then an evening meal can be delivered to your chalet door by Tathra Winery and Restaurant, just 400m down the road. Our billabong and lakes area along with our award-winning gardens take you into nature's heaven. Or, for the more active, enjoy our outdoor pool area, sip wine, float and look at the universe - with stars as you've never seen them - where else can you hear such a variety of frogs in harmony?
Location