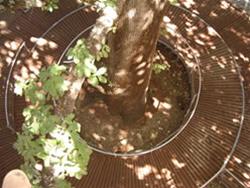 A landscaped park planted with trees from many parts of the world and equipped with picnic facilities and children's playground. Several walk trails start and end at the park.
Details
Description
Located off Mundaring Weir Road Fred Jacoby Park is surrounded by state forest and consists of landscaped gardens and many trees planted from around the world.
Fred Jacoby is an ideal place for a family day out or picnic, there are pleasant walks that begin and pass through this site and features rolling grassland, exotic trees, picnic facilities and wood barbeques
It also contains one of the largest living English oak trees in Western Australia, surrounded by a boardwalk which enables visitors to get in under the canopy of this 140-year-old heritage-listed tree, whilst protecting the tree roots from compaction.
Related
South Ledge - Golden View Lookout
Railway Reserves Heritage Trail
Perth Hills Discovery Centre
No 1 Pump Station Mundaring
Mundaring & Hills Historic Society District Museum
Location
Address: Mundaring Weir Road,Mundaring,WA,6073
Phone: (08) 9295 0202
Email: