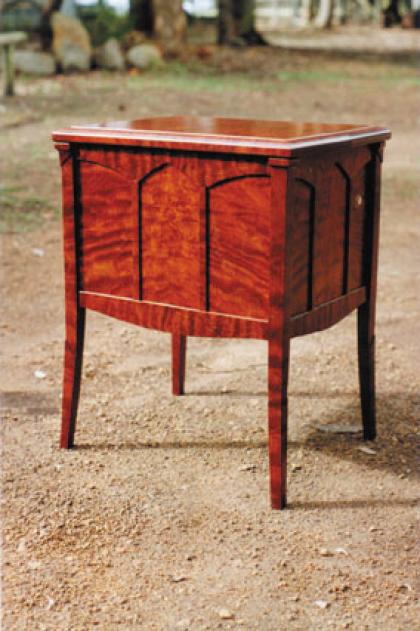 You'll find it all at the galleries in Mount Barker and the Porongurups with fine woodcraft, stone turnings, wrought iron sculptures and colourful oil paintings on display.
Details
Description
Right in the heart of Mount Barker is the Tourist Bureau/Gallery. Located in the restored railway station, the bureau houses a stunning collection of local art and craft in the original bar, kitchen and dining areas.

The collection includes turned stone vases, teddy bears, woodturnings, hand crafted boxes, breadboards, fence-post lamps and more. Most unique are the traditional wooden toys made by a local Swiss artist whose designs date back over 300 years. Mount Barker Tourist Bureau/Gallery, (08) 9851 1163.

Mix up your gallery experience with a little wine tasting at Galefrey. Owned and run by the Tyrer family, Galafrey has some great wines and fantastic artwork by daughter Kym. Mostly oils on canvas or acrylic on paper, Kym's works are very abstract and colourful. Kym's art appears on the Galafrey label, and while that particular painting was sold long ago, she does take commissions. Galefrey, (08) 9851 2022.

One of the newest galleries in the area can be found at Deep Water Estate's cellar door. This is another great place to do a little wine tasting while you check out local paintings and pottery. They also have a range of silver and pearl shell jewellery and Deep Water's new gourmet jellies and sauces. If you're the designated skipper, Deep Water sells an organic, free trade coffee blend from the Chimbu region in Papa New Guinea. Deep Water Estate, (08) 9851 1435.

If you're passing through Mount Barker on a Sunday, the Plantagenet Arts Council hold a regular weekend exhibition in the Mitchell House Gallery in the Old Post Office. Located opposite the tourist bureau, you'll discover fabulous paintings, all by local artists.

Those interested in fine woodcraft should head to the Porongurups where there are a couple of excellent galleries.

The first is Unique Jarrah Products. Specialising in jarrah and jarrah burl, the pieces are classic in design and range from a magnificent grandfather clock and large pieces of furniture through to salt and pepper grinders and breadboards. Full time woodworker Larry Sawyer makes all the items using traditional methods of joinery. Unique Jarrah Products, (08) 9853 1047.

The Lothlorien Gallery showcases handmade wrought iron and recycled jarrah products. Artist Dave Taylor has built a gallery out of rendered straw bails. His forgery is attached to the gallery and visitors are encouraged to head out back and watch him work.

While there are many pieces of furniture on display at Lothlorien, there's also an incredible range of interesting wrought iron and jarrah sculptures, including the award winning tree-like candelabra. Also on display are examples of pottery, mosaics and paintings by local artists. Look out for Dave's new range of wood, wrought iron and glass pieces. Lothlorian Gallery, (08) 9854 3009.

A fantastic new brochure that lists all the galleries in the Great Southern is available from the Mount Barker Tourist Bureau. While you're in the area, pick up your copy and check out the fantastic galleries in nearby Albany and Denmark.
Related
Shire Of Plantagenet Art Collection
Location