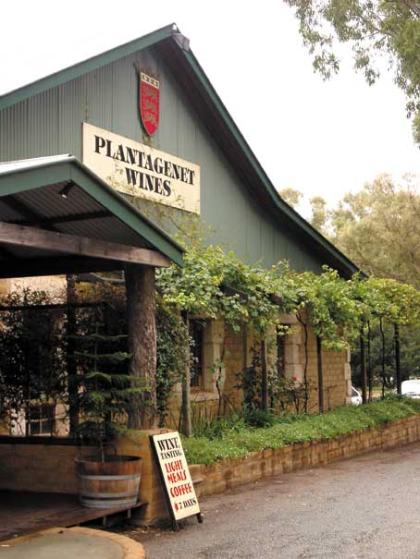 For a fantastic getaway this season, head to Mount Barker – the oldest wine growing region in the Great Southern – where you can indulge in exquisite wines and fresh produce amid a beautiful landscape.
Details
Description
The warm days and cool nights in the Mount Barker region make for perfect conditions for growing riesling and shiraz vines. The long, cool ripening period gives both varieties an intensity of flavour that has made these drops notable across the country. But that is not to say that other varieties like chardonnay, pinot and cabernet should be passed over at the cellar door.
The first winery you are likely to come across driving south on Albany Highway, 18km north of Mount Barker, is Gilberts Wines, a fabulous boutique winery with views of the Stirling and Porongurup Ranges from the verandah of the quaint farm cottage cellar door. Although there are many great varieties for you to taste, must-trys include the Reserve Shiraz and the Three Devils range. Gilberts also has the only winery restaurant in the region, making it a great place to fuel-up before a day spent touring the region's cellar doors. Gilberts Winery, open daily from 10am to 5pm, (08) 9851 4028.
Staying on Albany Highway, travel into the heart of Mount Barker to Plantagenet Wines, one of the oldest wineries in the area. The charming and rustic cellar door is welcoming and informative and here you can taste the three labels, Hazard Hill, Omrah and Plantagenet. Try the 2006 Omrah Sauvignon Blanc, 2006 Plantagenet Eros (rose), 2006 Plantagenet Riesling, and the long-awaited 2005 Plantagenet Chardonnay. Some of these wines are made in small quantities, so make the most of being able to access the whole range including some excellent fortifieds, which are only available at the cellar door. Plantagenet Winery, open daily from 9am to 5pm Monday to Fridays, and 10am to 4pm weekends and public holidays, (08) 9851 2150.
West from Mount Barker, 10km off Muir Highway on Quangellup Road, is Galafrey, a boutique winery operated by mother and daughter team, Kim and Linda Tyrer. It produces small parcels of distinctive and consistently excellent wines. The vines are dry-grown, producing crops that are low yielding but which produce wines with an intensity of flavour. Try their award winning unoaked chardonnay, riesling, cabernet sauvignon and shiraz. You can also indulge in the fresh gourmet vineyard seasonal platters that easily feed two out on the long verandah while you enjoy the sweeping views of the surrounds. Galafrey Winery, open daily from 10am to 5pm, (08) 9851 2022.
About 1km west on Muir Highway, you'll find the state-of-the-art Goundrey Wines where you can taste the wine, see the grape growing process, or just relax in the picturesque gardens complete with barbecue facilities. While most have undoubtedly tried the unwooded chardonnay, the winery is also renowned for producing world class riesling and shiraz. Take the opportunity to try the fun Offspring range, and the signature reserve range of shiraz and riesling at the impressive cellar door and showroom that also has a delightful array of quality giftware.
Goundrey offers free winery tours at 11.30am and 3pm daily that provide an insight into the winemaking process. If you want to take advantage of the tours, you'll need to wear sensible enclosed footwear. Or if you prefer, you can watch what's happening in the extensive barrel room through the viewing window from the cellar door. Goundrey Wines, open daily from 10am to 4.30pm, (08) 9892 1777.
If you don't feel like getting behind the wheel, consider a wine tour. Grape Southern Tours can organise wine tastings at four or five of the finest wineries in the area, including a delicious lunch of local produce with a glass of wine, tasting tips and regional history. You'll even be picked up and dropped off at your accommodation. Tours are around $75 and can be tailored to suit your needs. Grape Southern Tours, 0429 479 463.

What's Hot?
• Indulge in fine wine, food and music at the Mount Barker Wine Producers' D'Vine Wine Festival on January 13 held within the picturesque grounds of Goundrey Wines.
• The great Mount Barker Graze is on again during the long weekend starting March 2. Discover and enjoy premium wines matched with dishes of succulent regional produce as you explore some of the top wineries in Mount Barker on this self-drive tour. Call (08) 9851 2022.
• Talk to Kevin and Kathy Collins who grow every species of banskia at the Banksia Farm about the role they played in the exciting discovery of a new species of Banksia – banksia rosserae found near Mount Magnet – and currently taking the botanical world by storm. Call (08) 9851 1770.
Location