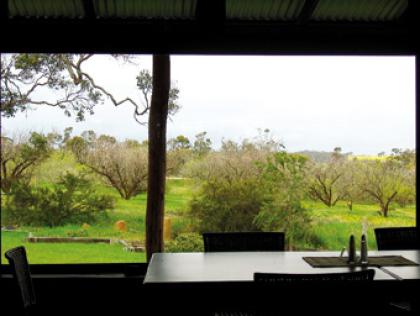 Food and good times are a major part of any holiday and no visit to Mount Barker or Porongurup Ranges in the South West's Great Southern region is complete without indulging in delectable, fresh and locally prepared cuisine.
Details
Description
Travellers are spoilt for choice when it comes to dining experiences in the area. Whole afternoons and evenings can be spent in picturesque settings enjoying mouth-watering food while chatting over a glass of the region's superbly crafted wine.

Heading into the Porongurup Range, stop at Maleeya's Thai Cafe on Porongurup Road. This modest cedar wood restaurant, which doubles as a craft shop, serves some of the most delectable Thai food you'll find anywhere in an incredibly comfortable and friendly atmosphere. Featured in Gourmet Traveller's top 600 restaurants, Maleeya's authentic recipes and freshly picked ingredients will delight your culinary senses. There are several signature dishes on the extensive menu, but we recommend you try the aromatic flavours of the classic Thai seafood dish, Tom Yum Goong. Maleeya's is open for lunch from 11am to 3pm and dinner from 6pm to 9pm, Friday to Sunday and is not licensed, so bring your own to enjoy with your meal.

Down the road, the family favourite Porongurup Shop and Tea Room offers casual indoor and outdoor dining, home-style meals, and children's swings. Open daily from 8am to 6pm for breakfast, lunch and snacking in between, it's the perfect stop when out exploring. Groceries, arts, crafts, and fuel are also available here.

Across the road, nestled in 32 acres of beautiful parkland and picturesque cottage gardens, is historic Karribank Country Retreat's The Old Lodge Restaurant. This contemporary and fully-licensed, well-priced cafe and fine dining restaurant offers delicious food in a relaxed, country-style atmosphere and has wonderful vistas of the Porongurup National Park. For dinner, local seafood and seasonal produce make up the majority of the varied menu. For something different, try their succulent poached cobbler in chilli, lime and honey served on a bed of rice. Open daily from 8am for breakfast, lunch, dinner, coffee and cake, the restaurant seats up to 100 people and separate dining facilities and a guest lounge also cater for special functions or groups.

For elegance, fine dining and friendly service in Mount Barker, you can't go past The Whistlestop Restaurant/Cafe, on Albany Highway. This charming restaurant, with its soft lighting and tasteful décor, provides the perfect ambience for romantic dinners and special occasions. Lunch is more casual and caters well to families. There's an alfresco verandah and two separate dining rooms that easily accommodate groups and functions. The restaurant's signature dish, beef fillet presented on creamy mash with green beans topped with a gratin of mushrooms, is simply delicious. The a la carte menu is varied and moderately priced, on Thursdays (SUZ– I MADE THIS DAY UP. AM WAITING TO HEAR BACK FROM ZAHRA ON THE ACTUAL DAY OF THE WEEK!) a curry night is held in the restaurant and on Sundays, visitors can enjoy a 3-course meal for just $25. The Whistlestop Restaurant is not licensed so bring your own – there's no charge on corkage, just on ice if you request it – and is open Wednesday to Sunday, 11am to 3pm, and from 6pm for dinner.

Also in Mount Barker are the Hilltop Tearooms and Weavery and Taste Mt Barker Wine Cafe. At the Hilltop Tearooms and Weavery you'll discover hearty, country fare, panoramic views and beautifully crafted hand-woven articles. And Taste Mt Barker Wine Café have a range of gourmet platters to nibble on and offer sales and tastings of wines from local wineries, many without cellar doors.

If you want to combine wine tasting with a great meal then head to Gilberts Winery and Cafe just 18km north of Mount Barker on Albany Highway. Sample excellent wines at the cellar door, then kick back in the alfresco or indoor dining areas, enjoying the views as you savour the dishes created by their internationally experienced chef. The region grows a wealth of fresh produce and Gilberts' prides themselves on using as much of it as possible. Favourites here include the Mount Barker chicken hotpot, and the lighter Thai beef salad. Friendly, affordable and full of charm with a delightful barbeque and picnic area, Gilberts is a popular choice for lunch, meetings and private functions and is the only winery restaurant in the region. Gilberts is open daily from 10am to 5pm.

– Zahra Shirazee
–
Call Ahead
Maleeya's Thai Cafe, Porongurup Road, Porongurup, (08) 9853 1123.
Hilltops Tearoom & Weavery. Orient Road (off Mt Barker Road), Mt Barker, (08) 9851 2831.
Whistlestop Restaurant/Cafe, 34 Albany Highway, Mt Barker, (08) 9851 1728.
Taste Mount Barker (Wine Cafe), 26 Langton Road, Mt Barker, (08) 9851 2500.
Gilberts Winery and Cafe, 438 Albany Highway, Kendenup, (08) 9851 4028.
Porongurup Shop and Tearooms, Porongurup Road, Porongurup, (08) 9853 1110.
The Old Lodge Restaurant at Karribank Country Retreat, Porongurup Road, Porongurup, (08) 9853 1022.
Location