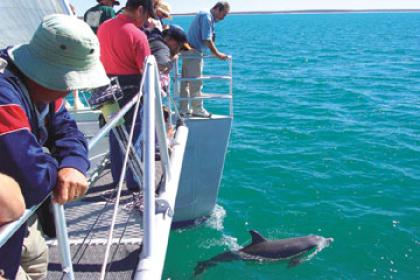 Take a wildlife cruise on the Outback Coast and discover an exciting marine world full of turtles, stingrays, dolphins, and dugongs.
Details
Description
Monkey Mia, is one of the best places in the world to successfully spot any of the 15 000 Dugongs (or sea cows as they are otherwise known). It is also one of the best places to see large numbers of Indo Pacific Bottlenose Dolphins – the only species that carry sponges on their beaks to protect them from shell and gravel grazes. The best way to witness these amazing mammals is by taking a wildlife cruise.

Your wildlife cruising options in Monkey Mia range from one hour through to three-day trips. Monkey Mia Yacht Cruises take visitors up to 7 km out to sea on Aristocat 2; a fully licensed, 18 metre long glass-bottom Catamaran. The off shore dolphins are always fishing, mothering calves and playing with the boat and during the longer tour you will see them in their dozens. The dugongs will also allow the boat to ride up alongside them and will even approach the boat on occasion.

The Catamaran sleeps up to twelve guests and the best way to see as much marine life as possible is by booking a three day, three night tour which can include all your food, alcohol, bedding and equipment so all you need is a change of clothes. During a standard tour Monkey Mia Yacht Cruises will supply their guests with sunscreen and polarised glasses (for better visibility through the water) but guests will need to bring their own hat and refreshments if they don't want to purchase them on board. The Aristocat 2 has excellent wheelchair facilities and a single child under 16 years old travels for free.

Monkey Mia Wild Sight runs eco-friendly wildlife tours on board the 18 metre long Catamaran Shotover. The tours are all sail powered so there's no exhaust fumes to pollute the air or water or engine noise to scare off the wildlife. All human waste is converted on board into a bacteria free seawater mix before being pumped back into the ocean and all the electricity used is solar and wind generated.

Seating on the Shotover is positioned around the ring of the boat and there is no cabin on deck so guests have a 360-degree view of the ocean. There is however a back awning for those looking for a little extra protection from the sun. To cool down even more there's also a sea-shower on deck. A hydrophone allows guests to hear underwater animal noises, which can be identified by the staff. Wild Sight will provide all their guests with polarised sunglasses, weather -proof jackets and pants, and sunscreen but guests must bring their own hat, binoculars and wear white-soled shoes or bare feet.

OTHER STUFF:
The Outback Coast is a water-lover's paradise. The calm blue waters are ideal for swimming, skiing, beach combing and snorkelling. For those who are looking for a land-based adventure, you will also find stunning gorges to explore, four-wheel-drive tours, sand boarding and more. For details on tours and attractions on the Outback Coast visit scooptraveller.com.au.
Location