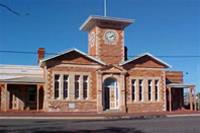 Menzies Town Hall & Clock
The clock was installed in time for the New Years Eve celebrations in 2000. The small town had been without a clock since the original one sank on its way form England to Australia in 1905.
Type:Attractions
Suited For:Families
Details
Type:Attractions
Suited For:Families
Description
The first section of the Menzies Muncipal Buidling (front left) was erected in 1896 after rented offices were burnt down in July of that year. The brothers C. Robert Arnott and Charles W. Arnott were the architect and builder engaged in the erection of the original structure. In 1900, the building was extended to include Council Chambers, administration offices, and a public library and reading room with the town hall located at the rear of the building. In the centre main front is a clock tower rising to 28ft from floor level. The style of architechture is rural Italian, and the work was carried out by the architect Mr G Finlay under the supervision of the Town Clerk/Engineer Mr P Stuart.
A clock was ordered from England and sent out to Western Australia on the S.S Orizaba in 1905. The royal Mail Steamer "Orizaba" was steaming towards Fremantle on the 16th February 1905. There had been a month of heavy bushfires and a thick smoke haze hung over the coast. Proceeding slowly with the lead going "Orizaba"nevertheless lost her way and floundered off Garden Island. All passengers and crew were rescued, and a considerable amount of cargo was salvaged. However, nothing is known of the fate of the clock for the Menzies Town Hall – whether it went to the bottom of the ocean with the vessel or was salvaged and sold. It certainly never reached Menzies, and the town hall tower was without a clock until the new millenium in the year 2000.
Related
Location
Address: Town Hall Clock,Menzies,WA,6436
Phone: (08) 9024 2041
Email: [email protected]