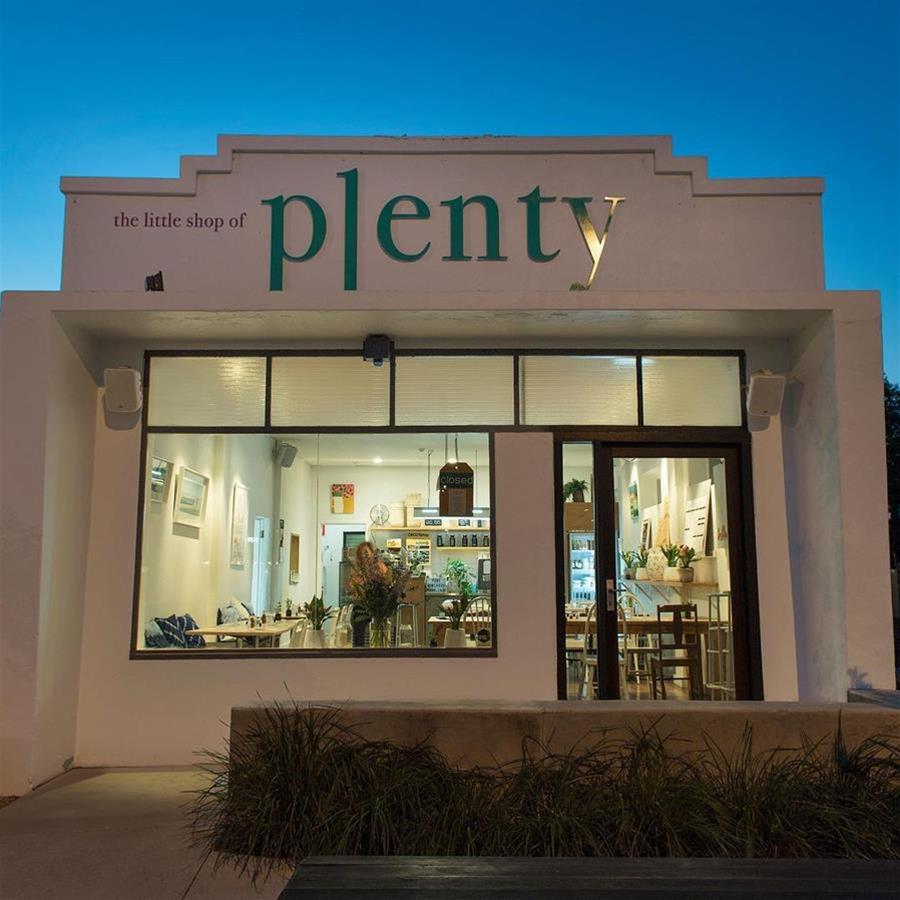 The Little Shop of Plenty
Plant based cafe / restaurant & store serving organic coffee with house made nut milks, smoothies, healthy breakfasts, burgers & bowls, natural wines & craft beers, Friday & Saturday dinners & events.
Open Days/times:Daily
Bars & Clubs:Outdoor,Wine Bar,Craft Beer
Facilities:Wheelchair Access,Licensed,Alfresco,Catering,Takeaway,Dog Friendly
Details
Facilities:Wheelchair Access,Licensed,Alfresco,Catering,Takeaway,Dog Friendly
Open Days:Tuesday,Wednesday,Thursday,Friday,Saturday,Sunday
Breakfast:Tuesday,Wednesday,Thursday,Friday,Saturday,Sunday
Lunch:Tuesday,Wednesday,Thursday,Friday,Saturday,Sunday
Dinner:Friday,Saturday
Description
The Little Shop of Plenty is a plant based cafe / restaurant in an old 50's auto workshop... what was once a pot holed car park is now a verdant garden terrace full of native & edible plants with picnic tables where folks can sit for coffees, a tasty treat or a well chilled craft beer... dogs & kids welcome!
All food is vegan with just a couple of exceptions - a little raw honey here and there (but always clearly identified!), organic pasture raised eggs cooked sous vide are available as a separate add-on... and farmer direct, minimally processed dairy milk is available for coffees.... but the focus here is on all the fresh veggies and wholefood dishes made with loads of flavour! Ah, & it's all gluten free as well, coeliacs welcome as our kitchen has no gluten foods whatsoever!
The daytime menu is simple but tasty - vegan cheese toasties, proper sourdough toast with avocado & lime smash, little tomatoes & hemp seed dukkah... the favourite breakfast risotto made with tamari braised portobello mushrooms, Australian grown, rain fed biodynamic brown rice and fresh pesto. There's a big 'grab & go' fridge loaded with 'Plant Food Boxes'... great for a quick, tasty & healthy lunch you can pick up along with your morning take away hazelnut latte! Ah, did we mention the house made nut milks?! Fresh, creamy almond & hazelnut milks are made on site daily... the hazelnut milk medicinal mushroom hot chocolate is a definite must try!
A full range of individual sized raw cakes & slices including the crowd pleasing salted tahini caramel are all made on site... or for ice cream lovers, there is local Roho coconut based ice cream available by the scoop and in their awesome ice cream sandwiches!
Plenty is fully licensed and has a full wine list, all lo-fi, minimal intervention wines - certified or otherwise organic, no or minimal sulphur addition & natural ferments... and a beer list to satisfy the craft beer fans among us! Both gluten & gluten free beers available with a non-alcohol range coming soon too. Licensed to serve drinks without food, you can just stop by for a wee drink with a friend even if you're not in for a meal. But for the food & drink together, it's definitely worth checking out the monthly casual dining events, including 'beers + burgers' with three paired beers and 'wine & dine' nights with visiting winemakers & Commune Wine Store collaborations, three courses of paired food and live dj tunes.
Open every Friday & Saturday night from 5pm, the festoon lights are on in the garden, candles on the tables... Plenty switches to table service & beautiful evening dishes... grazing platters of nut cheeses, pickled veggies, olives (grown & cured on site!), fancy hummus & breads... pumpkin gnocchi with asparagus & herbs, baked polenta with Moroccan spiced Brussels sprouts, chick peas, pomegranate & pistachios... fragrant & spicy Mee Goreng zucchini noodles with marinated jackfruit.... and there are always those burgers oozing with cashew cheddar...
The name 'the Little Shop' came from the owners grandmother who sent them to buy her things from the little corner store, not the big supermarket came to represent the small, owner operated business as a part of the local community... but now it has also come to refer to the little retail space inside the cafe which is packed with all the supplies you need to ditch the plastic and step closer to the 'zero waste' lifestyle... as well as natural skin & body care products from toothpaste, loo rolls, body washes and that amazing 'Black Chicken' deodorant! Also loads of lovely homewares, plants, art prints & sustainable produced cards & gifty things.
Plenty is a fresh & inviting space, welcoming to all, whether you're in for a really good take out coffee, a place to linger over your computer or special date night dinner!
Location
Address: The Little Shop of Plenty, 217 Railway Parade,Maylands,WA,6051
Phone:
Email: [email protected]