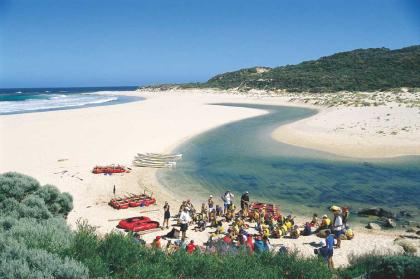 One of the best ways to explore the stunning rivers and coastline of the South West region – and get up close to the marine and wildlife – is to hop in a canoe or kayak.
Details
Description
What could be better than combining a glorious paddle with a feast of delicious gourmet bush tucker? Bush Tucker Tours leaves from the Margaret River mouth, where there are 5km of open water to paddle and no chance of having to clamber over rocks and logs.
In winter and spring, flowering and fruited plants abound, while summer suits the more adventurous, with magnificent swamps. The family-friendly canoes take six people – just put the kids and grandparents in the middle, leaving two adults to paddle. The trip lasts four hours ($60 per adult, $30 per child) and includes a picnic of 25 gourmet Margaret River wild foods and a cave and walking experience. The day ends with a race to shore for prizes.
On the other hand, if paddling in the crystal clear turquoise ocean, watching dolphins, schools of salmon and the odd whale pass by sound idyllic, head to Meelup Beach at Cape Naturaliste. Michael Wise from Cape Kayaks has sit-on-top kayaks for hire (single kayaks cost $10 for half an hour, $15 for an hour and doubles are $20 and $30 respectively) and also conducts guided tours. Two-hour ($40 per person) or four-hour tours ($80 per person, $8 extra for a picnic lunch) leave from Meelup, with snorkelling stops at beautiful sandy bays and Castle Rock on the way to Dunsborough. The four-hour trip continues on to Eagle Bay and back. "My kayaks are super stable and easy to paddle, with self-draining decks," says Michael. "They can't be sunk!" Trips require a minimum of six people and include snorkelling gear, with wetsuits available on request.
If drifting along a calm stretch of river in a secluded forest setting sounds more your pace, check out, Augusta Eco Cruises hires out five kayaks from $10 per hour per person from Colour Patch Beach, Augusta, at the mouth of the Blackwood River. The brightly coloured canoes have back harnesses and often attract a pod of friendly dolphins. If a longer trip appeals, there's a half-day paddle to Molloy Island or a scenic 18km trip to Alexander Bridge with pick up so you don't have to paddle back against the wind.
The more adventurous should hook up with Neville Hamilton of Blackwood River Canoeing. He hires canoes from his property on the banks of the Blackwood River, 27km south of Nannup. Costing $25 per person per day (half price for kids) including pick up, it's all about throwing some camping gear in the canoes, paddling through spectacular forest scenery and sleeping under the stars. Alternatively, Neville will drive your gear to your campsite and you can paddle there empty.

Contacts
All canoe hire/trips include life jackets, paddles and waterproof containers. Bring comfortable sandals, a bottle of water and a camera. No previous experience is necessary.

Cape Kayaks, capekayaks.com, [email protected], 0417 961 689.

Blackwood River Canoeing, blackwoodrivercanoeing.com, [email protected], (08) 9756 1209.

Bush Tucker Tours, bushtuckertours.com, [email protected], (08) 9757 9084.

Augusta Eco Cruises, margaretriver.com, 0419 759 562.


Location